Transportation and Community and System Preservation Pilot Program Third-Year Report
1. TCSP Program Overview
TCSP Projects by State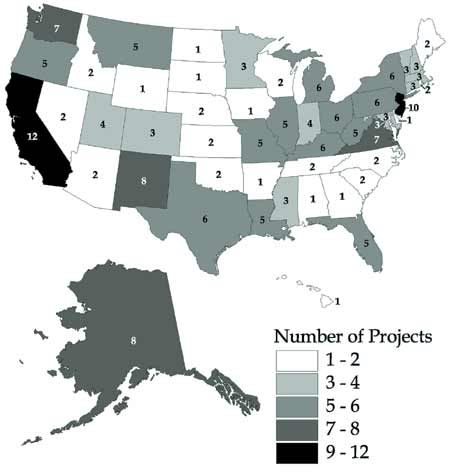 The Transportation and Community and System Preservation (TCSP) Pilot Program provides funding over five years to State, local, and tribal governments to develop innovative strategies that use transportation to build livable communities. Created by Section 1221 of the Transportation Equity Act for the 21st Century (TEA-21), $120 million of funding is authorized to respond to the concerns of communities from across America that transportation investments should be used to achieve strong, sustainable economic growth while simultaneously protecting the environment and ensuring a high quality of life. Grants provided by TCSP support projects that improve linkages among transportation and community planning and system preservation practices.
In the first three years of the program, 1,114 applications requesting $739 million in funds were received from States, local governments, tribal governments, and metropolitan planning organizations (MPO) throughout the United States. A total of 199 grants valued at $91.1 million have been awarded over this three-year period. These projects are listed in Appendix A. TCSP grants are supporting a wide range of transportation planning and implementation projects that:
Integrate land use and transportation planning;
Balance economic growth, the environment, and community values;
Create a long-range vision for a community or region;
Increase travel options in urban, suburban, and rural areas;
Reuse existing infrastructure; and
Establish non-traditional partnerships to meet TCSP goals.
This Third-Year Report reviews the results of the TCSP program after implementation of the program in Fiscal Years (FY) 1999 through 2001. Key questions addressed in this report include:
What are the characteristics of projects funded in FY 1999 through 2001?
What have TCSP projects accomplished, both individually and collectively?
What lessons have been learned from implementing TCSP projects?
Are learning and knowledge transfer activities successfully transferring TCSP experience to other areas?
Is the TCSP program as a whole accomplishing its defined goals and objectives?
How can the TCSP program continue to effectively address its goals and objectives in the future?
To gather insights into the accomplishments and lessons learned from the TCSP program to date, applications and progress reports submitted by FY 1999 and 2000 TCSP grantees were reviewed. In addition, interviews were conducted with staff from Federal Highway Administration (FHWA) headquarters and Division offices, each of the Federal program partner agencies, TCSP stakeholder groups, and local agencies involved in implementing specific TCSP projects.
Communities across America increasingly want to achieve strong, sustainable economic growth in ways that preserve community character and ensure a high quality of life. Federal livability programs, including TCSP, aim to help citizens and communities preserve green space, ease traffic congestion, restore a sense of community, promote collaboration among neighboring communities, and enhance economic competitiveness.
The particular focus of TCSP is to strengthen the link between transportation and community preservation. TCSP recognizes the fundamental role of transportation in shaping communities, the economy, and the environment. Designing transportation systems that enhance mobility, economic opportunity, and community livability, while minimizing environmental impacts and lifecycle costs, is a major challenge for the future. Responding to this challenge, the TCSP program emphasizes strategies that:
Improve the efficiency of the transportation system;
Reduce the environmental impacts of transportation;
Reduce the need for costly future public infrastructure investments;
Ensure efficient access to jobs, services, and centers of trade; and
Examine development patterns and identify strategies to encourage private-sector development patterns that achieve these goals.
TCSP projects are intended to meet all of these objectives rather than just one or two. TCSP is not simply an economic development or environmental preservation program. Instead, project sponsors should search for ways to reconcile transportation system performance, infrastructure costs, economic needs, and environmental impacts.
An effective planning process is key to successfully achieving these objectives under the TCSP program. TCSP is designed to support and enhance existing State and metropolitan planning processes, in part by engaging a broad range of partners. These include the general public as well as non-traditional partners, such as the business community, public health agencies, and private developers. TCSP also is designed to add value to planning processes, for example, by introducing greater consideration of the land development and community impacts of various transportation investment alternatives.
Finally, the TCSP program places a strong emphasis on evaluation and learning. The authorizing TEA-21 language explicitly recognizes that the complex set of relationships among transportation, land development, and the factors influencing community livability are not fully understood. Thus, research and individual grant evaluations to determine which transportation and community design practices are most successful are important elements of the TCSP program. The knowledge gained from TCSP should assist communities nationwide in developing and implementing their own transportation and community preservation practices.
TCSP is a five-year pilot program, extending from 1999 through 2003. The program is managed by FHWA in cooperation with the Federal Transit Administration (FTA), the Federal Railroad Administration (FRA), the Office of the Secretary (OST), the Research and Special Program Administration (RSPA), and the Environmental Protection Agency (EPA). TCSP grants are available to States, local and tribal governments, and MPOs, and may be spent over a period of up to two years.
For each of Fiscal Years 1999, 2000, 2001, and 2002, an announcement was published in the Federal Register requesting applications for the TCSP program, with the first announcement for FY 1999 funds published in September 1998. Applications underwent an interagency review process, in which FHWA, FTA, and EPA field staff reviewed and provided comments on these submissions to a 20-person technical review panel comprised of program experts from FHWA and its partner agencies. This technical panel then evaluated the final proposals.
In FY 1999, $13.1 million in TCSP funds were awarded to 35 projects through this competitive application process. In FY 2000, a total of $21.8 million was awarded at the direction of Congress to 39 projects. An additional $9.3 million in FHWA administrative funds was awarded to fund 45 projects selected through the competitive process described above. In FY 2001, all 80 grants totaling $46.9 million were directed by Congress; these awards were announced in October 2000. Following the award of an earmark, FHWA requested that each grantee develop and submit a project application - describing the project's goals, objectives, approach, timeframe, and budget - similar to the applications submitted for the competitive award process. TCSP projects also need to meet other Federal aid requirements, including National Environmental Protection Act (NEPA) and U.S. Department of Transportation (DOT) statewide and metropolitan planning requirements.
The deadline for applications for FY 2002 TCSP funds was January 31, 2001, and the announcement of FY 2002 TCSP grant awards is expected after October 2001.
TCSP Projects and Funding by Fiscal Year

As of the end of summer 2001, most of the first-year TCSP projects are well underway, and more than one-third have been completed. Work also has begun on nearly all of the FY 2000 awards. The complexity of many TCSP projects - involving a number of different partner agencies and organizations, and addressing issues not typically addressed in transportation planning - has meant that project implementation is sometimes slower than expected. On the other hand, the successes being demonstrated by many first-year projects are leading to follow-on work to implement recommendations of these projects. The accomplishments of many TCSP projects and the challenges faced by these projects are explored in greater detail in this report.
The role of FHWA and its Federal partner agencies in the TCSP program has been not only to review applications and administer projects, but also to assist in disseminating information about TCSP program accomplishments. To accomplish this task, FHWA has sponsored two workshops for TCSP grantees and potential applicants: one in Denver, Colorado in May 1999; and one in Washington, D.C. in September 2000. These workshops, with more than 200 attendees at each, provided an opportunity for grantees to share information about their projects and lessons learned.
FHWA also maintains a web site that provides summary information and contacts for each TCSP project, as well as resource materials for grantees such as Federal Register notices, evaluation guidance, and workshop proceedings. In addition, to highlight successful TCSP projects, FHWA has developed a series of case studies on completed or nearly-completed FY 1999 projects. These case studies have been disseminated in hard copy format, and have been posted on FHWA's web site.
TCSP funds also are available to support research. One TCSP research project was funded in FY 2000. A consultant was selected to summarize existing modeling methods that measure the impacts of regional transportation on land use and development. The study is documenting current practices for estimating the effects of land use changes on travel patterns, energy use, and emissions. A small number of planning-oriented TCSP projects also contain research components, for example, an FY 2000 project is assessing the impact of the Virginia Railway Express Commuter Rail on land development patterns in Northern Virginia.