Transportation and Community and System Preservation (TCSP) Pilot Program Third-Year Report 2001
Highlights
U.S. Department of Transportation
Federal Highway Administration
Office of Planning, Environment and Realty
Office of Planning
Washington, D.C. 20590
---
American communities increasingly want to achieve strong, sustainable economic growth in ways that preserve community character and ensure a high quality of life. At the same time, they are wrestling with the effects of ever-increasing traffic congestion and associated community and environmental impacts.
The Transportation and Community and System Preservation (TCSP) Pilot Program was established in 1998 to help state, local, and tribal governments develop innovative strategies that use transportation to build livable communities.
This booklet highlights the accomplishments of the TCSP Program following its first three years of implementation through descriptions of key projects, lessons learned, and effective practices. A full report, Transportation and Community and System Preservation (TCSP) Pilot Program Third Year Report (2001), can be found on the TCSP Program website at www.fhwa.dot.gov/planning/tcsp.*
TCSP is a five-year pilot program, extending from FY 1999 through FY 2003. The Program is managed by the Federal Highway Administration (FHWA) in cooperation with the United States Department of Transportation's (US DOT) Federal Transit Administration (FTA), Federal Railroad Administration (FRA), Office of the Secretary, and Research and Special Programs Administration (RSPA), and with the Environmental Protection Agency (EPA). TCSP grants are available to local and tribal governments, metropolitan planning organizations (MPOs), and state governments, and may be spent over a period of up to two years.
The primary purpose of the TCSP Program is to strengthen the links between transportation and community preservation. To this end, Congress set five key objectives for the Program projects:
To improve the efficiency of the transportation system.
To reduce the environmental impacts of transportation.
To reduce the need for costly future public infrastructure investments.
To ensure efficient access to jobs, services, and centers of trade.
To examine development patterns and identify strategies to encourage private-sector development patterns that achieve these goals.
* The statistics appearing in this booklet represent information available as of August 2002, and update the figures presented in the Third-Year Report.
The individual projects supported by TCSP Program grants are spreading innovative changes in transportation planning and design practices. Figure 1 on page 3 is a map showing the location of the FY 1999-2001 TCSP projects by state.
The Program is facilitating learning and knowledge transfer throughout the nation by:
Presenting the Program web site, which contains descriptive and contact information for each project, along with a wealth of TCSP Program information and resources.
Hosting workshops for grantees, potential applicants, and traditional and non-traditional stakeholders to share information and ideas from the projects.
Providing technical assistance to grantees as they fully develop the project work plan, satisfy other FHWA grant requirements, and structure and implement the project evaluation.
The TCSP Program is undertaking additional learning and knowledge transfer activities, including the publication of project case studies and creation of a searchable project database on the website that will describe the products of each project as the information becomes available.
Figure 1. TCSP Projects by State FY 1999-2001
TCSP Projects
In its first three years the TCSP Program funded 200 projects, which were selected out of 1,114 applications from across the country. The total amount of these grant awards was $92.8 million.
The charts illustrate the different types of TCSP projects using the following characteristics:
Type of grantee - city, county, MPO, state DOT, etc. (Figure 2)
Area type - urban, suburban, rural, regional, or statewide (Figure 3)
Type of project (Figure 5)
Types of products resulting from the project. (Figure 7)
In each of these categories, a set of line graphs (Figures 4, 6, and 8) illustrate how the distribution of characteristics has changed substantially as the TCSP program has progressed.
---
Type of Grantee
The full range of grantees in the three-year period consisted of municipal governments in cities and in small towns; county governments; MPOs and regional planning councils; state government agencies (DOTs and other departments); transit and rail authorities; tribal governments; and universities. Figure 2 uses percentages to illustrate the different types of grantees.
Figure 2. TCSP Projects by Grantee Type FY 1999-2001*
*Updated data
Area Type
Area types are:
Urban - In the central city of a metropolitan area;
Suburban - In a suburban setting of a metropolitan area;
Rural - In a small city or town (less than 50,000 population, or rural area);
Regional - Encompassing more than one area type; or
Statewide - Not limited to a specific region.
Figure 3 illustrates the different area types included in the 200 TCSP projects.
Figure 3. Percent Projects by Area Type FY 1999-2001*
Over the three-year period, the funding for projects addressing the needs of the various area types shifted: funding for regionally targeted projects declined (34% to 2%) in favor of those for cities, suburbs, and rural areas (60% to 95% when combined). Figure 4 illustrates the changes within each area type by year.
Figure 4. Change in Percent Area Type by FY 1999-2001*
*Updated data
Project Types
As demonstrated in Figure 5, TCSP projects spanned a wide variety of categories:
Regional planning
Corridor/area planning
Urban revitalization
Transit-oriented development (TOD)
Highways/roads
Bicycle/pedestrian/traffic calming
Freight/freight rail
Transit/commuter rail
Tools/models
Outreach/public involvement
Other (including brownfields and environmental mitigation)
Figure 5. Percent Projects by Project Type FY 1999-2001*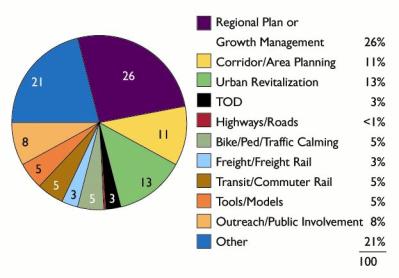 *Updated data
The mix of project types shifted substantially over the three-year period. While the number of projects increased in the categories of bicycle/pedestrian/traffic calming, highway/roads, and freight/freight rail, there was a marked decline in the number of projects involving regional planning, corridor/area planning, and innovative public involvement approaches. Figure 6 illustrates these shifts.
Figure 6. Change in Percent Type FY 1999-2001*
*Updated data
Product Types
Overall, five types of products were produced by the TCSP projects:
Plan or planning study
Construction project
Planning model
Handbook/guidebook
Research project
Figure 7 illustrates the different product types.
Figure 7. Percent Products by Product Type FY 1999-2001*
Over this three-year period, the share of projects yielding plans decreased substantially, from 66 to 27 percent. At the same time, the percentage of construction and operations products increased from 11 percent in FY 1999 to 70 percent in FY 2001. Models, which were 14 percent of the total in FY 1999, declined to zero percent in FY 2001. Figure 8 demonstrates these shifts.
Figure 8. Change in Percent Product Type by FY 1999-2001*
*Updated data
Effective TCSP Practices
Build Partnerships
Find a leader who is committed to the concept of the project and will follow through with persistence.
Identify the people, agencies, and groups who should be involved in the transportation/community planning process to make it successful: the MPO or regional planning organization; the state DOT; transit agencies; city and county transportation and planning departments; elected officials; federal and state environmental agencies; community groups; nonprofit and environmental organizations; developers; and the business community.
Involve other groups with an interest in transportation, such as public health organizations, community development organizations, and schools and schoolchildren, who can identify needs in the community that are not otherwise well addressed.
People will be more committed to a project and its successful implementation if they are allowed to take responsibility for some aspect of it. For example, community residents can be given a role in identifying and designing pedestrian improvements.
Capture the Public's Interest
Meet with the public and interest groups at times and in settings convenient for them. Provide childcare, refreshments, and translation if necessary.
Provide opportunities for "hands-on" work to identify and solve problems. Techniques such as design charrettes and facilitated discussion groups offer an interactive and engaging experience not found in the traditional public meeting.
Use computerized visual imaging techniques to illustrate alternatives for transportation facilities or development designs. People respond well to such visual information and are able to make more informed decisions regarding the aesthetic strengths and weaknesses of alternatives.
Provide people with sound technical information about the implications of alternatives. Information on transportation, economic, environmental, and other impacts can help people weigh tradeoffs among various alternatives. People also benefit from a basic understanding of what the quantitative models are (and are not) capable of doing, which can increase their understanding of the results.
Use interactive models to allow people to test different solutions themselves, and to better understand the tradeoffs involved in different choices.
Design Transportation Systems That Enhance the Community
Apply context-sensitive design principles for roadways/highways. Instead of applying a uniform design template everywhere, a number of state DOTs are experimenting with design approaches that acknowledge the characteristics of the surrounding community and better integrate the roadway with the community.
Use transportation facilities as a focus for inviting public spaces. Highway projects through dense urban neighborhoods have been enhanced by decks that provide valuable public parkland. Locations with concentrations of foot traffic provide a logical place for public plazas where people can gather, interact, or enjoy the outdoors.
Consider non-transportation benefits of transportation and related improvements. A transit station can be an appropriate location for affordable housing, while improved truck access may facilitate redevelopment of a declining industrial area.
Use transportation investments to help revitalize older communities. Many once-thriving neighborhoods have experienced no significant infrastructure improvements in many years. Public investment in streetscaping, pedestrian, and traffic improvements can catalyze development by making the neighborhood more attractive, and by giving private investors confidence that their investment will retain its value.
Plan for Multiple Modes and Users
Provide safe and appealing walk, bicycle, and transit options for those who prefer or require alternatives to automobile travel - the carless, the elderly, children, and others - to make these modes more viable, safe, and pleasant.
Consider freight movement and its role in economic development. Routes from major highways to industrial areas or intermodal terminals are often congested or substandard for trucks, especially in older urbanized areas. Improving freight access may help stimulate redevelopment of available brownfields and infill sites.
Increase the ease of using alternative travel modes by offering convenient park-and-ride facilities, bicycle parking at transit, and seamless transfers between different transit routes and service providers.
Consider Community and System Preservation Issues in Transportation Planning
Consider the impact of transportation investments on local and regional land development patterns, and the resulting feedback on transportation demand and performance. Apply land use models that work with transportation models to assess these interrelationships.
Use new GIS-based models that provide indicators of the community, environmental, and economic impacts of alternative site plans, community plans, and transportation investments. Use these models to compare and refine alternatives.
Analyze the community, environmental, and economic impacts of future transportation and land use alternatives within the long-range planning as well as the project development process. The general impacts of alternative regional "systems" can be assessed prior to conducting detailed, project-specific environmental and community impact analysis.
Design Communities to Minimize Transportation Investment Needs
Cluster housing and commercial development around transportation facilities, especially transit nodes, to place a greater number of potential users within easy reach of them, increasing their likelihood of use.
Design areas, sites, and subdivisions to make alternatives to driving feasible. Ensure that direct walking and bicycling routes are available and attractive, and that development is compact enough to make such trips feasible.
Work with communities to revise general plans and zoning to encourage development that minimizes transportation needs through mixed-use, clustered, and pedestrian-friendly development.
Build consensus with the development community on design principles that minimize transportation needs.
Build partnerships to address interjurisdictional issues, coordinating transportation investment and land use policies across jurisdictional boundaries.
Consider Funding, Resource, and Implementation Issues
Look for non-transportation funding sources - such as federal, state, or local governmental agencies or the private sector - to supplement transportation-related projects that have benefits in other areas such as housing, economic development, or environmental clean-up.
Identify how projects may benefit local businesses, and solicit not only funding but also substantive input from these businesses. Businesses are often willing to help sponsor a project if they have a say in the project and also see a direct benefit.
Consider operations and maintenance costs as well as capital costs in the evaluation of different transportation and community development alternatives.
For projects resulting in plans, consider implementation as well: identify the specific steps required, develop a timeline, allocate resources, and work with stakeholders to achieve commitments to implementation.
Evaluate the Effectiveness of Planning and Implementation Activities
Establish indicators of transportation, community, environmental, and economic performance. Working through the community planning process, select a few critical indicators that are most meaningful to project participants, rather than attempting to measure a "laundry list" of impacts.
Collect baseline data on these indicators and establish data collection and monitoring systems to routinely update the data. Use monitoring data to identify problems and inform people about continuing needs.
Evaluate the effectiveness of the planning process through periodic assessment and de-briefings. For example, assess whether all key stakeholders participated in the process and whether they felt their views were adequately considered.
Measure the actual outcomes of projects, compare these outcomes with projections, and use this information to improve modeling/forecasting systems.
Be Patient and Persistent
Obtaining meaningful involvement from multiple partners and stakeholders, while paying dividends in the long run, can take longer than expected. If people are at first reluctant to participate or skeptical of the process, don't give up.
Expect setbacks and difficulties; then work to overcome these difficulties and move forward. Good planning requires strong and committed leadership!
TCSP Program Accomplishments
TCSP projects are yielding effective practices that can be applied in transportation planning nationwide by:
Encouraging innovation in planning and implementation practices.
Creating partnerships among a broad range of public, private, and nontraditional groups.
Leveraging resources by adding funding and value to larger projects.
Strengthening the transportation planning process at all levels.
Building the knowledge base of successful strategies for achieving TCSP goals.
Encouraging Innovation
First and foremost, TCSP projects are demonstrating innovative practices by:
Addressing a broadened range of issues in transportation planning. Many TCSP-funded projects are working to expand the transportation planning process in order to balance mobility needs with environmental quality and community livability.
Focusing on the link between transportation and development patterns. Development patterns affect transportation demand, and transportation improvements affect the location of development. Yet, a "disconnect" between transportation planning and land use planning often occurs when major transportation improvements are planned at a regional level, land use decisions are made locally, and the two processes are not integrated. Several TCSP projects are designed to connect these essential planning factors.
Shifting the mix of projects that are considered and funded. There is a growing sense in communities throughout America that, while maintaining highway mobility is important, we can no longer "build our way out of" traffic congestion. At the same time, people believe that greater attention to alternative modes such as transit, walking, and bicycling can help reduce the demand on our highway system and make for more pleasant and livable communities. TCSP projects contribute to the planning of livable communities that limit sprawl and encourage car-free mobility.
Introducing innovations to transportation planning and community design. TCSP projects are helping to link transportation engineering and city planning. For example, a number of state DOTs are applying context-sensitive design principles, which recognize that road standards may need to vary to better allow the road to fit the character of the community through which it passes.
Developing new planning tools. The TCSP Program is helping to introduce a new generation of analytical tools, especially those that link transportation with development and growth and enhance planning. When used in conjunction with public outreach, these tools help local citizens understand the impact of alternative planning scenarios on the future of their community.
TCSP projects that have demonstrated innovation include:
Pulaski and Saline Counties, AR: A rural traffic shed analysis approach (a relatively new analysis method) that assesses development needs and transportation capacity.
Denver, CO: Enhancing the city's historic Union Station to include a neighborhood electric vehicle hub, a full-service bicycle station, and local trolley service. The project will create additional transportation alternatives for a rapidly growing residentialcommunity, an established entertainment district, and the region's most concentrated employment center.
Clark County, WA: Developing information to guide transportation and land use policy development for the county's comprehensive plan update, focusing particularly on methods of meeting transportation concurrency requirements.
Standing Rock Sioux Tribe, ND: A GIS-based road management system that tracks the location and condition of roads, related infrastructure, and development. This tool also will assist with economic development in this disadvantaged area by allowing the tribe to map and describe to potential businesses where good road access is available.
Creating Partnerships
The TCSP Program has promoted the creation of innovative public and private partnerships, especially with nontraditional partners - private-sector developers, financial institutions, and real estate professionals, as well as community development organizations and environmental groups - who in the past may not have been a regular and integral part of the project selection and design process. To involve nontraditional partners earlier and more systematically, the TCSP Program has focused on:
The benefit of new partnerships. One of the most significant benefits of the TCSP Program is that it has prompted people to form partnerships with agencies and groups with whom they would not normally interact. Many of these partnerships, awkward at first, have since led to unexpected benefits. The formation of these partnerships has been valuable in building consensus by bringing together groups with different viewpoints to discuss common visions and solutions.
Facilitating dialogue. The number of players involved in a given project can make overcoming the "disconnect" between regional transportation planning and local community planning a particular challenge. TCSP projects have led to new and expanded partnerships, opening up dialogue on issues of smart growth, livability, and urban sprawl as a step toward developing mutually beneficial policies and practices.
Leadership from the private sector. TCSP projects also are resulting in successful partnerships between transportation organizations and the business and real estate development communities. In many areas, private interests have actually played a leading role in initiating and implementing the TCSP projects.
State DOT involvement. State DOTs and local transportation agencies are working together to create alternatives to traditional highway design that not only increase mobility, but also preserve and enhance the local community environment.
Examples of TCSP projects promoting new partnerships and improved dialogue are:
Houston, TX: City-led project to redevelop the Main Street Corridor, the region's historical commercial core. A group of local businesses and property owners encouraged the city to form a private-public coalition.
Objectives:
Promoting housing and commercial development.
Incorporating transit, pedestrian, and roadway improvements.
Coordinating the design of development in such a way as to create vibrant public as well as private spaces.
Philadelphia, PA: Partnership between the Delaware Valley Community Reinvestment Fund (non-profit community development financial institution) and the Delaware Valley Regional Planning Location Efficient Mortgage Program. The project benefits mortgage applicants who choose to live in a transit- and pedestrian-accessible neighborhood, and who do not own a car or drive less, because the program factors these savings into their financial capacity for home ownership. The project also promotes transportation efficiency through transit-oriented development and station-area plans.
Strengthening Planning
The innovations and broadened partnerships introduced by TCSP projects strengthen existing state and metropolitan transportation planning processes by:
Promoting a holistic approach. Environmental, community, and economic development issues have been considered in the planning of individual major transportation projects for three decades because of requirements introduced by the National Environmental Protection Act (NEPA). TCSP projects are introducing the consideration of a broader range of environmental and community issues, not only in the planning of individual major projects, but also in systems-level planning at the metropolitan or state level.
Involving the public. Transportation planning practice increasingly has emphasized the importance of public involvement at all stages. Obtaining input from the public is sometimes a challenge, especially when the subject is as abstract as a regional transportation plan or a local comprehensive plan. Many TCSP projects have developed creative and meaningful approaches to public involvement.
Linking statewide and regional transportation planning with community planning. Communities routinely develop comprehensive plans that identify policies and strategies for land use, transportation, infrastructure, housing, and environmental preservation. These plans are integrated across issue areas, but are sometimes developed in geographic isolation from neighboring communities. In contrast, statewide and metropolitan transportation plans focus on one specific issue (transportation), but attempt to link this issue across jurisdictional boundaries. Many TCSP grantees have taken on the challenge of better linking these planning levels.
TCSP projects that have strengthened the planning process include:
Salt Lake City, UT (The Envision Utah Project):
Developed indicators of transportation conditions, air quality, water supply, infrastructure costs, and agricultural and open space land conversion for future transportation and land use scenarios.
Created a "quality growth scenario" standard.
Proposed changes to land use regulations to encourage development around transit stations.
Charlottesville, VA:
Originated the CorPlan model to help citizens understand the implications of 50-year population growth forecasts, effects of different land use decisions, and resulting implications for transportation investments.
Devised an original public participation game to create development scenarios for the region, in which citizens worked with different "community elements" that represent prototypical development patterns such as urban mixed use or suburban retail.
St. Lucie County, FL: Brought students and planners together to develop a bicycle and pedestrian transportation plan for the county.
Building the Knowledge Base
In its first three years, the TCSP Program placed a strong emphasis on evaluation and learning. TCSP projects were intended to provide measurable results and examples of successful practices that could be adopted by other areas. Each TCSP grant application was therefore required to include an evaluation component and make the results available for others to use.
Guidance for the design and implementation of project evaluations appears on the TCSP website. The guidance suggests that a TCSP project evaluation focus on three components:
The process by which a project is implemented.
The products that result from the project.
The outcomes in terms of either projected or actual benefits and costs.
Evaluating the process and products of a grant. Most evaluations carried out within the scope of funded TCSP projects in FYs 1999-2001 have focused on the first two evaluation components - process and products. Some grantees have conducted the evaluation internally; others have hired a consultant or university to conduct an independent evaluation.
Evaluating project outcomes. The ultimate outcomes of TCSP projects may take many years to be fully realized. Furthermore, the effects of the TCSP project may be difficult to separate from the effects of other changes that are occurring at the same time. Most projects are forecasting impacts using quantitative modeling.
Examples of evaluation approaches to TCSP projects include:
Providence, RI: Project used local university students to collect "before" and "after" data on travel patterns, and on residents' and businesses' perceptions of the neighborhood, to assess changes as a result of transit, pedestrian, and streetscape improvements.
Teton City, WY: Chronological notebook maintained as a basis for an evaluation report to capture each step of the project (how originally envisioned and actually conducted, why differences occurred). Project sponsors are also establishing a set of "regional indicators" and collecting baseline data. Long-term tracking of these indicators will help each region measure its overall success in achieving project objectives.
Demonstrating Results
Roughly 43 percent of TCSP projects awarded in FYs 1999 - 2001 focused primarily on project implementation (for example, construction, rehabilitation, maintenance, and operations), while the remaining 57 percent focused on planning. Especially in the case of planning grants, it may be five to ten years before widespread implementation of results is achieved and concrete benefits observed and measured. Even so, TCSP planning projects are already demonstrating results in a variety of ways:
On-the-ground products. These products include the construction of bike paths, restoration of historically significant rail stations as multimodal hubs, and revitalization of urban downtown areas.
Plans for future implementation. Many TCSP projects are resulting in plans that are suitable for future funding through other federal sources, such as the Surface Transportation Program (STP), the National Highway System (NHS), or transit funds, as well as through state and local matching funds. Other TCSP projects have focused on earlier stages of planning, for which the products may be a conceptual plan for an area or a set of recommended policies and practices.
Influence upon the planning process. TCSP projects appear to be influencing other transportation projects and development programs, both directly and indirectly. Areas of influence include the design elements considered, the manner in which effectiveness is assessed, the approach to involving various interest groups, and the decisions made.
The following TCSP projects provide examples of demonstrated results:
Mono County, CA: Improvements related to a state highway through the town of Lee Vining. Local planners believe that their community-oriented planning approach is resulting in greater community input into state-initiated projects.
Wheeling, WV: Renovation and restoration of an historic roundhouse as an intermodal terminal.
Fairbanks, AK: Construction of a pedestrian/bicycle bridge linking parks and pathways.
Burlington, VT: Projects to improve pedestrian safety and streetscape aesthetics along North Street in Burlington's Old North End Enterprise Community.
The collective experience gained through the 200 projects undertaken in FYs 1999 through 2001 yielded a substantial range of lessons learned (see middle insert). In the future, communities confronting the prospect of growth can draw from these lessons to help them make intelligent, comprehensive planning choices.
Conclusions
The TCSP Program has stimulated innovation in transportation planning. In particular, TCSP projects are creating effective practices that link transportation planning with system and community preservation considerations. During the first three years of the Program, these projects have involved:
Expanding the range of partners involved in planning.
Introducing a greater consideration of the relationship between transportation and development patterns.
Expanding public involvement and community participation.
Developing new modeling tools to assess the impacts of transportation and land use alternatives on mobility, economic development, community character, and the environment.
On the implementation side, TCSP projects have demonstrated practices such as pedestrian linkages, intermodal transit facilities, and bicycle paths that are helping to increase travel options and improve the character of local communities. Furthermore, TCSP projects are helping communities as well as the private sector to re-examine land development practices, in order to reduce impacts on the transportation system and to complement public-sector transportation investments.
The impact of TCSP projects is not limited to the scope of the individual projects funded. Many grantees have noted that the findings and lessons learned from their TCSP projects are influencing other transportation and community planning activities in their area.
The TCSP Program is placing a strong emphasis on learning and knowledge transfer: by sponsoring the development of planning tools and methods; by encouraging project evaluations; and by making results from TCSP projects available to a national audience. These efforts are resulting in the demonstration of effective practices for transportation planning.Looking beyond the five-year span of the pilot program authorized by TEA-21, initial consideration is already being given to reauthorization. Program partners and stakeholders have a number of recommendations for the continued implementation of the planning innovations begun under TCSP:
Move TCSP away from being a pilot program and into the mainstream of transportation planning practice.
Maintain a focus on both planning and implementation.
Reconsider either the level of funding or the funding mechanism for TCSP projects.
Continue to work to involve both State DOTs and MPOs in TCSP projects.
Continue to emphasize learning and knowledge transfer.
Overall, this review of the TCSP Program's accomplishments suggests that the innovative work undertaken in the first three years of the Pilot Program is already beginning to leverage results. There is widespread hope that the demonstration of linked transportation, community, and system preservation practices undertaken through TCSP not only will continue, but will expand.
---
Transportation and Community and System Preservation (TCSP) Pilot Program
Federal Highway Administration
Office of Planning, Environment and Realty
Office of Planning
400 Seventh Street, S.W. Room 3301
Washington, D.C. 20590
Telephone (202) 366-1016
Fax (202) 493-2198
www.fhwa.dot.gov/planning/tcsp
Spring 2003
FHWA-EP-03-017