Future Markets for Public-Private Partnerships
Steve Lockwood, PB Americas
Introduction
Public-Private Partnerships (PPP) have long been part of the highway development process – starting with outsourced design, construction, and routine maintenance. The evolving context for highway development offers expanding opportunities to systematically capitalize on private resources – financial, management, and technical. As discussed below, these go well beyond public-private toll projects that have received considerable attention to include other areas that are not as clearly addressed in highway policy or related policy research.
These are not new challenges. At the November 1991 post-ISTEA FHWA Policy Seminar "Exploring Key issues in Public- Private Partnerships for Highway Development" – part of the Searching for Solutions series – the current author noted: "Provisions of [the Intermodal Surface Transportation Efficiency Act of 1991] ISTEA, together with new technology, may make toll financing and public private partnerships an attractive option by which states can capitalize on private sector resources such as new capital source, user charge options and innovation in design construction and operations, However, there remain significant issues …which require systematic review."1
That we are still having a conversation on this topic 17 years later is testimony to the challenge of change in a complex institutional context, barring significant external pressures.
21st Century Challenges
The owners of the nation's highway system face daunting challenges in maintaining and improving service. A combination of resource limits on new capacity despite increased travel demand and an increase in the financial burden of the maturing infrastructure has indicated the need for more efficient development and management of the highway assets – both in terms of maintenance and operations – and additional investment resources to supplement constrained taxes. A series of evolving national and regional program initiatives under discussion offer additional challenges including the need to improve basic infrastructure networks, respond to environmental and energy imperatives, and an increased political demand for performance and investment accountability. At the same time, many state and local highway entities are constrained by the current recession-related agency downsizing and the challenges of evolving new technology. The current financial crisis adds to these constraints. It seems clear that new approaches, including changes in the roles of the players, are called for to meet the challenges.
A gradual rationalization of highway-related responsibilities for efficiency purposes among agencies, jurisdictions and sectors that includes downsizing, devolution, and new public-public and public-private partnerships is already under way. Figure 1 illustrates this evolution.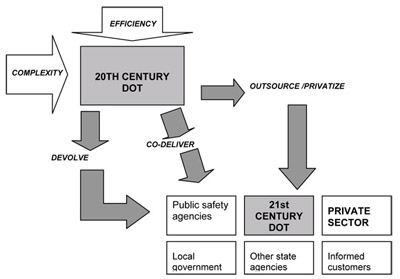 Figure 1. The 21st Century State DOT
The Private Sector Potential
The private sector dominates the $1T highway transportation systems and services sector with the exception of the 10% comprised of infrastructure. The contrast between the public and private sector roles in transportation compared to utilities and communications is striking as highway infrastructure is the only remaining major public sector infrastructural monopoly in the United States. At the same time, however, private sector entities possess technology, management, and financial capabilities that are increasingly relevant for efficient and effective highway infrastructure programs such as project management, ITS development and systems operations, asset management, toll road finance and development, and vehicle-related information systems and services. The potential of the private sector is based on the flexibility of the private sector to provide experienced management and specialized technology, access to innovative finance, the experience, market and customer responsiveness, and the potential for competition-driven performance. Key service areas include:
Project management expertise
Access to private capital and innovative financial expertise
Flexibility to provide varied asset management resources efficiently
Complex systems development expertise and real-time systems operations experience
Customer-based service development and market responsiveness
Potential for innovative alliances to provide new products and services.
Both public sector constraints and private sector opportunities indicate the potential for a new allocation of public versus private sector roles, together with related risks and rewards. Such an evolution already has taken place in many of the other advanced economies.
The potential new and/or enlarged roles for the private sector cover the complete range of highway development and services activities – and can be (and have been) bundled into several possible packages for new partnership arrangements as shown in Figure 2. These partnerships are based on a range of business models including fixed price or fee procurement of services, product acquisition, leasing, concessions, or privatization.

Figure 2. Range of Scopes for Public-Private Partnerships
Areas for Public-Private Partnerships
The capital focus of the federal aid program has resulted in, at the federal level, the focus of major PPPs on finance and private toll roads. While this is understandable, the potential roles of PPPs are considerably broader – and, from the state and local DOT perspectives – equally important. The discussion below focuses on five principal arenas:
Design-Build fixed-price contracting
Outsourcing network-level maintenance and/or operations for a fee
Private toll roads via leases and concessions based on toll revenues
Manage VMT/pricing systems administration for a fee
Vehicle-Infrastructure Integration based on service revenues.
These opportunities are discussed below in terms of service focus of the PPPs as well as the current and future trends.
Design-Build Fixed-Price Contracting
Focus – Design-build (D-B) contracting offers the opportunity to capitalize on private design/construction management expertise and incentives in order to streamline project development -- especially for large projects that strain DOT staff resources and that have a modest track record for cost and schedule control. It also shifts responsibility and risks for project cost and schedule slippage to private entities that are incentivized to eliminate them by the fixed-price contract. D-B is the international convention for infrastructures development and is commonly used on all toll projects in the United States. However, its advantages also relate to conventional highway development. Since the inception of SAFTEA-LU, many of the significant federal constraints have been eliminated (project size, NEPA, and procurement) via federal rules. Over one-half of the states have highway D-B legislation and it is being used on more than 700 major and minor projects nationwide.
Future Trends/Market – The market for D-B will continue to increase as state DOTs and other highway agencies are downsized. Major projects are increasingly an exception rather than the rule in transportation agencies; therefore, agency staff cannot be maintained for these projects. D-B contracting could grow to as much as 50% of highway expenditures for capacity (or 10-15% of total highway expenditures.) From the industry side, the mergers and acquisitions activity in the construction industry will encourage this trend.
Significance/Federal Role – Improving project delivery is important to gaining public confidence in the highway program. FHWA has substantially deregulated D-B.
Outsourcing Network-Level Maintenance and/or Operations for a Fee
Focus – Given the increase in both recurring and non-recurring (incidents) congestion, it is apparent that maintaining current levels of service is substantially dependent on aggressive, real-time operational management of the highway network such as incident management, ramp metering, and work zone traffic control. These functions require the deployment of intelligent transportation systems (ITS) infrastructure and the acquisition of operations capabilities, which strain current DOT capabilities and resources. The few state DOTs with strong systems operations programs also are utilizing outsourcing for systems operations that include ITS and field activities (TMC operations, SSP, 511, probe data). Motivations include staffing limitations, time for procurement, and ease of change in the level of investment.
Systematic maintenance programs in the form of "asset management systems" are being increasingly deployed by DOTs to more effectively cope with their increasing maintenance burden. Legislative mandates, lack of equipment, a need for specialized expertise or equipment, downsizing and retirements, and perceived cost savings have encouraged some states to undertake outsourced system-level asset management/maintenance. System-level asset management outsourcing is common in the UK, Australia, Canada and the United States, and has been utilized by a few states such as Virginia, Florida, Texas, and Tennessee. Although early results on costs and performance have been mixed, it appears that states are gaining experience with scoping and performance management to gain the intended advantages. In addition, the competition for asset management is developing and growing as opportunities are perceived.
Future Trends/Market – Small contractors and labor union concerns have constrained the rate of asset management outsourcing, together with the slow rate of state DOT efforts to fully institutionalize asset management approaches. Staffing and investment efficiency pressures are likely to lead to additional system-level outsourcing. Outsourcing is still ad hoc and limited, but operations and maintenance costs range from 25% (average) to 50% of total highway expenditures. Outsourcing is closely tied to further performance-driven mainstreaming congestion-management initiatives with real-time operations.
Significance/Federal Role – System management, both assets and operations, provide significant opportunities for performance improvements. The interest in outsourcing will be directly proportional to the pressure for increased performance accountability in an environment of agency staff and resource limitations.
Private Toll Roads via Leases and Concessions Based on Toll Revenues
Focus – Toll roads have maintained their 5% to 6% share of total highway finance as overall investment has increased. Most of these facilities are public authority facilities using tax-exempt finance and authority credit. Private involvement as developer/financer/owner/operator of toll roads is a major development. PPP toll roads have focused primarily on creating new capacity as new roads or upgrading existing highways, but in a few cases have undertaken "take over" and upgrading of existing roads via concessions.
Since the inception of ISTEA, there is growing experience with tapping private finance in the form of equity and debt as well as creative financing to supplement conventional highway finance. Currently, 25 states have some kind of PPP authority. Within the realm of financing, there is a broad array of approaches available for consideration that range from full privatization via leases and concessions to a variety of financing mixes involving the combination of private debt and/or equity with public funds and public credit support to the private financing. Over the last 15 years, FHWA has developed a range of financing credit support (TIFIA, PAB) to encourage and support private investment. At the same time, there has been important standardization in procurement and contracting approaches through the experiences in Texas and Virginia.
Current PPP toll roads include SR 91 and SR 125 in California, the Dulles Greenway and Pocahontas Parkway in Virginia, Texas SH 130, and the Virginia Beltway High Occupancy Toll (HOT) lanes that are currently under construction. In fact, according to a current survey conducted by Parsons Brinkerhoff for FHWA, there have been 53 toll projects creating new centerline miles and an additional five projects that have extended or widened existing toll roads since ISTEA was enacted. Additionally, there have been 11 HOT projects. Looking to the future, there are another 106 toll projects and 58 HOT projects in various stages of design, finance, or NEPA clearance. Ten new PPP toll projects (new centerline miles) have been opened since ISTEA was enacted (including some very small projects) and there are another 12 PPP projects committed in eight states with another 26 projects (including six additional states) that are currently under consideration.
In addition to tolls being used to create new capacity, major interest has been spurred by the concession model involving sale and/or conversion of existing roads in return for a major up-front payment. Three major multi-billion dollar concessions have been let (Indiana, Chicago, Dallas), providing significant funds to DOTs for transportation and other purposes. In addition, there has been innovation in privately financed roads without tolls – using "availability payments" from conventional public resources rather than tolls. A recent federal rule clarifies the framework for concessions let on existing federal aid facilities.
Future Trends/Market – The toll projects survey indicates both the increased utilization of tolling in more states in general and an increased focus on the potential of the PPP approaches. The PPP toll projects, currently in various stages of development nationwide, indicate a $57B level of investment. While the current demise of investment banks and debt uncertainty clouds the short-run level of interest in toll PPP, it also suggests a stronger role for equity.
Significance/Federal Role – Toll roads will make up an increasing component of new capacity that could rise potentially to 30% nationally during the next decade provided the projects currently being developed move forward. At $6B per year, PPP investments would amount to roughly 15% of total new capacity investment at current levels. For rapidly growing larger states such as California, Texas, Florida, and Virginia, tolls already are playing an even larger role in capacity development as they represent as much as 50% of the investment. This level of investment may continue to increase.
Concessions with up-front payments are attractive to state DOTs for their revenue redistribution potential as evidenced by continuing interest in Pennsylvania and New Jersey. A major inhibitor to toll road development has been resistance to conversion of free roads, especially the Interstate facilities, which are located in the major toll markets. Deregulation of the Interstate, accompanied by federal regulation of rates, competition, use of resources, and returns, will have a major impact and substantially increase project development velocity.
Manage VMT/pricing systems administration for a fee
Focus – While pricing is not necessarily dependent on a PPP framework, the politics of pricing may favor the private sector as implementer – given the increased public acceptability of pricing by private entities. The interest in peak-period pricing is increasing. At present, there are five public highways and/or HOT facilities and two bridges with peak-period pricing. However, there is only one operating PPP with pricing (Dulles Greenway), although CA SR 91 was originally developed and operated as a PPP-priced facility.
Private sector involvement could take on greater significance if there is a national program that uses vehicle miles traveled (VMT) fees as a major source of highway revenues. In particular, private sector involvement could serve as a mechanism for optional pricing evolution to VMT. This already has begun to occur in the International Arena. For example, the German truck road-pricing program has been developed and administered by a private consortium.
Future Trends/Market – VMT pricing concepts and technology are in the research and development stage. Significant piloting may emerge in the next reauthorization of the federal aid program. Several private entities have proprietary technologies that need to be evaluated and considered prior to national implementation.
Significance/Federal Role – A VMT-based funding mechanism represents a major change in the administration of the federal aid program. As such, there are a large number of conceptual, legal, technological, institutional, marketing, deployment, and management issues that still need to be examined and resolved.
Vehicle-Infrastructure Integration Based on Service Revenues
Focus – The advances in GPS and high-speed wireless communications together have resulted in systems being developed that provide the potential for collision avoidance, probe-based mobility information, and a range of in-vehicle services relating to information regarding infrastructure conditions and weather, roadside services, vehicle warranty and maintenance, etc. Capitalizing on these technologies for their full safety benefits involves connecting vehicles to signals, vehicles to other vehicles and to off-road data and analysis systems. The technologies for vehicle-infrastructure integration (VII) are currently under development as a formal PPP involving the private vehicle manufacturers, communications and service providers, and federal and state transportation agencies.
Future Trends/Market – The VII program is in a state of development and is impacted by the current status of both the federal highway program and the automotive industry. Certain features inherent in the VII concept – such as improved vehicle to roadside communications for commercial purposes are already in the market via after-market devices and for fleet applications. Federal research on key safety systems and technology options continues.
Significance/Federal Role – From a public sector point of view, such vehicle-to-infrastructure integration can significantly impact fatality and accident reduction. In addition, it provides the basis for network-wide "perfect" highway conditions information system for congestion management. From a private sector point of view, introduction of V2V and V2I systems has the potential to provide a wide range of vehicle and in-vehicle commercial services. Taken together, VII represents a key step on the way to highway automation and a radical transformation of vehicles into electronic service platforms – with consequent impact on the entire highway arena. The federal role in VII and the nature of the relevant PPP for VII currently is being reviewed in the context and recognition of financial constraints, the state of the automotive industry, and the potential of various technologies and systems to be organized into an evolutionary framework, supported by federal research and standards.
Public-Private Partnerships in the Future
Overall, PPPs will continue to increase in significance as infrastructure programs increasingly focus on maintenance and systems operations. Figure 3, based on the discussion above, suggests the scale of the potential private role in the near future.
PPP Arena
Percentage of Total Annual National Highway Expenditures
Effectiveness/Leverage
Federal Role
D-B Fixed Price Contracting
10-15%
Low but widespread
Established
Outsourcing of Maintenance & Operations
10%
Modest and concentrated
Promotion
Private Toll Roads
10%
Modest and concentrated
Legislation/Promotion/
Regulation/
Support
VMT/Pricing Program Management
2%
High and widespread
Legislation/Promotion/
Regulation/
Support
VII
25%
High and widespread
Legislation/Promotion/
Regulation/
Support
Figure 3: The Market for Public-Private Partnerships
As indicated in Figure 3, the potential arena for private involvement in investment terms is not insignificant at 30% to 40% excluding the private roles in entirely new service enterprises such as VMT charging and VII. The nexus of complex program management, innovative finance, real-time operations, and market-responsive challenges plays to the obvious strength of the sophisticated private sector, which is located substantially outside the traditional highway transportation sector. Current trends in levels of service offered by the existing highway system make it clear that the traditional sectoral roles and institutional arrangements will not support an increasing mobile, complex, high-tech economy. As suggested in Figure 1, both network and services improvements will depend on a 21st Century transportation institutional framework that capitalizes on the respective strengths and responsibilities of the sectors and institutions within them.
The long-term implications of PPPs in the highway sector may be expected to evolve in directions consistent with other infrastructure-based public utilities and services such as power, water, telecommunications, etc. The "mobility corporation" concept would combine the complete range of functions discussed as PPP opportunities in this paper. It would involve private enterprise-type ownership and management, providing highway infrastructure-based services on a metropolitan or corridor scale. The corporations would own (by long-term lease) the network, improve and maintain it and provide a range of related operations and customer-convenience services for passenger and freight movement. It might be expected that special pricing, priority, and design features would be developed for specific user markets.
The public sector (state and local) would play a role similar to a public utilities commission for highways, regulating minimum service levels, prices, and general managerial audit, as well as developing a comparator or re-bid approach to ensure competitive service. The federal role at this point would be to provide FCC-type oversight and coordination to ensure that national interests are met.
Workshop Presentation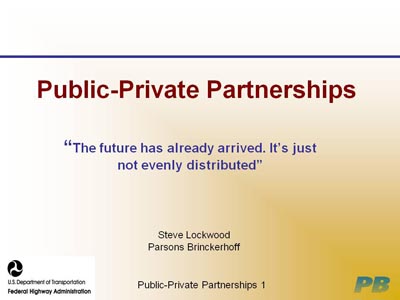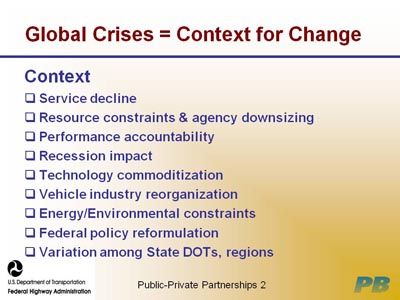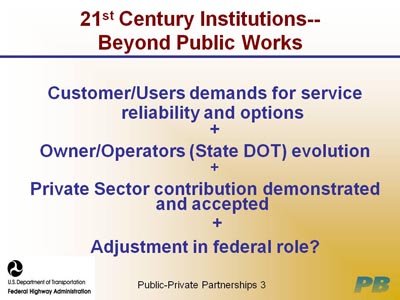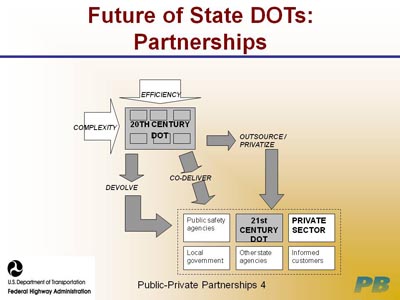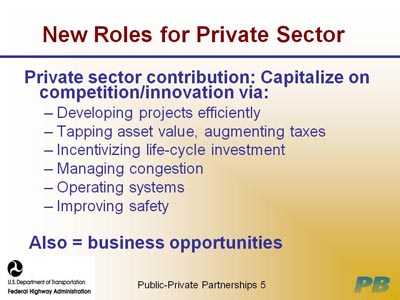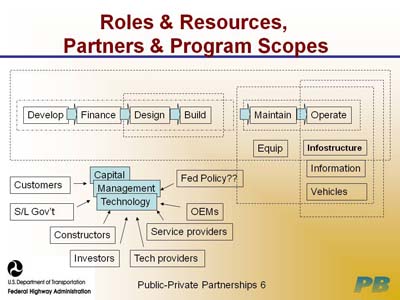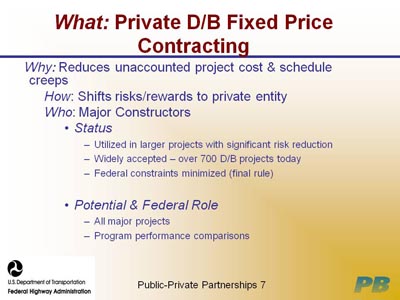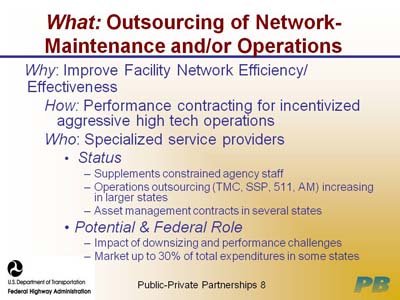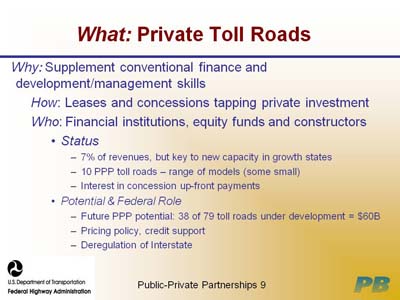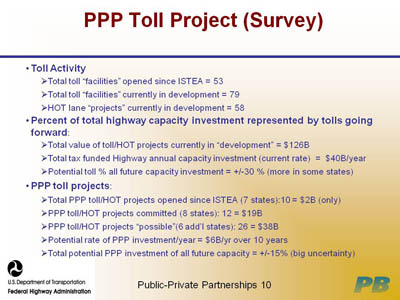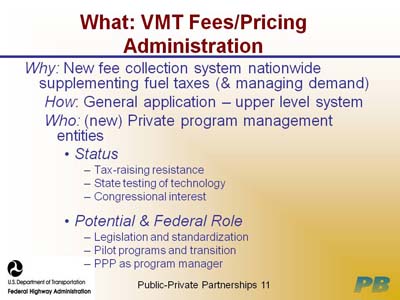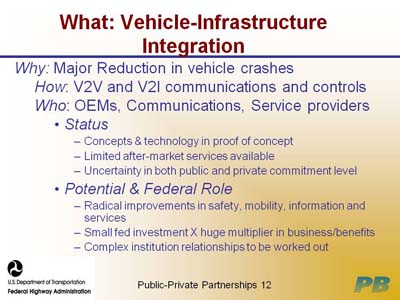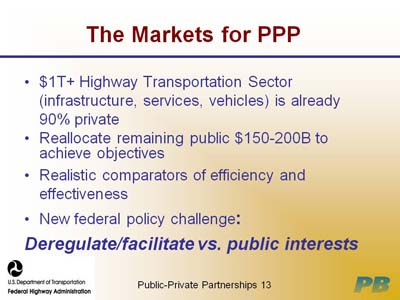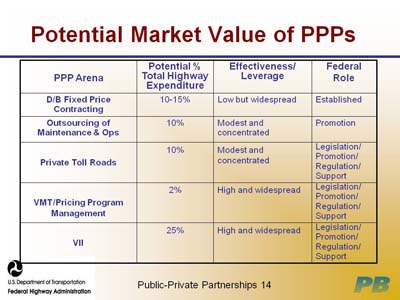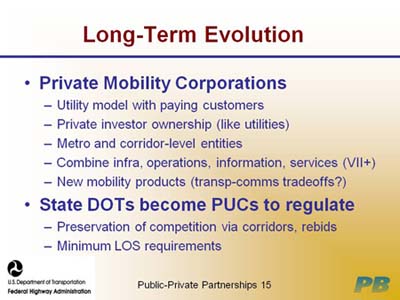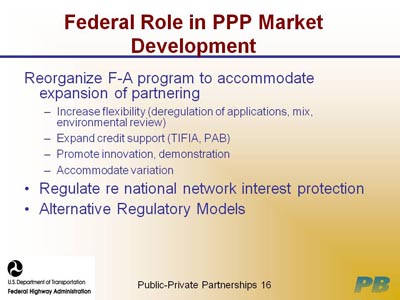 ---
1
Excerpt from Introduction: "Exploring Key issues in Public-Private Partnerships for Highway Development" No. 2 in the FHWA series
Searching for Solutions
, FHWA Office of Policy Development, 11/21/1991