Publication Number: FHWA-RD-00-057
Date: April 2000

Anti-Icing Lead States Team Helps Corps of Engineers Keep "Vital Link" Open in Kosovo
Faced with keeping 109 km (68 mi) of roads in Kosovo clear of snow and ice and open to traffic this past winter, Lt. Steve Bates of the U.S. Army Corps of Engineers' 82nd Engineer Battalion, 1st Infantry Division, turned to the Internet to research road weather information systems (RWIS) and anti-icing techniques. "We had to keep a vital link open to bring all the soldiers mail, food, and other supplies," says Bates. "We had been keeping the path open, but without accurate weather and road data, I suspected I was operating a very inefficient system." His research eventually led him to Paul Pisano at the Federal Highway Administration, who directed him to the Anti-Icing/RWIS Lead States Team Web site and the team's leader, Rick Nelson of the Nevada Department of Transportation (DOT).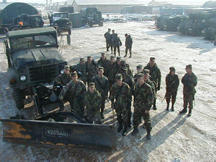 Members of the Corps of Engineers keep the roads clear from snow and ice in Kosovo so that mail, food, and supplies can get through.
Bates and Nelson corresponded by email for several months, with Bates sharing details of the roads that needed to be maintained and the particular problems faced. The two-lane main supply route stretched for about 37 km (23 mi) , with the terrain varying from a mountain pass to open plain. "This road has to stay open no matter what happens, as this is how we get all of our supplies from Skopjie, Macedonia," says Bates. Given that he had only six snowplows to deploy and could not depend on the often inaccurate local weather forecasts (one storm that was predicted to bring 3 inches of snow instead dumped 2.5 feet), Bates concentrated on implementing an effective anti-icing program instead of just clearing the roads after the fact.
"The fewer snowplows I can send out the better, as there are still people shooting, sometimes at American soldiers, and bombing," says Bates. He also faced a personnel shortage, as no one in his battalion was on road maintenance duty full time.
To aid in the anti-icing effort, Nelson shipped copies of all of the anti-icing/RWIS materials available from the Lead States team, including Weather Technologies for Snow and Ice Control, a basic RWIS primer; Survey of Alternative Road Deicers, an exhaustive look at the anti-icing chemicals currently available; and instructor and student materials for a master course on "Anti-Icing/Road Weather Information Systems Usage in Snow and Ice Control Operations."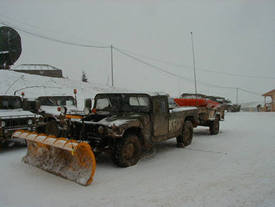 Six snowplows are used to clear 109 km (68 mi) of roads in Kosovo
Based on the information provided, Bates started making changes in his unit's winter maintenance practices, including pretreating roads before storms with calcium chloride and a salt brine solution to prevent snow and ice from sticking to the pavement and curtailing the use of sand, as it was not effective.
Nelson also provided the names and Web site addresses of several RWIS vendors, whom Bates has contacted to request equipment catalogs and price lists. He hopes to be able to set up about 10 RWIS sites soon.
"The materials provided helped greatly," says Bates. "Without Mr. Nelson's assistance, our operation would have been much less efficient. We went from a completely ineffective program to being able to keep the road open during a 2.5-ft snowstorm."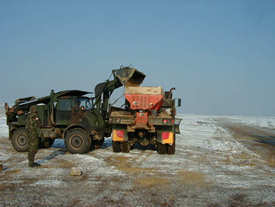 Roads are treated with anti-icing materials before a storm.
The Lead States Team materials are now reaching an even larger audience in Kosovo. Bates has used them to train other American soldiers, Polish troops, and high-ranking officials in the Kosovo Protection Corps. They are also being translated into Albanian for further distribution. "The level of success we've experienced is known throughout NATO [North Atlantic Treaty Organization] and to the highest levels in the United States military. The only roads that have been in great shape are the ones that my unit has taken care of," says Bates.
For more information on the assistance and resources that the Lead States Team can provide, check out its Web site at leadstates.tamu.edu, or contact Rick Nelson at 775-834-8333 (fax: 775-834-8390; email: rnelson@dot.state.nv.us).