Publication Number: FHWA-RD-00-057
Date: April 2000

Building a (High-Performance) Bridge to the Future
In 1994 the Federal Highway Administration (FHWA), American Iron and Steel Institute, and Department of the Navy launched a $1.5-million joint effort to develop a new grade of high-performance steel (HPS). Although high-strength steel had been available for many years, it required more sophisticated welding techniques and more complicated fabrication processes than conventional steel, making highway agencies and bridge builders reluctant to try the new material.
Six years later, the partnership has resulted in a new grade of high-performance steel (HPS-70W) that is stronger and easier to weld. HPS has only half the carbon and one-tenth the sulfur of conventional steel. The low-carbon content means that little or no preheating is needed to weld components together, which reduces both construction time and costs. HPS is also tougher than conventional steel, resulting in a bridge that can better absorb the impact of traffic loads and has reduced susceptibility to fractures.
Atorod Azizinamini, director of the National Bridge Research Organization, notes that only 2 years ago, at an HPS conference, "the DOT engineers had a lot of questions about the new technology, and they were waiting for someone to test the waters and build a bridge. Now many States are building HPS bridges, and DOTs are loving the material." A recent HPS conference in Kansas City, Missouri, drew 180 participants.
The first HPS bridge in the United States, a 46-m (150-ft) simple span structure, opened to traffic in December 1997 in Snyder, Nebraska. This was closely followed by the 1998 opening of an HPS bridge on State Route 53 over Martin Creek in Jackson County, Tennessee. The Tennessee bridge has two continuous spans measuring 72 m (236 ft). The use of HPS required only two changes in the fabrication process: additional welding was needed to join the steel girder plates since the current HPS production process limits plate length to about 18 m (60 ft), and a special low hydrogen flux was required in the welding process to avoid cracking. Benefits realized from the HPS design include a 24 percent reduction in steel weight and a 6.5 percent savings in the total cost of the project. Tennessee has since built a second HPS bridge on State Route 52 over the Clear Fork River and is currently building a third one on  State Route 58 over the Clinch River.
"We use high-performance steel because it's economical and welder friendly," notes Ed Wasserman of Tennessee DOT. "It's also a tougher steel that reduces crack growth rates. The bridges that we've built have done very well."
With Tennessee and Nebraska having paved the way, a number of other States are building or proposing to build HPS bridges, including Maine, Massachusetts, New York, North Carolina, and Pennsylvania. FHWA's Innovative Bridge Research Project awarded funds to 15 HPS bridge projects in 1999 and began soliciting applications for 2000 funding last month.
FHWA and its partners have extended their research project for another 5 years, with funding that could reach $3 million. 'We think that there are still new, improved grades of high-performance steel to develop," says Bill Wright of FHWA. The research will concentrate on developing longer plate lengths, improving welding processes, and achieving HPS with even greater strength. Researchers are also looking at using HPS in new, more efficient bridge design shapes. Several concepts are being considered that can improve the stiffness of the girders, while minimizing weight and increasing fatigue resistance. These new shapes include the sandwich web design, where filler material is sandwiched between two thin sheets of steel to make them thicker and stronger.
"We've just scratched the surface of what we can do with high-performance steel," says Azizinamini. "I also think that the cost savings will continue to increase in the next couple of years. This technology could ultimately have a real economic impact."
For more information on HPS, contact Bill Wright at FHWA, 202-493-3053 (fax: 202-493-3442; email: bill.wright@fhwa.dot.gov), or Atorod Azizinamini at the National Bridge Research Organization, 402-472-5106 (fax: 402-472-6658; email: aazizi@unl.edu).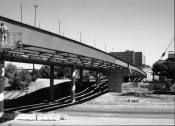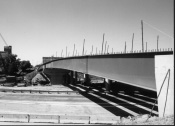 This HPS bridge over Interstate 480 is currently under construction in Nebraska. The bridge is being constructed in stages, with the first half completed and open to traffic and the second half expected to open to traffic next month.