Publication Number: FHWA-RD-00-056
Date: February/March 2000

Kansas DOT Uses LTPPBind to Improve Binder Selection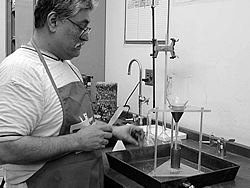 Senior engineering technician Chuck Espinoza works on a Superpave mix design in one of Kansas DOT's asphalt laboratories.
When the Kansas Department of Transportation (DOT) switched to the Superpave performance-graded binder specification several years ago, the agency became concerned that the specification might be too restrictive, compelling them to select a binder that might be "softer" than needed for the winter months, yet not hold up as well in the summer months, when a "harder" binder is needed. The reason: the original binder specification developed under the Strategic Highway Research Program (SHRP), which is based on expected high and low temperatures at a site, uses the lowest air temperature in a region instead of the lowest pavement temperature. Because pavement retains some warmth and thus typically doesn't cool as much as air, the specification might unnecessarily call for a too low temperature grade. Kansas DOT turned to the LTPPBind software program, developed as part of the long-term pavement performance (LTPP) studies. The software, based on data collected from the LTPP seasonal monitoring program, provides improved low- and high-temperature models for selecting performance-graded binders. It allows users to select binders based on actual site temperatures and to adjust the selection based on traffic loads and speeds.
"We use LTPPBind to determinewhich PG binder to use for various depths of the pavement structure and for various traffic conditions," says Lon Ingram of Kansas DOT. "For instance, if traffic is greater than 3 million equivalent single-axle loads, we bump up the grade one level, or if there are certain stopping/standing traffic conditions, we'll bump up the grade one or two levels."
The original Superpave binder specification called for a PG58-28 binder in most of Kansas. Now, using LTPPBind, Ingram says a PG64-28 binder is called for in most of the State, with the exception being a PG64-22 in the southern part of the State.
"Although it's too early to tell the effects of changing the binder grade, there's no question we're seeing improved performance with some of these binders," says Ingram.
Copies of the LTPPBind software can be obtained from the LTPP Web site at https://www.fhwa.dot.gov/pavement/ltpp/bind/order.cfm. CD-ROM copies are available from the LTPP customer service line at 423-481-2967 (email: ltppinfo@fhwa.dot.gov). For more information on the software, contact the customer service line or contact Monte Symons at FHWA, 708-283-3549 (fax: 708-283-3501; email: monte.symons@fhwa.dot.gov).
LTPPBIND OR SUPERPAVE SOFTWARE?
With the introduction of the new Superpave software (see "Superpave Software Hits the Street") which incorporates LTPPBind's temperature database, will LTPPBind become obsolete? While the new Superpave software performs many of the same functions, LTPPBind has features that continue to make it a good tool for States and contractors. For example, users who need only to select the proper asphalt binder and are not designing a mix, such as asphalt cement producers, can use LTPPBind without having to learn how to use the Superpave software. LTPPBind will also remain an excellent choice for State highway agencies that are trying to determine binder needs across their State. In addition, although nearly all States have adopted the Superpave binder specification, about 20 have not yet adopted the mix specification and thus may not need the more comprehensive Superpave software at this time.