Publication Number: FHWA-RD-00-056
Date: February/March 2000

Software Program Helps Contractors Avoid Paving Pitfalls
During the first 72 hours of a portland cement concrete (PCC) pavement's life, temperature, moisture, and other factors have a significant effect on its long-term durability and performance. For example, if a paving crew applies curing compound to newly placed concrete, they may feel they have adequately protected the concrete from excessive stress during its early age. However, the concrete may still experience a significant temperature drop or other temperature changes within the slab due to wrongly timed placement and/or a change of environmental conditions. These temperature changes can cause excessive tensile stresses that cause the pavement to crack.
That's just one example of the many decisions that contractors make during the design and construction of pavements-and those decisions, together with variable concrete mix designs and environmental factors, can sometimes have unexpected consequences. Now, a new software program-HIPERPAV-takes some of the guesswork out of those decisions, allowing contractors to avoid many potential problems.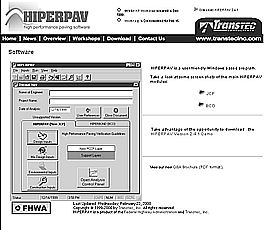 "Until now, we didn't fully appreciate how materials, mix design, pavement design, construction practices, and climatic conditions interact and how each factor affects the others-and ultimately the durability of the pavement," says Stephen Forster of the Federal Highway Administration (FHWA). "This program gives us a tool to evaluate how that interaction will affect early-age behavior and ultimately pavement performance."
HIPERPAV was developed to address two key problems that can occur within the early stages (first 72 hours) of construction and that can greatly affect the long-term performance of a pavement project-namely, uncontrolled transverse cracking in new full-depth jointed concrete pavements and debonding of concrete overlays placed on, and bonded to, existing pavements. The user enters construction, environmental, mix, and pavement design parameters into the software program. The program then analyzes those variables using a series of equations that estimate the amount of stress and strength that will develop in the concrete during the early phase of construction. If the analysis determines that the pavement will be prone to uncontrolled cracking or debonding, the user can modify one or more of the job variables and rerun the program until an acceptable combination of factors is reached.
There are several key benefits to be gained from using this software:
Avoidance of early-age distress in the form of cracking.
Reduced need for repairs, lower life-cycle costs, and improved pavement performance.
Timely scheduling of pavement joint saw cutting in order to avoid uncontrolled cracking.
More realistic job specifications, which can save time and money, as well as encourage innovation.
HIPERPAV was the outgrowth of FHWA Special Project 201, which focused on accelerating the strength development of PCC pavements. The program was developed by Transtec, Inc., under an FHWA contract. The easy-to-use software interface hides a complex series of algorithms based on extensive laboratory work and field investigation. The results of the program's analysis are presented in an easy-to-interpret graph that plots tensile strength and tensile stress against time.
"When you have so many things happening at once, as during construction, it is too often difficult to identify what the problem really is. This program shows the stress and strength development over the 72-hour period, graphically indicating the potential for cracking. It is beautiful," says Celik Ozyildirim of the Virginia Transportation Research Council and a member of the technical working group that oversaw the project.
The program has been field tested by Transtec in cooperation with highway agencies in five States, as well as by other contractors.
The HIPERPAV software is designed to run on any computer using the Windows 95/98/NT operating system. The current version of the software will be distributed, along with the project reports, to FHWA offices and State departments of transportation. For commercial users and those desiring technical support and continuing upgrades, the software will be available from the Center for Microcomputers in Transportation (known as "McTrans" and accessible online at www-mctrans.ce.ufl.edu) this spring.
For more information on HIPERPAV, contact Stephen Forster at FHWA (202-493-3070; fax: 202-493-3161; email: steve.forster@fhwa.dot.gov), or visit the HIPERPAV Web site@ www.hiperpav.com.