Publication Number: FHWA-RD-00-055
Date: January 2000

PaveCool 2.0-New Software for Managing Compaction Time
Throughout the United States, contractors and inspectors must contend with less-than-favorable weather conditions for road construction and rehabilitation. If an asphalt mix cools too rapidly, the mix will become stiff, making it difficult to compact to proper density. And a pavement that is not properly compacted will not hold up well to traffic loads.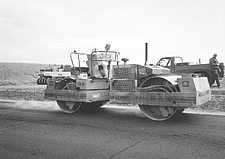 PaveCool helps States and contractors make quick, informed decisions about when to start and finish pavement compaction.
Successful cold-weather asphalt paving thus hinges on knowing when to start and end pavement compaction. A new customized software program, PaveCool, can help contractors, inspectors, and engineers make quick, informed field decisions about when to start-and when to finish-compacting the pavement. The user enters the time and date of paving, as well as information on the type of mix, the paving location, and environmental conditions; the program then calculates the rate of cooling, which lets the user know how much time is available to properly compact the mix. Armed with that information, the paving crew knows when to start and finish paving. And if that paving window isn't big enough, the crew can take steps, such as increasing the lift thickness or adding additional rollers, to mitigate the effects of the daily environment on pavement compaction.
The software features include a menu of performance-graded binders used in Superpave mixes.
According to Steve Scheuring of Glacier Paving, Cloquet, Minnesota, PaveCool is "great as a reference. It does the homework for you, while you continue to progress in the paving process."
PaveCool was developed at the University of Minnesota with assistance from the Minnesota Asphalt Paving Association and the Minnesota Department of Transportation. PaveCool is now available in an updated 2.0 version.
The Federal Highway Administration (FHWA) assisted in the review process for PaveCool 2.0 and is helping to distribute the software to State highway agencies and paving contractors. Jim Sorenson of FHWA says, "PaveCool provides engineers with another tool to use when building high quality, durable pavements."
PaveCool 2.0, which runs on Windows 95/98/NT, is now available for free from the Minnesota DOT Web site (www.mnroad.dot.state.mn.us/MNROAD_PROJECT /restools/restools.html), or can be purchased from the National Technical Information Service's Web site (www.ntis.gov/fcpc/cpn8573.htm).
For more information, contact Jim Sorenson at the Federal Highway Administration (telephone: 202-366-1333; fax: 202-366-9981; email: james.sorenson@fhwa.dot.gov) or your local FHWA Division Office.