Publication Number: FHWA-RD-00-055
Date: January 2000

States Compare SPS Report Cards
To learn how climate and cumulative traffic loading affect pavements of different compositions and layer thicknesses, State highway agencies across the country constructed specific pavement study (SPS) test sections during the past decade as part of the long-term pavement performance (LTPP) program. Eight of the 23 States with SPS-1 (flexible pavement) and SPS-2 (rigid pavement) test sections gathered in Columbus, Ohio, in November to exchange information on how the pavements are performing to date and to discuss plans for using the data collected.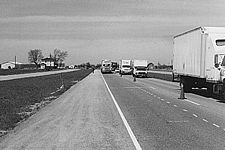 A rolling wheel deflectometer is tested at one of Ohio's SPS sites.
"This was really the first time that States participating in the SPS-1 and SPS-2 experiments had an opportunity to come together and talk about their data collection activities, uses of the data, and any problems or issues," says Herman Rodrigo of the Federal Highway Administration (FHWA). The nearly 70 attendees also included representatives from industry associations, materials suppliers, academia, and consulting firms. The conference was sponsored by the Ohio Department of Transportation (DOT), Ohio University, and FHWA. States that attended included Texas, North Carolina, Florida, Ohio, and North Dakota.
While some States, such as Florida, have only recently begun their SPS experiments, others have 5 years or more of data collection. North Carolina, for example, constructed 12 SPS-2 test sections with varying base types in thickness, width, and concrete strength in 1994. So far the pavements have performed well, with only minor cracking in one test section. North Carolina has started analyzing the data it has collected, says Shie-Shin Wu of North Carolina DOT, "looking particularly at what type of base seems to produce better performing pavements." Carlos Peralez of Texas DOT reported on two SPS-1 sections in his State that were constructed in 1997. The sections, which were designed to fail, are experiencing rutting problems as expected. Engineers monitoring the pavement are learning what level of traffic loading the pavement can handle before it fails.
Although States generally report successful projects, they have encountered problems--for example, the negative public reaction toward test pavements that fail early by design. "A little PR [public relations] would go a long way toward helping the public understand that these are research sites," noted Rodrigo. The conference participants also indicated that they would like to collaborate more with FHWA on data analysis activities and would like FHWA to provide more timely information on the results of the analysis.
The conference also featured an update on the development of the American Association of State Highway and Transportation Officials 2002 Guide for the Design of New and Rehabilitated Pavement Structures and a commemoration of a 1949 conference in Ohio that led to the American Association of State Highway Officials Road Test in Illinois, which was the first experiment to evaluate the effects of heavy trucks on highway pavements.
FHWA will hold a follow-up SPS workshop on April 27-28, 2000, in Newport, Rhode Island. This workshop will cover the SPS-1 (structural factors for flexible pavements), SPS-2 (structural factors for rigid pavements), SPS-5 (rehabilitation of asphalt concrete pavements), and SPS-6 (rehabilitation of jointed portland cement concrete pavements) experiments.
For more information on the November conference, contact Shad Sargand at Ohio University, 740-593-2476 (fax: 740-593-0625; email: ssargand@bobcat.ent.ohiou.edu). For more information on the upcoming SPS workshop, contact Bill Bellinger at FHWA, 202-493-3156 (fax: 202-493-3161; email: william.bellinger@fhwa.dot.gov).