Publication Number: FHWA-RD-00-060
Date: July/August 2000

In Brief
Interested in discussing the merits of various deicing and anti-icing chemicals or the latest in snow and ice control methods and materials? Looking for information on such topics as the pros and cons of measuring pavement temperatures with truck-mounted infrared thermometers? You can find all of this and more on the Snow and Ice List Serve maintained by the University of Iowa. The List Serve currently has about 400 subscribers, many of whom work for State, city, and, county agencies. The List Serve has also attracted a significant number of foreign subscribers, including individuals from Japan, Sweden, Finland, and Norway.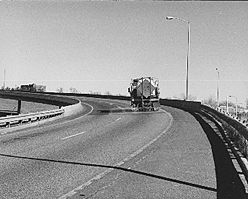 The Snow and Ice List Serve provides the latest in snow and ice control methods, such as the anti-icing application shown here
"Many of the topics discussed are cutting edge technology," says Lee Smithson of the Iowa Department of Transportation. "These are not things that you can go to the library and look up. They're so new."
To subscribe to the List Serve, send an email to snow-ice-request@list.uiowa.edu. In the body of the message, type "Subscribe." If you have questions or would like more information, send an email to owner-snow-ice@list.uiowa.edu.
The National Mayday Readiness Initiative, a partnership among the Federal Highway Administration; the ComCARE Alliance, a coalition that includes public and highway safety groups, emergency medical technicians, and automobile companies; and other public and private organizations, is a new effort to integrate automobile Mayday technologies with emergency response agencies. Mayday systems, which link vehicles to private call centers, are an increasingly popular option in new automobiles. When an airbag is deployed or an emergency call button is pushed, the call center is notified. The challenge is to more efficiently and seamlessly link these call centers with 9-1-1 and emergency medical services and transportation and law enforcement agencies, in order to improve emergency response time and save lives.
Participants in the initiative are holding a series of meetings between now and September to discuss appropriate standards, protocols, and procedures for integrating Mayday technologies. The results of these meetings will be published in an Integration Report that is due out this fall. The report, which will be distributed to public safety officials, lawmakers, and business executives across the country, will serve as a roadmap for this rapidly emerging technology.
For more information on the Mayday Initiative, contact Bill Baker at FHWA, 202-366-8034. You can also check out the Mayday Web site at www.nmri.net.