Publication Number: FHWA-RD-00-059
Date: June 2000

In Brief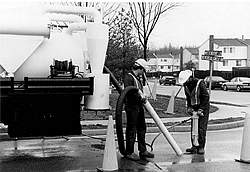 The subsurface utility engineering process can help engineers obtain reliable information on underground utility locations when designing roads.
A new FHWA Web site on subsurface utility engineering (SUE) provides a basic introduction to how this process can help engineers obtain reliable information on underground utility locations when designing roads. The site includes information on how SUE works, the benefits of using the process, and how to select a SUE provider. The site also includes case studies on States that have successfully used SUE in their highway planning. To visit the Web site, go to www.fhwa.dot.gov/infrastructure/progradmin/sueindex.htm.
Roundabouts, a form of circular intersections with specific design features, are used throughout the world to control traffic. Until recently, however, many transportation agencies in the United States were hesitant to recommend and install roundabouts, due to a lack of nationwide guidelines on their planning, performance, and design. To facilitate the design and building of these intersections, the Federal Highway Administration (FHWA) has developed
Roundabouts: An Informational Guide (Publication No. FHWA-RD-00-067). The guide provides information on planning techniques, evaluation procedures for assessing operational and safety performance, and design guidelines. It will be posted on FHWA's Turner-Fairbank Highway Research Center Web site (www.fhwa.dot.gov/publications/research/safety/00068/index.cfm) this month, while printed copies will be available in August. To order a free copy, contact the FHWA Research and Technology Report Center at 301-577-0906 (fax: 301-577-1421). For more information on roundabouts, contact Joe Bared at FHWA, 202-493-3314 (email: joe.bared@fhwa.dot.gov).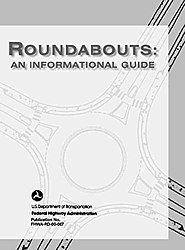 A new report issued by the Georgia Department of Transportation (DOT) details the State's techniques and best practices for achieving smoother pavements. These best practices include implementing a strict smoothness specification for new pavements and overlays. The DOT also does an annual survey of the condition of the entire State-maintained highway system. This survey provides Georgia with the data to identify pavement sections that need to be fixed before cracking, rutting, and other distresses become severe enough to require extensive rehabilitation or reconstruction.
The report can be found on the Web at https://www.fhwa.dot.gov/resourcecenter/teams/safety/rndabout.cfm. For more information, contact Luis Rodriguez at FHWA, 404-562-3681 (email: luis.rodriguez@fhwa.dot.gov).