Publication Number: FHWA-RD-00-059
Date: June 2000

LTPP Key Findings Point the Way towards Better Pavements
Since the long-term pavement performance (LTPP) program began more than a decade ago, it has sponsored research projects on critical issues ranging from the validation of pavement design procedures to pothole repair techniques. The results of this research, and its potential to improve future pavement technology, are covered in a new LTPP report, Key Findings from LTPP Analysis 1990-1999 (Publication No. FHWA-RD-00-085).
The LTPP studies demonstrated the impact of site conditions, such as traffic, climate, subgrade, and geometrics, on pavement performance. For example, the effect of joint spacing on pavement performance varies significantly with climate. Colder and wetter climates allow longer joint spacing, while warmer and drier climates require a shorter joint spacing. For jointed plain concrete pavements, sealed joint sections performed better than unsealed sections, with the unsealed joints containing significantly more debris. Unsealed joints also had significantly more joint spalling.
The subgrade also plays an important role. Fine-grained soil subgrades show more joint faulting than coarse-grained subgrades, which is likely due to increased erosion and reduced bottom seepage of water. And jointed plain concrete pavements constructed on coarse-grained subgrades were smoother than those constructed on fine-grained subgrades. Thus, the placement of a thick layer of granular material beneath the base course may contribute to improved drainage and reduced faulting.
Such structural features as the width of a portland cement concrete pavement slab can also play a significant role in the pavement performance. Widening the slab reduces pavement faulting by reducing the critical deflection at the corner of the slab caused by heavy truck axles.
For continuously reinforced concrete pavements, the LTPP findings demonstrated that steel content is one of the most important factors in improving performance. The greater the percentage of reinforcing steel, the smoother the pavement. Pavements that performed well in the LTPP studies had steel contents ranging from 0.51 percent to 0.75 percent.
The LTPP studies also addressed pavement maintenance. In the area of pothole repair, the throw and roll technique proved to be just as effective as the more traditional cut, fill, and compact method, while offering lower labor and equipment costs. Repairs made with the spray-injection technique also performed well at most sites.
The LTPP data has not only been valuable by itself, but it has been used to evaluate and validate such items as the National Cooperative Highway Research Program rigid pavement design model.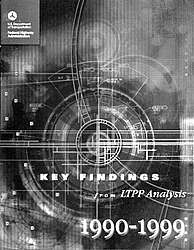 To order a copy of the report, contact Mary Taylor-Mattox at FHWA, 202-493-3155 (email: mary.taylor-mattox@fhwa.dot.gov). The report can also be found on the LTPP Web site at www.tfhrc.gov/pavement/ltpp/key.htm. For more information, contact Cheryl Richter at FHWA, 202-493-3148 (fax: 202-493-3161; email: cheryl.richter@fhwa.dot.gov).
LTPP Online
You can find out more about the products and publications of the LTPP program by checking out its Web site (www.tfhrc.gov/pavement/ltpp/home.htm). The site features updates on the LTPP data collection efforts; a library of brochures, reports, and other publications; a list of frequently asked questions about the LTPP program; and information on how to order such products as the rigid pavement design software. You can also link to the LTPP database site.