Publication Number: FHWA-RD-00-059
Date: June 2000

Workshop Provides SPS Progress Report
At the long-term pavement performance (LTPP) Specific Pavements Studies (SPS) Workshop, held April 27-28 in Newport, Rhode Island, nearly 150 participants gathered to discuss the status of the SPS-1, -2, -5, and -6 experiments. These experiments were designed to learn how climate and cumulative traffic loading affect pavements of different compositions and layer thicknesses. The data from the projects, said Aramis Lopez of the Federal Highway Administration (FHWA), will help form "LTPP's lasting legacy," while contributing to "the best pavement database ever assembled."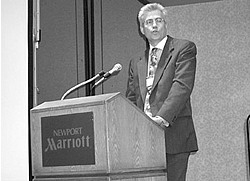 Aramis Lopez of FHWA opened the SPS Workshop by telling participants that the SPS data will help form "LTPP's lasting legacy."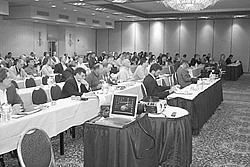 Michael Darter of ERES/ARA Consultants gave a presentation on the state of the SPS-2 (structural factors for rigid pavements) data collection activities. The experiment is focused on jointed plain concrete, examining such factors as the effect of temperature, moisture, subgrade type, and slab thickness and widening on pavement performance. Darter noted that data collection has been good overall, with 82 percent of all targeted data types represented in the LTPP database. This data will have a variety of applications, including use in benefit/cost analyses and for empirical pavement modeling.
Recommendations for the future include measuring layer thicknesses within test sections. It was also suggested that data be collected in some new areas, including conducting video surveys of edge drains to make sure that they are working correctly.
The goals of the SPS-1 (structural factors for flexible pavements) experiment include learning the structural benefits of different base types and thicknesses. As summarized by Harold Von Quintus of Fugro/BRE, most of the projects are performing well. An early result noted was a report from Arizona of failures of Superpave mixes in their sections. The States with SPS-1 sites represented at the workshop, including Arizona, Texas, Arkansas, and Florida, made the suggestion that forensic testing be done on these and other sections scheduled for rehabilitation or reconstruction, in order to learn more about why they failed.
Eighteen SPS-5 (rehabilitated asphalt concrete pavements) sites have been built, containing a total of 210 core test sections and 48 supplemental ones. The goals of the experiment include calibrating and validating pavement overlay and rehabilitation design methods. The experiment's strengths include its coverage of a wide range of climates and hot-mix asphalt mixtures, as well as the fact that only seven of the core test sections have had to be taken out of service because of failure. However, many sections with 7 or more years of service have begun to show signs of significant fatigue cracking. Von Quintus rated the overall health of the experiment as "good to excellent. I think this experiment will be very, very important, both now and into the future."
States participating in the SPS-6 (rehabilitation of jointed portland cement concrete pavements) experiment commented on their goals for the project. "We'd like a technique for designing for climatic conditions-something that we can count on lasting," said Gary Mann of the California Department of Transportation (DOT). Dave Ooten of Oklahoma DOT noted that the ultimate objective is to achieve better designs and save money. "Pavement designers want information to use when considering various design alternatives," he said.
Preliminary findings of the SPS-6 experiments include Illinois DOT's report that adding asphalt concrete overlays to their jointed portland cement concrete pavements increased pavement smoothness, while Oklahoma DOT noted that it has not seen any noticeable benefit from installing edge drains in pavements. Oklahoma also reported that their test sections containing 20-cm (8-in) rubblized pavement with an asphalt overlay have performed very well, experiencing only minimal distress.
An added benefit to the SPS research is that highway agencies are already taking the results from their test sites and applying them in their own States. For example, the practice of rubblizing is receiving more consideration in Oklahoma, thanks to the State's SPS sections. The SPS results have also provided Oklahoma DOT with leverage for doing more research on a State-wide level. And in Missouri, the DOT has contracted with ERES/ARA Consultants to analyze the data from its SPS experiments and help determine how the results can be used to build better roads.
In the closing session of the workshop, Charlie Churilla of FHWA told participants that "we've done something that this country's highway community has never done before, and we've done it exceptionally well." Over the course of the experiments, he said, "we've continually made refinements and adjustments to make sure LTPP stays on target." As was noted in many of the workshop sessions, the biggest adjustment to make now to ensure that the experiments stay on target is to improve traffic data collection and materials testing for the SPS sites. A Traffic Expert Task Group (ETG) has been set up to look at various solutions to this problem, including implementing a State pooled-fund study.
For more information on the SPS experiments or the work of the Traffic ETG, contact Aramis Lopez at FHWA, 202-493-3145 (fax: 202-493-3161; email: aramis.lopez@fhwa.dot.gov).