Publication Number: FHWA-RD-00-058
Date: May 2000

Pennsylvannia DOT Puts LTPP Findings into Practice
With 5,150 km (3,200 mi) of concrete pavements to maintain, the Pennsylvania Department of Transportation (DOT) knows that cracks are inevitable. The challenge is to control their location and size, so that pavement deterioration is minimized.
One method of controlling cracking is to build jointed concrete pavements. The joints serve as an "artificial" crack, which can prevent other random cracking from occurring. However, the use of joints may lead to faulting, another form of pavement distress in which one slab of concrete becomes higher than another. To prevent faulting, it has been standard practice in Pennsylvania for the past 15 years to build skewed joints, rather than perpendicular ones. This was supposed to reduce the impact of traffic on the joint, as vehicle wheels would pass over the joint one at a time and not cause as much displacement of the concrete. In practice though, Pennsylvania DOT has found that using skewed joints can bring its own set of headaches.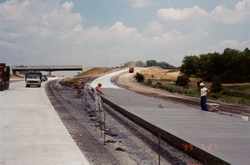 Pennsylvania DOT now specifies perpendicular joints for all concrete pavement highway projects.
"Skewed joints are just a lot more difficult to construct and can be more susceptible to error out in the field," says Dan Dawood of Pennsylvania DOT. Patching the pavement also proved to be difficult. "To patch a skewed joint, you'd have to do a lot of measuring and use both lanes to line up everything," says Dawood. "We just couldn't do that, so we made the patches perpendicular."
After reading the results of a long-term pavement performance (LTPP) program analysis project on joint faulting, Pennsylvania DOT decided to stop using skewed joints in pavements. "The LTPP report indicated that the skewing of joints did not provide any structural benefits," says Dawood. The study also showed that perpendicular joints with adequate subdrainage are as effective at controlling faulting as skewed joints, but much more cost-effective.
In 1999, Pennsylvania started specifying perpendicular joints for concrete pavement highway projects. The policy has already been put into effect at several sites, including projects on Route I-80 and a major project involving ramps and interchanges on Routes 22 and 322. The new policy is expected to both save money and produce better pavements. "We'll be able to reduce costs initially because perpendicular joints are less expensive than skewed joints," says Gary Hoffman, chief engineer at Pennsylvania DOT. "In addition, we'll save money by eliminating construction problems and ensuring that future maintenance is easier to deal with."
For more information, contact Dan Dawood at Pennsylvania DOT, phone: 707-787-4246 (fax: 717-787-7004; email: dadawood@netscape.net).