Publication Number: FHWA-RD-00-063
Date: November 2000

Mix Type Selection Guide: A Handbook for Building Better Pavements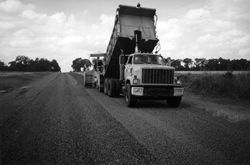 The new Mix Type Selection Guide provides guidance on selecting the right HMA mix for a variety of traffic and environmental conditions.
What's the best type of hot-mix asphalt (HMA) to use on a high-volume urban highway with heavy truck traffic? Which mix type will result in optimum performance for a rural road with low traffic levels? State and local highway agencies and contractors looking for guidance on selecting the right HMA mix for a variety of traffic and environmental conditions can now turn to a new handbook, Mix Type Selection Guide.
A joint publication of the Federal Highway Administration (FHWA) and the National Asphalt Pavement Association (NAPA), the handbook is the first to provide comprehensive guidance to pavement designers on selecting appropriate mix types, taking into consideration such factors as traffic, environment, subsurface pavement structure, existing pavement condition and preparation, and economics. The pavement mix types described in the guide are open-graded friction courses, stone matrix asphalt, and fine- and coarse-graded dense mixes.
Topics covered by the guide include:
recommended mix types for surface, intermediate, and binder courses;
general recommendations for pavement surface preparation;
recommended sublayer conditions for the placing of different mix types;
suggested materials to use for dense-graded mixtures, based on the planned layer of construction and traffic levels;
types of pavement drainage; and
rehabilitation techniques, including thin and structural overlays and concrete slab fracturing.
The guide also provides a bibliography of suggested reference materials and examples of appropriate mix types to choose for different scenarios, including rehabilitation of a high-volume urban highway and construction of an overlay for a medium traffic roadway.
"We anticipate the guidelines will impact both State and local governments' policies on selecting HMA mix types for specific applications," says Jose Garcia of FHWA.
The guidelines are scheduled to be published next month. For more information or to obtain a copy, contact Jose Garcia, 202-366-2226 (fax: 202-493-2070; email: jose.garcia@fhwa.dot.gov).