Publication Number: FHWA-RD-00-062
Date: October 2000

CD-ROM Aids States in Predicting Performance of PCC Pavements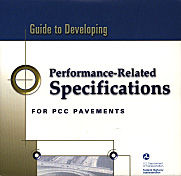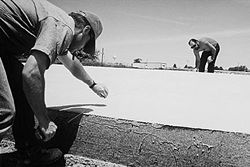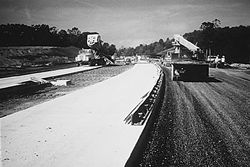 Performance-related specifications can help highway agencies better predict the life-cycle costs of PCC pavements.
With the development and release of a new CD-ROM by the Federal Highway Administration (FHWA), Guide to Developing Performance-Related Specifications for PCC Pavements, it is now easier to define portland cement concrete (PCC) pavement specifications and to predict the future maintenance, rehabilitation, and other life-cycle costs of PCC pavements. The instructive CD contains a four-volume report detailing guidelines for implementing performance-related specifications (PRS) and the 2.0 version of the PaveSpec software, as well as an accompanying user's manual for the software.
The PRS are similar to quality assurance specifications, but the acceptance quality characteristics they measure, which include concrete strength, slab thickness, and initial smoothness, have been determined to be more directly related to future pavement performance. The PaveSpec software allows a highway agency to evaluate the quality of the construction by entering measurements of these acceptance quality characteristics. When these values are entered, the program can predict how the constructed pavement will perform and what its life-cycle costs will be.
"With the introduction of the PaveSpec software, it became possible for the first time for an engineer to use a computer program to develop pavement specifications, rather than relying solely on engineering intuition," says Peter Kopac of FHWA. PaveSpec can also simulate the risks and consequences of achieving different levels of quality for a project. These different quality levels can be used to determine whether a contractor receives incentives or disincentives payments.
The 2.0 program is an upgraded version of the PaveSpec 1.0 program originally developed by ERES Consultants. The 2.0 version, says Kopac, is "more user-friendly and more comprehensive." Work is already underway, meanwhile, to further upgrade the software. The Florida Department of Transportation (DOT) is working with FHWA contractor ERES to refine version 3.0, which is due to be released in early 2001.
In addition to featuring PaveSpec, the CD-ROM provides comprehensive guidelines for implementing the different levels of PRS. Implementing the most basic level of PRS, for example, might include defining the general project information, defining the distress indicator models for pavement performance, and choosing the maintenance and rehabilitation techniques that will be used in response to predicted distress conditions, among other steps.
The Indiana DOT used PaveSpec 2.0 in late 1999 to develop PRS for a paving project on I-465 in Indianapolis. The paving is expected to be completed this month. "So far everything is going quite well," says Rick Smutzer of Indiana DOT. "Indiana DOT had been using a QC/QA specification since about 1991, and the evolution to performance-related specifications is a continuation of a process in which we're ramping up to higher quality construction." Indiana DOT is now planning a second PRS paving project, while Florida DOT is planning its first project. For both projects, PaveSpec 3.0 will be used.
For more information about the CD-ROM or to obtain a copy, contact Peter Kopac at FHWA, 202-493-3151 (fax: 202-493-3161; email: peter.kopac@fhwa.dot.gov).