Publication Number: FHWA-RD-00-062
Date: October 2000

Eastern Winter Maintenance Symposium a "Big Hit" in Fifth Year
More than 1,500 participants from 34 States and 14 countries turned out for the fifth annual Eastern Winter Road Maintenance Symposium and Equipment Expo, held September 6-7 in Roanoke, Virginia. The event, which featured the latest in winter maintenance techniques and technologies, also drew 110 exhibitors.
"The event was a big hit. We had more equipment featured this year and received the most enthusiastic feedback we've had to date from both attendees and vendors," says Deborah Vocke of the Federal Highway Administration (FHWA).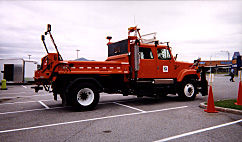 The latest in winter maintenance equipment was featured at the fifth annual Eastern Winter Road Maintenance Symposium in Roanoke, Virginia.
Participants could choose from breakout sessions especially designed for managers, equipment operators, and a general audience. The manager's track featured sessions on such topics as privatization of winter maintenance operations and route optimization systems. Operators, meanwhile, could choose from sessions on subjects ranging from the effective use of snow fences to using automated bridge deck deicing systems. The general track featured discussions on anti-icing vs. deicing, fleet management, and procurement of winter equipment, among other topics.
Participants also had the opportunity to visit the Virginia Department of Transportation's (DOT) Smart Road, which was designed specifically for testing new transportation technologies. This 2.7-km (1.7-mi) two-lane road is a state-of-the-art test site for conducting pavement research and evaluating intelligent transportation systems concepts and products.
The winter maintenance symposium serves as a companion to the American Public Works Association's annual Western Snow and Ice Conference. It is targeted at winter maintenance managers and other public works professionals from cities, townships, counties, and States east of the Mississippi River. This year's symposium was sponsored by the Virginia DOT, Virginia Transportation Technology Transfer Center, Local Technical Assistance Program, American Public Works Association, and FHWA.
Planning is already underway for next year's symposium, which will be held September 5-6, 2001, in Worcester, Massachusetts. For more information, contact Deborah Vocke at FHWA, 410-962-3744 (fax: 410-962-3655; email: deborah.vocke@fhwa.dot.gov).