Publication Number: FHWA-RD-00-061
Date: September 2000

Anti-Icing/RWIS Training Goes Nationwide
"How do you train people to use anti-icing techniques and RWIS [road weather information systems]?," asks Lee Smithson of the Iowa Department of Transportation (DOT) and coordinator of the American Association of State Highway and Transportation Officials (AASHTO) Snow and Ice Cooperative Program (SICOP). Until now, each State has tackled this question separately, with some States developing their own training programs and others using materials from product vendors. A new project recently launched by AASHTO, the Federal Highway Administration (FHWA), and a pooled-fund research program known as AURORA, which includes State highway agencies and international partners, will bring these individual strands together into a new nationwide training program for anti-icing/RWIS.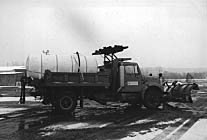 The new nationwide training program for anti-icing/RWIS will allow highway personnel to perform computer simulations of such tasks as applying anti-icing treatments or using data collected from RWIS stations.
The project's primary goal is to develop an interactive, computer-based training program that will have three operating levels: one level for equipment operators, one for supervisors, and one for middle managers. The program will be based on research done under the Strategic Highway Research Program and the National Cooperative Highway Research Program, as well as such documents as the AASHTO Guide for Snow and Ice Control and FHWA's Manual of Practice for an Effective Anti-Icing Program: A Guide for Highway Winter Maintenance Personnel. It will cover information needed by all users, such as basic meteorology and chemistry. But it will also go beyond the basics and allow users to customize the program to include such variables as climatic information for their region, treatments for specific local road conditions, and regional and local weather forecasting and monitoring. Users can then perform simulations, selecting maintenance practices from a range of alternatives and viewing the resulting consequences of their selections.
"When we're done, we should have the crème de la crème of anti-icing/RWIS training," says Smithson. "A real advantage of the program will be that it can be used in both a group setting for training and by individuals. An operator could just sit down and go through this independently."
The program's components will also be easy to update, to accommodate future changes or additions to anti-icing/RWIS information.
"This is something that the winter maintenance community has been working towards for a long time," says Paul Pisano of FHWA. "It will provide more consistency in how anti-icing is handled across the country, which will be reflected in what the driving public experiences."
A contract to develop the training will be awarded this fall, with the program scheduled to make its debut in the fall of 2001. The project is being jointly funded by SICOP, FHWA, and AURORA. States, counties, or municipalities who have contributed at the top level of $30,000 to project funding will receive a program specifically tailored to their State, while others who have contributed at the lower level of $5,000 will receive a generic program package. Governmental agencies not participating at this time in the pooled-fund project will be able to purchase the program from AASHTO, although a price has not yet been determined.
For more information, contact Lee Smithson at 515-239-1519 (fax: 515-239-1719; email: lsmiths@max.state.ia.us).