Publication Number: FHWA-RD-01-063
Date: April/May 2001

Recycle Texas: A Success Story
When the Texas Department of Transportation (DOT) launched its Statewide program encouraging the use of recycled materials in 1994, in response to a legislative mandate, "no one really anticipated the great potential recycled materials held for road construction," says Rebecca Davio of the Texas DOT. Seven years later, the agency is spending $200 million a year on recycled products and has kept nearly 2.6 million tons of waste products out of landfills since the program began.
The agency's initiative "was a team effort," says Davio, manager of the DOT's Recycling and Recycled Products Program. Success, however, did not come overnight. "People were very receptive to the idea of recycling, but anytime you're trying a new idea, it takes time," she says. Texas kicked off its initiative by surveying the State's manufacturers to find out about their recyclable materials that had potential for use in road construction. The DOT also surveyed its material suppliers to find out if they were both capable of and willing to process recyclable materials. All of this data was entered into a Geographic Information System, which provided a graphical representation of the supply of recycled materials for the State. The agency could thus direct its staff to materials available in their region.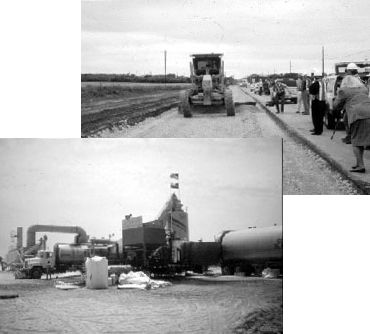 Ten percent crushed glass was blended with traditional limestone (above) to form the flex base of this pavement in Abilene, Texas. Crumb rubber is blended with asphalt (left) to modify and improve pavement performance.
Equally important as identifying the location of recyclable materials is verifying that they work. Texas requires that recycled materials meet the same engineering standards as traditional materials and be cost-effective. The largest category of recycled materials purchased by the State is fly ash, which is used in concrete and soil stabilization. Also high on the list of materials purchased is crumb rubber, which is used as an asphalt modifier. Other materials that have proven successful include using crushed concrete, reclaimed asphalt pavement, and glass and brick as substitute aggregates in pavements.
To get its recycling program off the ground, Texas developed a "Roadway Recycling Strategic Implementation Plan." The plan outlined four steps for increasing the use of recycled materials:
Modify specifications to allow for the use of recycled materials;
Conduct pilot projects to verify the engineering, economic, and environmental benefits;
Facilitate a consistent supply of high-quality recycled materials; and
Communicate with members of the road construction industry and recycled materials generators.
The agency has encouraged the use of recycled materials by reviewing its construction and maintenance specifications and eliminating all requirements for new materials. Texas has also approved several specifications that specifically allow for the use of recycled materials.
Make plans now to attend the first international conference hosted in the United States on the "Beneficial Use of Recycled Materials in Transportation Applications." Scheduled for November 13-15, 2001, in Washington, DC, the conference will address transportation applications for recycled materials generated from transportation, industrial, municipal, and mining processes. The conference is intended for researchers, material generators, equipment suppliers, regulatory officials, engineers, and others involved in the management of recycled materials. Conference sponsors include the University of New Hampshire's Recycled Materials Resource Center, Federal Highway Administration, National Asphalt Pavement Association, and the National Association of Counties. For registration and exhibitor information, contact Warren Chesner at 631-499-1085 (fax: 631-499-1129; email: mail@chesnerengineering.com; Web: www.chesnerengineering.com/2001conference).
A series of pilot projects held across the State were particularly important to the program's success, as they helped reassure regional engineers that recycled materials would work. The projects included demonstrating the use of glass as a pavement base material; incorporating roofing shingles, bottom ash, and crumb rubber into hot-mix asphalt; and using scrap tire as a lightweight filler for embankment areas. Some of the demonstrations drew nearly 100 people, including representatives from neighboring States.
To further spread the word, the DOT also targeted the State road construction industry with information campaigns. For example, 1999 was declared the "Year of the Recycled Roadway Material," and calendars featuring a different recycled material per month were distributed across the State. Each month, a packet of information on the feature material was sent to DOT engineers, contractors, and local road agencies.
Significant partnerships were also formed with industry. For example, the Texas Chapter of the Associated General Contractors has supported the program by forming a recycling committee to educate contractors about recycled materials.
Texas DOT is now working with material suppliers and city and county partners to develop customized training programs for different regions of the State. "We try to make it as easy as possible to use recycled materials," says Davio. "By taking a more customized, regional approach, we can tell people 'These are the materials in your region and here's how you can use them.'" The first customized sessions are expected to debut this summer.
Texas is also working to improve its program by developing a comprehensive tracking system for recycled roadway materials usage. Contractors must now report the type and quantity of recycled materials they use on a job to qualify for a reduced retainage amount for the project (The retainage is a percentage of payment withheld until the job has been completed and accepted). This will provide the most detailed information to date on the types of recycled materials used on State projects.
For more information on Texas's recycling program, contact Rebecca Davio at 512-416-2086 (fax: 512-416-3416; email: rdavio@dot.state.tx.us). Information, including a copy of the agency's "Roadway Recycling Strategic Implementation Plan," can also be found online at http://www.dot.state.tx.us/gsd/recycle/.
The Federal Highway Administration (FHWA) promotes the policy of recycling first. To facilitate the use of recycled materials in the highway environment, FHWA has created a new recycling team. The team's role is to:
Increase FHWA's and our partners' awareness of the existing recycling knowledge;
Identify, foster, and promote research to develop or test new technology;
Foster the review, evaluation, and advancement of emerging technology;
Identify and help overcome barriers;
Coordinate recycling activities within FHWA; and
Facilitate coordination and cooperationwith State highway agencies, State environmental agencies, the U.S. Environmental Protection Agency, and industry.
The team is completing its business plan and developing a White Paper on recycling. For more information or for assistance, contact one of the team members listed below:
FHWA
Bryan Cawley, North Dakota Division Office, 701-250-4342
Jason Harrington, Office of Pavement Technology, 202-366-1576
Connie Hill, Office of Natural Environment, 202-366-9196
Terry Mitchell, Office of Research, Development, and Technology, 202-493-3147
Mike Rafalowski, Office of Pavement Technology, 202-366-1571
Michael Smith, Southern Resource Center, 404-562-3694
Butch Waidelich, New Hampshire Division Office, 603-228-3057, ext. 120
Jack Youtcheff, Office of Research, Development, and Technology, 202-493-3090
Texas DOT