Publication Number: FHWA-RD-01-066
Date: August 2001

FHWA Course Offers New Look at Pavement Preservation
A 2-day course entitled, Pavement Preservation: The Preventive Maintenance Concept (Course No. 131054), is now available by request from the Federal Highway Administration (FHWA), through the National Highway Institute (NHI). The course serves as an introduction to preventative maintenance programs and highlights the importance of these programs to successful pavement preservation.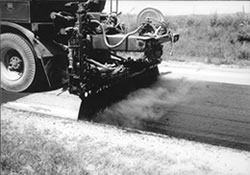 The new NHI course highlights the importance of preventative maintenance programs to successful pavement preservation
The Preventive Maintenance Concept centers on the information required to develop or improve a preventative maintenance program, and examines the steps that California, Georgia, Michigan, New York, and Texas have used in developing their own preventative maintenance programs. Included in the course is a description of the currently available tools and technologies, such as fog seals, undersealing, and hot in-place recycling, which make preventative maintenance programs possible. An extensive list of references for each tool and technology covered is also provided. Upon completion of the course, participants will be able to:
Identify the components of a preventative maintenance program.
Identify various pavement preservation techniques and materials and discuss the need for performance evaluation and pavement condition analysis.
Discuss the effects of various treatments on pavement performance and pavement condition indices.
Describe the importance of integrating pavement preservation into pavement management systems.
Explain cost/benefit concepts. The course's intended audience is upper and mid-level highway agency
Professionals who are responsible for pavement preservation and maintenance. The cost is $230 per participant. This is the first of four planned courses on the subject of pavement preservation. The second course in the series, Pavement Preservation: Selecting Pavement for Pavement Maintenance, will be available this fall.
For information on scheduling the course, contact Lynn Cadarr at NHI, 703-235-0528 (email: lynn.cadarr@fhwa.dot.gov). For technical information on the course, contact Julie Trunk at FHWA, 202-366-1557 (email: julie.trunk@fhwa.dot.gov). More information is also available at the NHI Web site (http://www.nhi.fhwa.dot.gov/).