Publication Number: FHWA-RD-02-005
Date: December 2001

Managing DC's Assets: Partnership Produces Better Tunnels
A year after the launch of the $70 million DC Streets initiative, Washington, DC, residents are reaping the benefits of this extensive rehabilitation and preservation undertaking. Under the initiative, known as "DC Streets: An Innovative Partnership for Better Roads," the District of Columbia Division of Transportation (DOT) and the Federal Highway Administration (FHWA) contracted with VMS, Inc., to rehabilitate and preserve about 75 miles of the District's major roads, along with tunnels, bridges, curbs, gutters, sidewalks, and retaining walls. The 5-year project is the largest transportation investment in DC DOT history and the first time that FHWA has teamed directly with a city government to preserve segments of the National Highway System.
Eight heavily-used tunnels in the heart of downtown Washington have already received a makeover, courtesy of DC Streets. The Mall Tunnel and the Air Rights Tunnel required "total" and "moderate" rehabilitation, respectively, while six more tunnels were in need of extensive maintenance.
The partnership between DC DOT, FHWA, and VMS is innovative in that it specifies the desired outcome, rather than mandating what materials or techniques are to be used. This "performance-based" approach is thought to be superior to conventional road asset maintenance contracts in a number of ways. For example, by having VMS take over some of the necessary work, the understaffed DC DOT can concentrate on maintaining the balance of the city's infrastructure. Since the contract is performance-based, the contractor has strong incentives to deliver high-quality products on schedule, and funds and time tend to be spent more efficiently, thereby saving the agency money in the long term.
In the case of DC DOT and its tunnels, the arrangement came at a crucial time. The Mall Tunnel-a 1,219-m (4,000-ft) section of Interstate 395 that runs under the Capitol Mall and the Department of Labor building-was badly dilapidated and suffering from a lack of timely maintenance. Described by one DC official as a "deep, dark pit," the tunnel's list of ailments was a long one: high carbon monoxide (CO) levels; a destroyed CO and heat-detection system; nonfunctional communications, computer control, and variable message systems; and a majority of broken pumps and fans. In addition, no maintenance was being performed, more than 70 percent of the lights were out, wall tiles were black from dirt and exhaust, and trash and debris littered the length of the tunnel.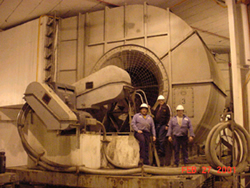 As part of the $70 million DC Streets initiative, eight heavily-used tunnels in Washington, DC have been rehabilitated.
Faced with a daunting task, VMS was further challenged by delays in obtaining subcontractor permit approvals, difficulty in finding parts for obsolete systems, and having only 1 year to bring the tunnel condition up to the performance standard. But by accelerating the permitting process, combining the rehabilitation and maintenance phases, signing up subcontractors with performance-based contracts, and making coordination its top priority, VMS was able to rehabilitate the Mall Tunnel with 3 days to spare before the deadline. In all, the company rehabilitated 28 fans, 2 exhaust towers, 3 pump stations, and 3,165 light fixtures; added new variable message signs; and installed a battery of systems for over-height vehicle detection, computer control, video cameras, heat and CO detection, HVAC, and communications.
Another section of Interstate-395-the 1,097-m (3,600-ft) Air Rights Tunnel-needed only slightly less work. Its rehabilitation included heavy maintenance work done on 16 vane axial fans and a tunnel fan control system; 2 pump stations and a deluge system; 1,126 light fixtures; a CO detection system; and 2 exhaust towers. Now that the rehabilitation of the Mall and Air Rights Tunnels is complete, VMS is responsible for maintaining and preserving them at the specified performance level for the duration of its contract.
The six remaining tunnels required a range of maintenance measures. Four of the tunnels are short and naturally aspirated, thus needing only cleaning and lighting services. However, two longer ones also called for maintenance of their fans and detection systems.
Because so many commuters, tourists, and District residents use the roads that burrow their way under the Nation's Capital, DC DOT and FHWA saw the urgency in getting the tunnels up to an acceptable standard. The DC DOT's partnership with FHWA and VMS has not only improved tunnel safety, but has allowed the city to save money and resources for future road projects and infrastructure needs.
For more information on the DC Streets project, contact Luke DiPompo at DC DOT, 202-645-6134 (fax: 202-645-6129), Michael L. Kirk at VMS, 804-553-4001 (email: mkirk@vmsom.com), or Edward A. Sheldahl at FHWA, 202-219-3514 (fax: 202-219-3545; email: edward.sheldahl@fhwa.dot.gov).
To help cities and States better maintain and preserve their tunnels, FHWA and the Federal Transit Administration are partnering on the development of a state-of-the-art tunnel management system, which will help to extend the service life and reduce operating expenses of tunnels across the country. While some States and cities have developed their own tunnel management systems, no national guidelines currently exist. The new system will be laid out in a comprehensive guidebook scheduled to be published in 2002. The guidebook will include information on:
Establishing a database to inventory tunnel assets and maintain historical files on tunnel construction, maintenance, rehabilitation, and repair costs, as well as records of inspections.
Selecting appropriate maintenance and rehabilitation techniques.
Conducting analyses to prioritize repairs.
Setting up procedures for integrating tunnel management into asset management systems.
The guide will also include generic software that can be used to set up the tunnel management database.
For more information, contact Tony Caserta at FHWA, 202-366-4593 (email: anthony.caserta@fhwa.dot.gov).