Publication Number: FHWA-RD-02-005
Date: December 2001

Scanning the Globe for Pavement Preservation Innovations
In recent years, an increasing number of highway agencies have discovered the benefits of low-cost pavement preservation treatments that can extend the service life of pavements. To learn more about pavement preservation innovations worldwide, the Federal Highway Administration (FHWA), American Association of State Highway and Transportation Officials (AASHTO), and industry sponsored a Pavement Preservation International Scanning Tour in July 2001.
The scanning tour team, which included representatives from FHWA, State departments of transportation, and other public and private organizations, identified France, South Africa, and Australia as countries using innovative techniques, materials, procedures, and equipment in their pavement preservation programs. Team member Duane Blanck, a Highway Engineer with the Crow Wing County Highway Department in Minnesota, says, "It was an excellent opportunity to observe and learn from the rest of the world." Blanck represented the National Association of County Engineers on the tour.
The host countries shared with the team their experiences and expertise with pavement preservation. The team's findings were divided into four categories:
Management Perspective and Policies;
Resource Commitment and Cost-Effectiveness;
Treatments, Techniques, and Performance; and
Innovative Methods, Practices, and Procedures.
The countries visited are committed to designing and building long lasting structural pavements for their roadway networks. Such policies mean that these countries have focused their maintenance activities on preserving surface courses with low-cost seals and thin overlays to protect the large investment in the roadway. These design techniques postpone more costly methods of rehabilitation.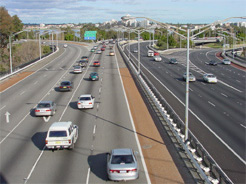 A preventive maintenance approach has helped to ensure the excellent condition of this primary highway in Perth, Australia.
France and South Africa share similar management philosophies that help them effectively appropriate resources. France develops a comprehensive road investment plan every 5 years, and South Africa uses a rolling 5-year improvement plan, which is developed annually using Pavement Management System (PMS) data and funding optimization strategies. Australia takes a different approach to management by implementing long-term maintenance contracts (10 years) that give control and responsibility for roadway system maintenance, rehabilitation, and capital improvements to private contractors.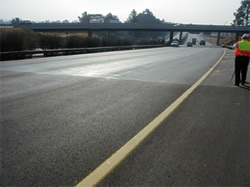 A surface treatment has been applied to this highway near Johannesburg, South Africa.
The team discovered in the three countries a general acceptance of and commitment to using effective pavement management systems and techniques to protect structural investments. In South Africa, 80 to 90 percent of the needed maintenance projects identified using PMS data are scheduled for implementation. Nearly 90 percent of the annual maintenance budget in various regions of Australia is committed to maintenance, with the other 10 percent going towards rehabilitation. And France conscientiously implements protective measures by using low-cost seals on a 7- to 10-year cycle.
Each of the countries uses only high quality materials for bitumen and aggregates, which is ensured through the implementation of rigorous specifications. Using high quality materials results in longer lasting products that respond well to their environment. "We were amazed that they would haul high quality aggregate 250 to 700 km," says Blanck, "We use what's available locally."
Such high quality materials are more costly, which makes preservation all the more important. South Africa and Australia make extensive use of chip seals, with Australia improving performance by pre-coating the aggregates. Australia also widely uses polymerized asphalts to ensure a quality seal. The polymers were generally being applied at twice the rate used in the United States. Because hot-mix asphalt is not always available, France has found success in using cold asphalt concrete as a riding surface for low-volume roads.
Innovative methods, practices, and procedures were observed in all three countries. France has developed the "Charter of Innovation" system, for example, through which the government and industry share the risks and rewards of developing new products and applications. A crack activity meter was designed in South Africa to measure surface cracking and the need to repair a road surface before applying a traditional overlay. And in Australia, the use of sandwich seals with a two-coat geotextile reinforced treatment has resulted in surfaces with 11-year acceptable performance ratings.
Following the tour, the team reviewed their observations from the countries visited and came up with a number of pavement preservation recommendations, such as applying thin seals earlier in the distress cycle and developing mechanisms to evaluate and implement new and innovative pavement preservation processes. The team's ultimate conclusion: Apply the right treatment to the right pavement at the right time.
A report detailing the findings and recommendation from the scanning tour is due out in early 2002. A technical working group comprised of representatives from the team, the AASHTO Subcommittee on Maintenance, FHWA, and a consulting firm are developing a Scan Technology Implementation Plan (STIP) that will demonstrate to transportation agencies and industry the observed innovative pavement preservation techniques and facilitate the implementation of the team's recommendations. Overall, the team found that the direction that the United States is taking in pavement preservation is in alignment with some of the best practices in the world.
For more information on the scanning tour or STIP, contact Luis Rodriguez at the FHWA Southern Resource Center, 404-562-3681 (email: luis.rodriguez@fhwa.dot.gov). For more information on pavement preservation treatments and techniques, contact Julie Trunk of the FHWA Office of Asset Management's Construction and System Preservation Team, 202-366-1557 (fax: 202-366-9981; email: julie.trunk@fhwa.dot.gov; Web: https://www.fhwa.dot.gov/infrastructure/asstmgmt/preserv.htm).