Publication Number: FHWA-RD-01-061
Date: February 2001

In Brief
The Federal Highway Administration (FHWA) has embarked on an update of its Bridge Maintenance Training Course. The course, which is presented through the National Highway Institute, is designed to train State and local bridge maintenance personnel in planning, scheduling, and performing effective bridge maintenance and repairs. Course topics include the mechanics of structures, materials used in bridge repair, equipment available for structural maintenance, work methods and prioritization, and evaluation of maintenance alternatives. The updated course, which will debut in the fall of 2001, includes information on new technologies, such as improved materials for patching, and will incorporate modern, hands-on training methods. For more information, contact George Romack at FHWA, 202-366-4606 (email: george.romack@fhwa.dot.gov).
John Klemunes has departed from his position as FHWA's Western long-term pavement performance (LTPP) program coordinator. The interim contact for information on LTPP product development and implementation is Monte Symons at FHWA's Midwestern Resource Center. He can be reached at 708-283-3549 (fax: 708-283-3501; email: monte.symons@fhwa.dot.gov).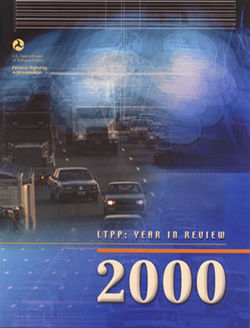 Highlights of the LTPP program's accomplishments last year can be found in LTPP: 2000 Year in Review (Publication No. FHWA-RD-01-036). The report includes updates on analysis projects, products, funding, research reports, and publications. Copies of the report can be found on the Web at www.fhwa.dot.gov/pavement/ltpp/brochure.cfm.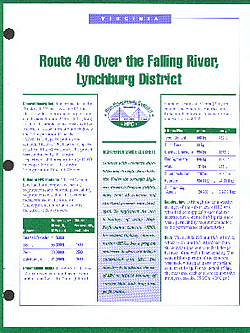 Details on high-performance concrete (HPC) bridge projects in nine States are available in a new collection of fact sheets from FHWA. The fact sheets provide a general description of each project, including location, concrete type, bridge dimensions, and project partners. Each fact sheet also contains an "Outline of HPC Features" section that describes such factors as concrete strength and mix composition and a benefits section that lists information on cost savings and reductions in materials used. Projects described include two parallel bridges under construction on U.S. 401 over the Neuse River in Raleigh, North Carolina, and a two-lane, four-span structure on Route 40 in Lynchburg, Virginia. The fact sheets can be downloaded from the Web at www.tfhrc.gov/structur/hpc/flyers.htm. For more information on HPC, contact Terry Halkyard at FHWA, 202-366-6765 (fax: 202-366-3077; email: terry.halkyard@fhwa.dot.gov).