Publication Number: FHWA-RD-01-061
Date: February 2001

Mobile Concrete Lab Brings Technology Straight to You
It can perform a wide range of both conventional and innovative nondestructive concrete tests. It can provide highway agency staff with hands-on experience in new technologies and test equipment. And it can come straight to your door. The Federal Highway Administration's (FHWA) Mobile Concrete Laboratory (MCL) is designed to introduce Federal, State, and local transportation personnel to state-of-the-art concrete technology for materials selection and mixture design, as well as field and laboratory testing. The current emphases for lab visits include assisting in implementing the use of high-performance concrete (HPC) for pavements and bridges, nondestructive testing, and performance-related specifications (PRS).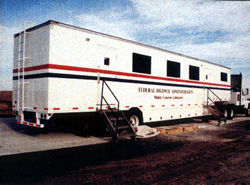 The Nebraska Department of Roads used the Mobile Concrete Laboratory on a recent paving project resulting in better design calculations and an improved final project.
The fully equipped laboratory can be used to perform an extensive list of concrete tests, including such quality control tests as temperature, slump, air content, and unit weight measurements; elastic modulus; and strength testing. Nondestructive tests that can be carried out include maturity testing, tensile bond strength, impact echo, pulse velocity, and match curing. And available durability-related tests include rapid chloride permeability, surface airflow permeability, microwave water content, and alkali-silica reactivity detection.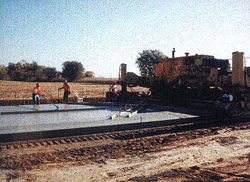 The Nebraska Department of Roads recently used the MCL's services for a plain concrete paving project. During the lab's 2-week stay, it was used to characterize the pavement's air void system, perform pavement thickness measurements using the impact echo test, check water content ratios with the microwave water content test, and perform maturity testing. According to Scott Grossenbacher of the Department of Roads, the knowledge gained from the lab testing resulted in better design calculations and an improved final product. "The most important benefit, however, was the hands-on experience with staff who have tested similar projects in other States," he says.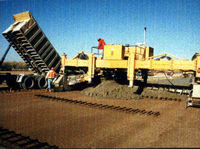 During the Mobile Concrete Laboratory's 2-week stay in Nebraska, it was used to perform pavement thickness measurements, among other tests.
The Indiana Department of Transportation (DOT) also received assistance from the MCL recently at a PRS project on a section of Interstate 465. The DOT used the lab for both comparative and verification testing, including performing impact echo tests for pavement thickness measurements and maturity for later age strength predictions. "The lab's visit was extremely beneficial," says Rick Smutzer of Indiana DOT. "The lab introduced us to new technologies for nondestructive evaluation that we didn't have in-house. We're now going to use this technology in the future for PRS projects." While the lab was in Indiana, FHWA personnel also hosted an open house for Indiana DOT staff and contractors. "Everyone benefited from the lab's visit," says Smutzer.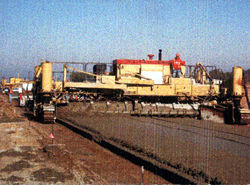 In addition to onsite visits, the MCL has an equipment loan program where State highway personnel can borrow testing equipment for varying lengths of time after having been trained in its use by lab staff. Lab personnel can also put on specialized workshops for States, provide speakers at workshops and conferences, and provide assistance over the phone or by email.
For more information on scheduling a visit by the lab or using the other services available, contact Gary Crawford at FHWA, 202-366-1286 (fax: 202-493-2070; email: gary.crawford@fhwa.dot.gov) or Leif Wathne at FHWA, 202-366-1335 (fax: 202-493-2070; email: leif.wathne@fhwa.dot.gov). For a schedule of locations the lab is already slated to visit in 2001, see sidebar.
2001 Mobile Concrete Lab Schedule
Note: This schedule is tentative and is subject to change.
March 6-7: On display at Missouri/Kansas American Concrete Pavement Association Conference in Kansas City, Missouri
March 12-16: National Highway Institute Materials course training in Reno, Nevada
April: Field testing for mixture evaluations for HPC bridges on I-99 in Pennsylvania
May: Field testing for Wacker Drive project in Chicago, Illinois
June: Field testing for project on I-65 near Nashville, Tennessee
July: Field testing for PRS project in Florida
August: Field testing for paving project in Oklahoma
September 9-13: On display at Seventh International Conference on Concrete Paving in Orlando, Florida
October 11-12: On display at North Eastern States Materials Engineers Association Conference in Albany, New York