Publication Number: FHWA-RD-01-060
Date: January 2001

In Brief
The National Highway Institute (NHI) has a new redesigned Web site (www.nhi.fhwa.dot.gov). Visitors to the site can view the NHI course catalog and register and pay for a class online. Other features include a list of frequently asked questions, a "What's New" section, and a "Feedback" section that allows visitors to submit comments and suggestions about the Web site and NHI programs.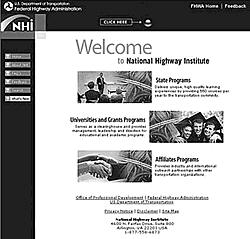 A new Work Zone Best Practices Guidebook prepared by the Federal Highway Administration (FHWA), in partnership with the American Association of State Highway and Transportation Officials, gives readers a look at transportation agencies' approaches to achieving safety and mobility during construction and maintenance operations. Some examples of the best practices found across the country include using computer models to estimate the delays caused by work zones and to then compare alternative routes; publicizing work zone detours through such means as brochures, maps, CB radio broadcasts, and even placemats handed out at restaurants and truck stops along Interstate routes; and mounting work zone signs in such a way that they can quickly be replaced if they are hit or otherwise knocked down.
The guidebook includes contacts for more information; a series of cross-references that allows users to search for best practices in several different ways (such as by project life-cycle stage, roadway characteristics, or State agency), and a topical index. Readers who would like to share their own best practices can fill out a submission form included in the guidebook and return it to FHWA.
The guidebook Publication No. FHWA-OP-00-010) can be found on FHWA's Web site at ops.fhwa.dot.gov/wz/workzone.htm. An interactive CD-ROM is also available. For more information or to obtain a copy of the CD-ROM, contact Phillip Ditzler at FHWA, 202-366-0855 (email: phillip.ditzler@fhwa.dot.gov). The CD-ROM can also be obtained through your local FHWA division office.