Publication Number: FHWA-RD-01-064
Date: June 2001

Your One-Stop Shop for Better Bridges
You won't find this team in the same office or even the same State. But you can tap into the collective expertise of the Federal Highway Administration's (FHWA) new "virtual" team for fiber-reinforced polymer (FRP) composites on the Web at www.fhwa.dot.gov/bridge/frp/. Team members, who represent FHWA, State highway agencies, industry, and academia, are developing the site as a one-stop shop for information on FRP composites, which are high-performance, nonmetallic materials being used in new bridge construction and bridge repair and rehabilitation.
FRP composites are typically made of such fibers as glass, aramid, and carbon in a polymer resin matrix. These materials are not only more corrosion resistant than conventional steel, but are also lightweight and easier to handle and install, resulting in more rapid construction. For example, the superstructure for the first all-composite vehicular bridge in the United States, which opened to traffic in 1996 in Russell, Kansas, was installed in 1 day. This compares to a typical installation that can take months. Numerous other bridge decks have since been completed in various States, as this high-performance materials technology changes the way bridges are designed, built, and maintained.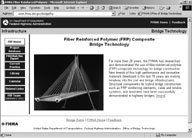 Visitors to the Web site can view reports generated from a growing database of FRP bridge projects and find details on such things as FRP composite materials, the manufacturing/curing process, and types of applications. The site is also adding information on current practices and upcoming meetings and conferences, as well as an "Ask the Expert" feature, a collection of frequently asked questions, links to partners' Web sites, and a library of reference materials.
"The team is looking to both facilitate a community of practice and lead the way in advancing the technology," says Ben Tang of FHWA. "The team will not only collect and disseminate the information on FRP now available, but will identify where more knowledge is needed." Future team activities may also include organizing training sessions on FRP technology, directing research and development of the technology, providing technical assistance to bridge engineers and owners, reviewing guidelines and specifications in partnership with the American Association of State Highway and Transportation Officials, and working with industry.
Additional virtual teams on many more structural topics are being developed and will be rolled out one at a time in the near future.
For more information on the FRP team or FRP technologies, contact Ben Tang at FHWA, 202-366-4592 (fax: 202-366-3077; email: benjamin.tang@fhwa.dot.gov) or Eric Munley at FHWA, 202-493-3046 (email: eric.munley@fhwa.dot.gov).