Publication Number: FHWA-RD-01-064
Date: June 2001

Preventive Maintenance Videos Win Public Relations Award
Two preventive maintenance videos coproduced by the Michigan Department of Transportation (DOT) and the Federal Highway Administration (FHWA) were recently recognized with the Crystal PACE Award, one of the highest honors in the public relations field. Presented by the Public Relations Society of America, the award is conferred upon programs that have successfully addressed a contemporary issue with exemplary skill, creativity, and resourcefulness.
Protecting Our Pavements: Preventive Maintenance, released in April 1998, targeted upper-level highway managers with a message about the critical need for and benefits of adopting new policies and funding strategies in support of preventive maintenance programs. This video was followed by the June 2000 release of Preventive Maintenance: Project Selection, which was aimed at the maintenance supervisors and program managers who make the daily decisions to implement various preventive maintenance treatments. These treatments, which include such things as crack and joint sealing, surface seals, and thin overlays, help retard pavement deterioration and can extend the life of a structurally sound pavement by 5 to 10 years.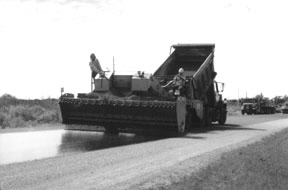 Preventive maintenance treatments, such as the chip sealing show here, help retard pavement deterioration.
Since the videos' release, which was also made possible through support from the Foundation for Pavement Preservation and the American Association of State Highway and Transportation Officials Lead State Team on Pavement Preservation, thousands of copies have been distributed across the country and worldwide to highway agencies and contractors. The videos have also been the subject of numerous presentations at conferences, workshops, and national and regional meetings. "Along with highway agency personnel and contractors, the videos have been viewed by legislators, community groups, and local government officials, which has served to dramatically increase public awareness of the importance of preventive maintenance," says Jim Sorenson of FHWA.
To obtain copies of the videos, contact FHWA's Office of Asset Management at 202-366-0392, or the Foundation for Pavement Preservation at 703-538-3542 (email: info@fp2.org). For more information on preventive maintenance techniques, contact Jim Sorenson at FHWA, 202-366-1333 (fax: 202-366-9981; email: james.sorenson@fhwa.dot.gov), or Larry Galehouse at Michigan DOT, 517-322-3315 (fax: 517-322-3385; email: galehousel@mdot.state.mi.us).