Publication Number: FHWA-RD-01-062
Date: March 2001

In Brief
The Strategic Highway Research Program (SHRP) brought States the Superpave mix design system, long-term pavement performance program, and improved pavement maintenance techniques, among other successes. What will the Future SHRP (F-SHRP) bring? The F-SHRP Committee, formed in 1999, is scheduled to issue its report this fall. After extensive outreach to the transportation community, the committee is focusing on a number of potential research areas. These include:
Achieving rapid, long-lived reconstruction of highways with minimum disruption. This topic may focus particularly on Interstates and freeways, but would also look at providing benefits for urban street networks.
Improving the design of safety programs through indepth study of crash causation factors and development of prototype countermeasures for common crash types.
Reducing user delay by developing better data analysis tools, traffic control technologies, roadway designs, and institutional strategies.
Developing tools to help practitioners meet future highway demand in ways that support improved quality of life, economic growth, and community and environmental values.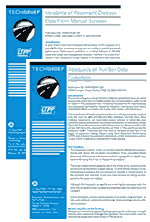 For more information, check out the F-SHRP Web site at www4.nationalacademies.org/trb/newshrp.nsf or contact Ann Brach at TRB, 202-334-2242 (fax: 202-334-2527; email: abrach@nas.edu.). Two new TechBriefs are available from the long-term pavement performance (LTPP) program. Adequacy of Rut Bar Data Collection (Publication No. FHWA-RD-01-027) examines the accuracy of automated survey vehicles, which are being used by many State highway agencies to collect data on the extent and severity of pavement rutting. Variability of Pavement Distress Data from Manual Surveys (Publication No. FHWA-RD-00-160) assesses the collection of the data that drives pavement performance predictions. Both TechBriefs can be found on the Web at www.fhwa.dot.gov/pavement/ltpp/library.cfm. They can also be obtained from the FHWA Research and Technology Report Center at 301-577-0906 (fax: 301-577-1421).
Additional copies of the CD-ROM, Hot Mix Asphalt for the Undergraduate (Publication No. FHWA-RD-99-073), are now available from FHWA. Originally issued in 1999, the CD-ROM contains course materials that are designed to introduce the Superpave system to students in civil engineering programs. The materials include instructor's notes, a laboratory instructor's guide, a student workbook, and homework problems. These can be used as either a supplement to existing undergraduate courses on materials and pavements or as a stand-alone segment of the course curriculum.
The CD-ROM is available from the FHWA Research and Technology Report Center (phone: 301-577-0906; fax: 301-577-1421) For more information, contact Lee Gallivan at FHWA, 317-226-7493 (fax: 317-226-7341; email: victor.gallivan@fhwa.dot.gov).