Publication Number: FHWA-RD-01-062
Date: March 2001

Working Together for Work Zone Safety
"Slow Down. It Won't Kill You." That's the message motorists in Georgia are getting as they travel through work zones, thanks to a new campaign by the Georgia Department of Transportation (DOT). Drivers approaching work zones in Alabama, meanwhile, are being reminded that "People Work There." These and other efforts to promote safety and mobility in work zones will be spotlighted during the second annual National Work Zone Awareness Week, to be held April 9-12, 2001. The week is being jointly sponsored by the American Association of State Highway and Transportation Officials (AASHTO), American Traffic Safety Services Association (ATSSA), and the Federal Highway Administration (FHWA).
The awareness week will kick off on April 9 with a media event on the National Mall in Washington, DC. This event will commemorate the 868 work zone fatalities that occurred in 1999 and highlight nationwide initiatives to improve work zones, as well as things individual drivers can do to make travel through work zones safer. These "Safety Tips to Live By" include turning on headlights in work zones, keeping up with the traffic flow, and refraining from changing lanes.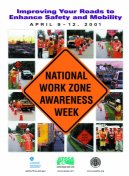 The first Work Zone Awareness Week, held April 2-8, 2000, prompted a number of observances by State and local transportation agencies. The Arizona DOT, for example, held a press conference near an Interstate work zone site in Phoenix that featured two DOT maintenance employees who had been involved in a work zone crash. The Virginia DOT, meanwhile, launched a campaign aimed at both drivers and highway workers that promoted the theme of teamwork in construction zones. And the Connecticut DOT and its many partners, including the Department of Motor Vehicles and the Connecticut Construction Industries Association, showcased "Operation Big Orange." This is a police enforcement effort designed to reduce speeds through construction and maintenance work zones.
The 2000 Work Zone Awareness Week was also observed by ATSSA members in 30 States. Events included a press conference held by the New Jersey chapter at Thunder Stadium in Trenton, New Jersey, and visits by members of the Florida chapter to State legislators. "Work zone safety is a year long focus for our members," says Jim Baron of ATSSA. "Most of their days are spent in the work zone and many of them have suffered the loss of a worker. This is a subject near and dear to them."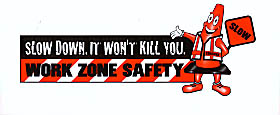 For more information on National Work Zone Awareness Week, contact Mike Robinson at FHWA, 202-366-2193 (email: mike.robinson@fhwa.dot.gov), Jim Baron at ATSSA, 540-368-1701 (email: jimb@atssa.com), or Jennifer Gavin at AASHTO, 202-624-3690 (email: jgavin@aashto.org). Information is also available on the Web at www.atssa.com or http://safety.fhwa.dot.gov/wz/. For more details on operating safe and effective work zones, contact the Work Zone Safety Information Clearinghouse (wzsafety.tamu.edu/). Sponsored by the American Road and Transportation Builders Association and FHWA, the Clearinghouse offers users a chance to check out what's new in work zone safety, ask questions, and submit information on their own best practices. You can also reach the Clearinghouse at 888-447-5556 (fax: 979-845-0568; email: workzone@tamu.edu).