Publication Number: FHWA-RD-01-068
Date: October 2001

Combatting Pavement Roughness with ROSAN
Smoother pavements mean more satisfied customers. As noted in the recent Federal Highway Administration (FHWA) survey, Moving Ahead: The American Public Speaks on Roadways and Transportation in Communities, improvements in pavement conditions are one of the factors that may result in the greatest rise in traveler satisfaction. To better measure the smoothness of roads after paving, while allowing traffic to flow unimpeded, FHWA's Federal Lands Highway offices are using a new device known as ROSAN (ROad Surface ANalyzer).
Developed by FHWA's Turner-Fairbank Highway Research Center in partnership with the firm MGPS, ROSAN is a noncontact portable profiler. The laser-based profiler is capable of measuring longitudinal texture and pavement profiles at highway speeds. "Being able to do all the pavement measurements at highway speeds is one of the greatest benefits of using ROSAN, as you do not have to stop traffic," says Laurin Lineman of FHWA. By eliminating the need for lane closures and other traffic control measures, the use of ROSAN can also reduce costs.
The ROSAN system consists of a laser, optical interface, accelerometer, pulser, and computer. With the exception of the computer, the entire unit fits in one case and is transportable. The unit can be mounted on vehicles that have a step bumper, as well as any vehicle to which mounting brackets can be permanently installed. The device's user-friendly interface is Windows-based and can be easily operated. ROSAN is capable of sample intervals ranging from 0.25 mm (.00975 in) to 25 mm (.975 in) and sampling speeds ranging from 24 km/h (15 mi/h) to 104 km/h (65 mi/h), depending on the sampling interval.
FHWA's Federal Lands offices have been evaluating the smoothness and roughness measuring capabilities of ROSAN since May 2000. In August 2000, Federal Lands gave ROSAN a tryout at the Mn/ROAD pavement test facility in Minnesota. More than 216 longitudinal traces were taken to evaluate ROSAN's variability depending on the operator, data acquisition speed, and vehicle type. The test results proved to be consistent, despite the changes in operator, speed, and vehicle type. In August of 2001, Eastern Federal Lands staff and Virginia Department of Transportation (DOT) personnel tested ROSAN at Virginia's Smart Road in Blacksburg. This 2.7-km (1.7-mi) two-lane road is a state-of-the-art test site for conducting pavement research and evaluating new transportation technologies. Field spot checks showed that texture measurements done with ROSAN correlated well with the known texture values that had been obtained at the site using the traditional sand patch method and a CT meter (a stationary laser-based method for measuring texture).
Also in August, the Central Federal Lands Highway Division demonstrated ROSAN's texture measurement capability to Colorado DOT on Interstate 225 in Denver. The Eastern Federal Lands office, meanwhile, demonstrated ROSAN to representatives from the Maryland State Highway Administration and Virginia DOT. Measurements for texture smoothness and roughness were performed. Of particular interest to the observers was ROSAN's capability to measure and identify aggregate segregation. In a recent report prepared by the National Center for Asphalt Technology and issued by the National Cooperative Highway Research Program, Report 441: Segregation in Hot-Mix Asphalt Pavements, ROSAN was identified as one of only two technologies that could be used to identify segregation. Federal Lands is currently evaluating ROSAN's texture measurement module to obtain the necessary data to develop a construction quality control specification for aggregate segregation.
FHWA's three Federal Lands Offices are also currently using ROSAN to collect IRI data on paving projects. Data is being collected on both the original surface before paving and on the final surface. This data will be used to write a roughness improvement specification.
For more information on ROSAN, contact Laurin Lineman at the Eastern Federal Lands office, 703-404-6268 (email: laurin.lineman@fhwa.dot.gov). For more information on other lightweight pavement profilers and FHWA's overall pavement smoothness initiative, see November 1999 Focus.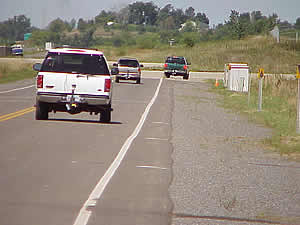 ROSAN is a laser-based profiler capable of pavement measurements at highway speeds.