Publication Number: FHWA-RD-01-067
Date: September 2001

Data Integration: Key to Practice of Asset Management
The practice of Transportation Asset Management, a strategic approach to managing infrastructure, involves the gathering, retrieval, storage, analysis, and communication of enormous quantities of data. This data is needed to monitor and report on the condition and performance of a transportation system's inventory, develop performance objectives and measures, identify investment strategies, and conduct value assessments for different types of assets. For a highway agency to carry out these tasks and determine the best way to allocate limited resources, the data needs to be both comprehensive and consistent. "A common, consolidated set of data provides an agency the ability to make well-informed, cost-effective Asset Management decisions," says Madeleine Bloom, Director of the Federal Highway Administration's (FHWA) Office of Asset Management.
The key to successful Asset Management is readily accessible and comparable data. However, in many highway agencies the necessary data exists in separate databases. When this situation is present, the identification and selection of the most appropriate investment strategies may not be realized. Data integration can improve accessibility and comparability either by storing all of the data in a single data warehouse or by linking databases through a computer network.
Bringing or linking together the data used by existing management systems has proved to be challenging, however, as most current systems have a restricted capability for data exchange. Thus, data integration strategies have been implemented by only a few transportation agencies, and these applications have been limited in scope. Much information and guidance is needed to address the technical and other organizational challenges involved in data integration.
To respond to this need, FHWA's Office of Asset Management has published a Data Integration Primer and a Glossary of Data Integration Terms. To obtain copies, contact the Office of Asset Management at 202-366-9242 (fax: 202-366-9981). In addition, a collection of case studies on State highway agency data integration experiences is being developed. These publications will provide agencies with information on:
The benefits of data integration for asset management.
Alternative approaches and strategies.
Best practices.
Methods for dealing with legacy databases.
Applications of tools and technologies.
Common problems or barriers encountered and ways to overcome them.
FHWA and the American Association of State Highway and Transportation Officials (AASHTO) will also be holding a Data Integration Forum and Peer Exchange on December 12-13, 2001, in Chicago, Illinois (see sidebar). The forum will provide participants with an overview of the state-of-the-practice in data integration, as well as the opportunity to share their experiences in this area.
For more information on data integration or the upcoming forum, contact Roemer Alfelor at FHWA, 202-366-9242 (fax: 202-366-9981; email: roemer.alfelor@fhwa.dot.gov).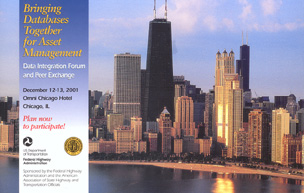 Transportation professionals from across the country will have the opportunity to learn more about integrating and sharing data at the Data Integration Forum and Peer Exchange: Bringing Databases Together for Asset Management, scheduled for December 12-13, 2001, in Chicago, Illinois. Sponsored by FHWA and AASHTO, the forum will highlight ongoing data integration efforts and individual State experiences. Key presentation and discussion areas will include:
Integration requirements
Legacy databases
Alternative tools and technologies
Data standards
Reference systems.
For more information, contact Roemer Alfelor at FHWA, 202-366-9242 (fax: 202-366-9981; email: roemer.alfelor@fhwa.dot.gov).