Publication Number: FHWA-RD-01-067
Date: September 2001

The Next Generation of Technology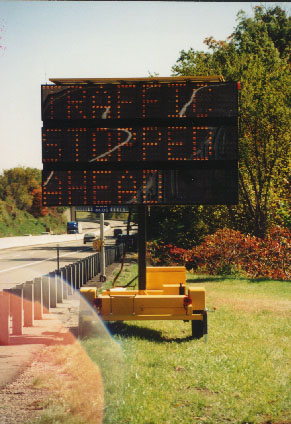 The use of queue detection information can increase safety for both road workers and motorists.
Moving forward with its goal of promoting high payoff, innovative technologies that State and local transportation agencies and industry can use, the Technology Implementation Group (TIG) has selected three technologies for accelerated deployment.
Sponsored by the American Association of State Highway and Transportation Officials (AASHTO), the group's mission is to "champion the implementation of technology among AASHTO member agencies, local agencies, and their industry partners to improve the Nation's highway system" (see February 2001 Focus). The three initial technologies selected for implementation are precast substructural elements for bridges, intelligent transportation system (ITS) technologies for work zones, and accelerated construction methods.
The use of precast substructural elements, such as precast bent caps, allows for rapid and more cost-effective bridge construction. For example, the Texas Department of Transportation's decision to use precast bent caps for the replacement of 113 spans on a bridge in Houston allowed construction to be completed in 95 days, rather than the 548 days that conventional construction would have taken.
The use of ITS technology in work zones, such as ramp metering systems, intrusion alarms, and queue detection information, is aimed at increasing safety for both workers and road users and ensuring a more efficient traffic flow. Accelerated construction methods, meanwhile, will help to cut down on the time needed for work zones, thus also increasing safety and causing fewer delays for motorists. To accelerate construction, highway agencies are using such unconventional initiatives as closing roads completely to traffic to allow the necessary maintenance or rehabilitation work to be done.
TIG will be soliciting this fall for project sites to hold demonstrations of ITS applications in work zones. The group has chosen Indiana and Pennsylvania as pilot States for accelerated construction technology and will be planning for two pilot workshops to be held in the spring and summer of 2002. To guide the implementation of precast substructural elements, TIG will be setting up a technical panel composed of members from State highway agencies, industry, and the Federal Highway Administration. The technical panel will concentrate on AASHTO adoption of standards for the precast bent cap system and the marketing of the technology to State and local highway agencies. Additional precast substructural elements may be added to the implementation effort at a later time.
For more information on TIG, contact Haleem Tahir at AASHTO, 301-975-5275 (fax: 301-330-1956; email: haleem.tahir@nist.gov).