Publication Number: FHWA-RD-02-009
Date: April 2002

Professor Training Workshop Showcases DataPave 3.0
Professors from universities across the country got a hands-on introduction to the Federal Highway Administration's (FHWA) DataPave 3.0 software at a training workshop held in December 2001 in Reno, Nevada. The software contains much of the data collected through the Long-Term Pavement Performance (LTPP) program, including pavement performance monitoring, material testing, climatic, traffic, maintenance, rehabilitation, seasonal, and inventory data (see article in November 2001 Focus).
Sponsored by the LTPP research and implementation teams and FHWA's Midwestern Resource Center, the workshop was organized by the American Society of Civil Engineers (ASCE)-LTPP Data Analysis Committee. "It was designed to increase awareness of the DataPave 3.0 software and its many capabilities and to encourage participation in the third International Contest on LTPP Data Analysis," says Dr. Fouad Bayomy, professor of civil engineering at the University of Idaho and chair of the ASCE-LTPP committee. The contest, jointly sponsored by ASCE and FHWA, invites university students and professors from around the world to use the LTPP database for research, class projects, and Master's and Doctoral theses. Partnering with industry and State highway practitioners is highly encouraged.
The workshop's 28 attendees came from a variety of engineering schools, some with well-established graduate pavement research programs and others with pavement classes taught at the undergraduate level. Along with providing the professors the chance to experience the software firsthand, the workshop allowed for interaction and the exchange of ideas on how the database can be used in classrooms and for research and analysis. Attendees were also provided numerous instructional materials that can be used directly in the classroom, including PowerPoint presentations on the LTPP program and examples of data analysis, such as how the LTPP data could be used to predict the performance of a flexible pavement section or to evaluate the effectiveness of preventive maintenance strategies. These materials are posted on Dr. Bayomy's Web site at www.its.uidaho.edu/bayomy/workshop_2001.htm.
"The workshop was very helpful," says Dr. Ron Meade, Associate Professor of Civil and Environmental Engineering at the U.S. Air Force Academy. "I was unfamiliar with the LTPP database and its uses, and I can now see how important it is to let our students know that this information exists." In follow-up surveys after the workshop, many of the attendees commented that they found DataPave to be an extremely useful tool in showing how pavements actually perform through their varying environments and compositions.
"The LTPP research will have an enormous impact on the future of pavement technology, and it's imperative that we expose our future engineers to the benefits of this resource," says Monte Symons of FHWA, one of the workshop organizers. "We really appreciate the effort that the instructors and facilitators put into preparing material for this workshop."
For more information about DataPave 3.0 or to obtain a copy of the DataPave software, visit the LTPP Web site at www.fhwa.dot.gov/pavement/ltpp/datapave.cfm, or contact LTPP Customer Support Service at 865-481-2967 (email: LTPPINFO@fhwa.dot.gov). More information about the International Contest on LTPP Data Analysis can be found at https://www.fhwa.dot.gov/pavement/ltpp/contest2004.cfm. If you have questions about the contest, contact Verna Jameson at ASCE, 703-295-6199 (fax: 703-295-6132; email: vjameson@asce.org).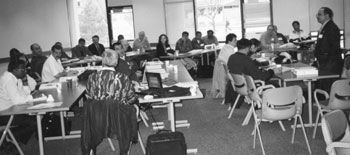 Twenty-eight professors from a variety of engineering schools attended the workshop.
The DataPave training workshop successfully introduced the software to professors from around the country. Thanks goes to the many instructors and facilitators who generously gave of their time and knowledge:
Fouad M. Bayomy, Ph.D., P.E., Professor, University of Idaho
Norbert Delatte, Ph.D., Assistant Professor, The University of Alabama at Birmingham
Karim Chatti, Ph.D., Assistant Professor, Michigan State University
Neeraj Buch, Ph.D., Assistant Professor, Michigan State University
Gary E. Elkins, P.E., Senior Engineer, LAW/PCS, A Division of Law Engineering and Environmental Services, Inc.
Sirous Alavi, Ph.D., P.E., Chief Engineer/Director of Research, Nichols Consulting Engineers, Chtd.
Olga Selezneva, Research Engineer, ERES Consultants
Waheed Uddin, Ph.D., Associate Professor, University of Mississippi