Publication Number: FHWA-RD-02-007
Date: February 2002

A New and Improved High-Performance Concrete
Move over, high-performance concrete (HPC). The next generation of HPC, known as ultra-high-performance concrete (UHPC), is currently being evaluated at the Federal Highway Administration's (FHWA) Turner-Fairbank Highway Research Center in McLean, Virginia. The Center's Structures Laboratory is testing two American Association of State Highway and Transportation Officials (AASHTO) Type II prestressed concrete girders fabricated from UHPC. The tests are intended to characterize the girder's structural behavior and determine how well the current AASHTO design provisions represent that behavior.
UHPC is a steel fiber-reinforced reactive powder concrete that typically displays twice the compressive strength of any HPC used in United States bridge construction to date. The French firm Bouygues SA developed the reactive powder concrete, which is engineered to be a highly compacted concrete with a small, disconnected pore structure that helps to minimize many of the limitations of typical HPC. These advancements are achieved through a combination of finely ground powders and the elimination of coarse aggregates.
The addition of small steel fibers to the mix is responsible for much of the tensile strength and toughness of the material. These fibers eliminate the need for mild reinforcing steel in the girders.
The placement and curing of UHPC can be performed using procedures similar to those already established for use with some HPCs. The fluid mix is virtually self-placing and requires no internal vibration. If required, external form vibration causes the mix to smoothly flow into place. Following an initial set of 24 hours, the curing process requires at least an additional 48 hours, including a vapor bath at a constant 88 °C (190 °F).
The structural test of the first girder delivered some impressive results. Just prior to failure, the 24-m (80-ft) long girder displayed a mid-span deflection of more than 485 mm (19 in). Even more impressive was the girder's ability to sustain a large load and associated deflection without creep, relaxation, or any visual sign of distress. For example, the flexural test was suspended for more than 12 hours with 300 mm (12 in) of mid-span deflection locked into the girder. During that time, the girder was unchanged, and even with the aid of a 3x magnifying glass there were no detectable cracks.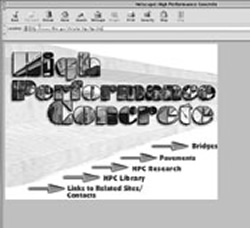 Learn more about FHWA's High-performance concrete research at www.tfhrc.gov/structur/hpc/hpc.htm
To date, three additional structural tests designed to determine the shear capacity of the UHPC girders have been completed. These tests revealed that the shear capacity of a UHPC girder without shear reinforcement is approximately two to three times that of a conventionally reinforced prestressed concrete girder.
FHWA's testing of UHPC has revealed it to be a promising addition to the HPC currently being used by the bridge construction industry. FHWA plans to conduct additional tests that will fully characterize the material, and once the behavior of UHPC is understood, its use in bridge construction will be further investigated. Joey Hartmann of FHWA says, "UHPC is a very promising material that will have multiple applications, but there will need to be further application development to make it efficient."
Numerous other countries are already employing UHPC. Canada and South Korea have used UHPC for pedestrian bridges, Portugal has employed it for seawall anchors, Australia has committed to its use in a vehicular bridge, and France has used it in building power plants. In all of these cases, the material was chosen for its ability to stand up to high stress, both environmental and load related. The increasing deployment of UHPC worldwide and FHWA's initial testing results for the product bode well for its future use.
FHWA's testing of UHPC has revealed it to be a promising material for use in the bridge construction industry. FHWA plans to conduct additional tests that will fully characterize the material.
For more information on UHPC, contact Joey Hartmann at FHWA, 202-493-3059 (fax: 202-493-3442; email: joey.hartmann@fhwa.dot.gov).