Publication Number: FHWA-RD-02-012
Date: July 2002

A Positive Verdict for Precast Concrete
Is your concrete's future precast? In 1998, the Federal Highway Administration (FHWA) contracted with the Center for Transportation Research (CTR) at the University of Texas at Austin to perform a study on the feasibility of using precast concrete pavements for roadway repair and reconstruction. Now, the positive verdict is in.
The CTR team's main objectives were to:
Determine the state of the art in precast pavements.
Identify possible concepts for precast pavements.
Perform a feasibility analysis for identified concepts.
Develop recommendations for future implementation.
Create guidelines for performance monitoring.
The team successfully developed an innovative construction technique that involves the transverse pre-tensioning and the longitudinal post-tensioning of the precast concrete panels. This method increases durability, providing a high-performance pavement with a 30- to 40-year life span.
An economic analysis revealed that, even though construction costs for the precast concrete are higher than for conventional concrete pavements, the daily user cost due to delays caused by construction of a precast concrete pavement is about $1,800, compared to conventional concrete pavement's daily user cost of approximately $380,000. In the long run, precast concrete saves money.
Following the study, the CTR team implemented a pilot project, sponsored by the Texas Department of Transportation, in Georgetown, Texas, to test out its concepts. The project involved the replacement of 700 m (2,300 ft) of pavement on the northbound frontage road of Interstate 35. The construction crew was able to place 76 linear m (152 lane m or 249 ft) of the concrete in 6 hours over a leveling course that was already in place. David Merritt of CTR says, "The project was a success and showed us that precast concrete panels are a viable and at times preferable alternative to conventional construction methods." Another pilot project is tentatively scheduled for this fall on I-10 near El Monte, California. The California project will consist of placing 300 m (984 ft) of precast pavement to add two additional lanes to I-10.
CTR's work revealed several benefits of precast concrete pavements, including:
Faster construction;
Reduced user costs;
Reduced thickness of sections;
Controlled concrete fabrication conditions; and
Improved performance.
Two reports containing the team's findings and recommendations, one on the feasibility study and one on the Georgetown pilot project, are due out this September.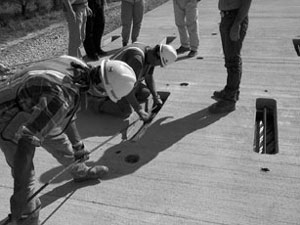 Post-tensioning strands are fed into the ducts at the pockets in the central stressing panels and fed by hand to the anchors in the joint panels as part of a pilot project in Georgetown, Texas.
| | | |
| --- | --- | --- |
| | | |
| A full-width base panel of 11 m (36 ft) is placed. | | This photo shows a finished set of panels at the precast plant. |
For more information on CTR's study or the pilot projects, contact David Merritt at CTR, 512-232-3143 (email: dmerritt@mail.utexas.edu). For more information on precast concrete in general, contact Mark Swanlund at FHWA, 202-366-1323 (email: mark.swanlund@fhwa.dot.gov).