Publication Number: FHWA-RD-02-012
Date: July 2002

FHWA Rolls Out New HERS-ST Software
Get a first look at the Federal Highway Administration's (FHWA) new Highway Economic Requirements System-State version (HERS-ST) software at a conference in Charlotte, North Carolina, scheduled for September 24-25, 2002. HERS-ST is a computer model used to evaluate the relationship between highway investment and system condition, performance, and user cost levels. The software simulates future highway condition and performance levels and identifies deficiencies using engineering principles. It then simulates the selection of improvements for implementation, relying on economic criteria. Current system information is obtained from State-supplied data.
The HERS-ST software will be distributed free of charge to all conference participants. Attendees will receive training on (1) the model's conceptual underpinnings; (2) operating the software; and (3) interpreting the output. Potential applications will also be discussed. FHWA has designed this event to best serve representatives from State transportation agencies. However, others are welcome on a space available basis.
State highway agencies can use HERS-ST for planning and scheduling highway work, as well as determining future highway system needs. Using standard engineering knowledge and applied microeconomic analysis, HERS-ST can answer questions such as:
What level of program capital expenditure is economically justified?
What user cost level will result from a given stream of investment?
What investment level is required to maintain current user cost levels?
What is the cost over 20 years of correcting all existing highway deficiencies, as well as those that will accrue over time, where the improvements are economically worthwhile?
What are the benefits and costs associated with scheduled projects?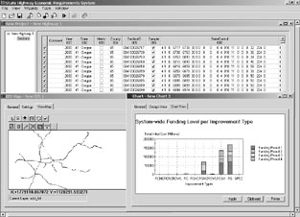 HERS-ST has a Windows-based graphical user interface that is easy to operate. The software includes several features to facilitate sophisticated analyses, such as the ability to perform multiple data runs simultaneously by entering a range of input values. This allows the analyst to quickly see how the performance of the system would be impacted by various investment choices. Output data is easy to view and understand, thanks to graphing capabilities and an integrated Geographical Information System viewer.
The software also contains an "override" feature. This feature allows the analyst to make substitutions for highway improvement options recommended by the model. The user can enter in projects that better address the characteristics of a given system than what is available in the database.
Representatives from 17 States reviewed the prototype HERS-ST software. The reviewers commented on the applicability of the model in a State setting and recommended enhancements. In addition, five States closely guided development of the current version. FHWA also paid particular attention to the experiences of Indiana and Oregon, who have used the model since 1999. The State input has helped to ensure a tool that will satisfy the requirements of most State Departments of Transportation (DOTs).
"FHWA is confident that HERS-ST will be a valuable tool for State DOTs. Ongoing user support and FHWA's focus on its customers' needs make HERS-ST a powerful investment analysis tool for today and tomorrow," says David R. Winter, HERS-ST Program Manager at FHWA.
For additional information on the conference or HERS-ST, contact David R. Winter at FHWA, 202-366-4631 (email: david.winter@fhwa.dot.gov). Information is also available on the HERS-ST Web site at www.fhwa.dot.gov/infrastructure/asstmgmt/hersindex.cfm.