Publication Number: FHWA-RD-02-010
Date: May 2002

Prefabricated Bridge Elements and Systems: A Winning Idea
For a growing number of State highway agencies, using prefabricated structural elements and systems in bridge construction is the way to go. While employing prefabricated elements isn't a new idea, these elements are now being combined and used more extensively to facilitate bridge construction in innovative ways. The technology is also getting a boost from the American Association of State Highway and Transportation Officials' Technology Implementation Group (TIG), which selected prefabricated bridge elements and systems as one of its priority technologies last year and is now moving forward with a Work Plan to promote the use of prefabrication.
Prefabricated bridge elements, such as bent caps, can be manufactured either on- or off-site, under controlled conditions, and brought to the construction location ready for installation. Using prefabricated elements and systems can increase construction zone safety, minimize the traffic impacts of bridge construction projects, make construction less disruptive for the environment, and improve constructibility. Safety is improved and traffic impacts are lessened because some of the construction is moved from the roadway to a remote site, minimizing the need for lane closures, detours, and use of narrow lanes. Moving the construction from the roadway can also lessen impacts on the surrounding environment. Improved constructibility is achieved in situations where sophisticated techniques would be needed to perform cast-in-place construction, such as long water crossings or multi-level interchanges.
In recent years, the Virginia Department of Transportation (DOT) has developed numerous projects suitable for the use of prefabricated bridge systems. One of the most successful projects to date has been the James River Bridge Restoration project, which began in June 2000. This project involves the replacement of 13 bridges along the Interstate 95 corridor in the Richmond area. The nearly 50-year-old bridges were found to be suffering from structural deterioration, with the concrete and steel surfaces needing to be replaced to maintain long-term safety. Starting at 7 p.m., Monday through Thursday, the construction crew closes one-half of the bridge to traffic, and removes two large sections of the bridge surface. These sections are then replaced with new, prefabricated sections. By 6 a.m. the following morning, the bridge is functioning and all travel lanes are reopened. The project is scheduled to finish this year.
The Texas DOT, meanwhile, has found the use of prefabricated bent caps to be extremely beneficial in bridge construction. For example, in 1994 Texas DOT improved constructibility and solved a traffic disruption problem by using a prefabricated cap while working on a ramp for US 290. After the contract had been let and work started on the project, it became clear that the formwork for the proposed cast-in-place cap would interfere with traffic and require closing the ramp for an estimated 41 days. With Texas DOT's approval, the contractor instead precast the straddle bent cap at the work site and lifted it into position. When it was in place, workers post-tensioned bars and grouted the cap-to-column connections. The ramp was closed to traffic for only 6 hours.
In 2000, Texas DOT began construction on a pair of conventional prestressed concrete I-beam bridges over Lake Ray Hubbard near Dallas. To reduce the amount of time workers would need to operate near power lines, the contractor asked to precast the substructure bent caps as an alternative to the original design of cast-in-place multi-column bents. The 102-span bridge includes 43 precast bent caps, with precasting resulting in time savings of 5-7 days per cap.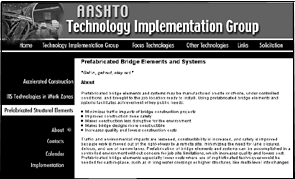 Ronnie Medlock of the Texas DOT says, "Although prefabricated bridge elements such as beams and panels have been used for decades, new elements and innovative ways to use them address pressing construction needs, such as minimizing the impact of the work zone on traffic."
The TIG is working to build on these State successes and extend the use of prefabricated elements and systems in bridge design and construction. Some of the TIG activities underway include developing a brochure and video and sending speakers to various national and regional conferences. A prefabrication demonstration workshop will also be held this fall in St. Louis, Missouri. For more information on the workshop, contact Peter Clogston at the Federal Highway Administration, 573-638-2613 (fax: 573-636-9283; email: peter.clogston@fhwa.dot.gov).
For more information on prefabricated bridge elements and systems or the activities of the TIG Implementation Panel on Prefabricated Bridge Elements and Systems, contact Mary Lou Ralls at the Texas DOT, 512-416-2183 (email: mralls@dot.state.tx.us). Information can also be found on the TIG Web site at www.aashtotig.org. For more information on the I-95 James River Bridge Restoration project, contact Dina Kukreja at Virginia DOT, 804-786-5172 (fax: 804-786-2988; email: dina.kukreja@virginiadot.org).