Publication Number: FHWA-RD-02-010
Date: May 2002

Design Guide Offers New Look at Mitigating Highway Rockfall Hazards
Each year, rockfalls along highways cost States millions of dollars in claims and litigation. Even worse, several States have reported injuries and deaths as a direct result of rocks falling onto roads. According to Oregon Department of Transportation (DOT) Geotechnical Designer Don Turner, "In Oregon in the last 20 years, anywhere from 5 to 8 people have been killed and 10 to 20 have been injured [due to highway rockfall]. Even more common is property damage to vehicles when a rock hits a windshield or rolls in front of a car that swerves out of the way and hits a tree. Many of the smaller incidents aren't even reported."
To address this hazard, highway agencies design "catchment areas," which are ditches along the side of the road that channel falling rocks away from vehicles. To date, catchment areas have been used inconsistently throughout the United States because not enough research had been done to provide engineers with the data they need to make informed design decisions. A new design guide available from the Oregon DOT is stepping in to fill this gap.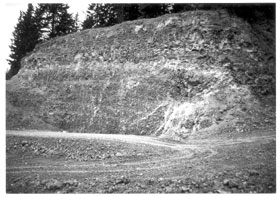 This photo shows a rockfall catchment area.
Oregon DOT recently completed a pooled-fund study with the Federal Highway Administration and seven other State DOTs, the results of which have been published in the new Rockfall Catchment Area Design Guide. The Design Guide details the study's test methods, fieldwork performed, means of analysis, and research results, and presents catchment design charts for practitioners in a user-friendly form.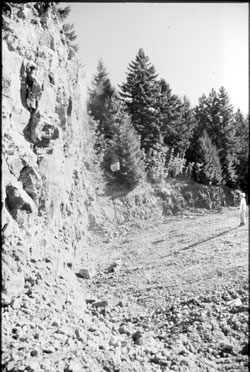 The photo above shows a 24-m (80-ft) high test site.
To gather data for the report, a team of researchers rolled more than 11,000 rocks off 4 different rock cut slopes of 3 different heights. The rocks were rolled into three different catchments. A large number of rocks were needed because of the high number of testing variables; the rocks ranged in size from .3 m (1 ft) to .9 m (3 ft) in diameter and were rolled 12 m (40 ft), 18 m (60 ft), and 24 m (80 ft) down any of four slopes (with angles ranging from 45° to almost 90°). The rocks were rolled into one of three different catchments (with angles ranging from 0° to about 14°). Researchers then plotted a series of charts that depict the size of the catchment needed based on the different combinations of factors. For instance, if an engineer needs to create a catchment for a 24-m (80-ft) high slope at a nearly 90° angle, a Design Guide chart will show that a 4.5-m (15-ft) wide ditch is needed to retain up to 90 percent of falling rocks.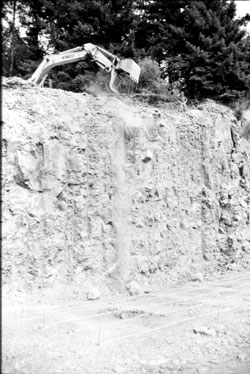 Rocks are dropped by an excavator from a 12-m (40-ft) high slope.
In addition to catchment charts and guidelines, the Design Guide offers step-by-step guidance on applying the catchment design procedure using sample problems and highway project case studies. The case studies also demonstrate other design considerations such as constructibility of the catchments and cost/benefit comparisons of alternate designs.
The Rockfall Catchment Area Design Guide can help transportation agencies in several ways. Even with an engineering concept as simple as a ditch, it takes significant effort to determine how wide it should be to ensure maximum safety from falling rocks. The Guide takes much of the guesswork out of designing a catchment, thus saving States and localities time and money. Another advantage of using the Design Guide is that it can help determine the potential effectiveness of existing catchments without an agency having to conduct tests on each one individually. And ultimately, the advice given in the Guide can help make traveling through areas with rock slopes far safer for drivers.
An electronic copy of the Rockfall Catchment Area Design Guide is available on the Oregon DOT Web site at www.odot.state.or.us/tddresearch/reports.htm.
For more information on the Design Guide, contact Liz Hunt, Technology Transfer Coordinator at Oregon DOT, 503-986-2854 (fax: 503-986-2844; email: elizabeth.a.hunt@odot.state.or.us).