Publication Number: FHWA-RD-02-010
Date: May 2002

Boosting Roadway Safety with Rumble Strips
Approximately one-third of all traffic fatalities and serious injuries in the United States annually are due to run-off-road crashes. In 2000, almost 16,000 deaths were attributed to these types of accidents. Such statistics have caused the transportation community in recent years to take steps aimed at keeping motorists on the road, rather than relying on clear roadsides and traffic barriers to minimize crash severities. One answer: rumble strips. Richard Powers of the Federal Highway Administration's (FHWA) Office of Safety Design says, "Our primary goal is to reduce single-vehicle crashes and fatalities, and rumble strips have proven to be a cost-effective way to keep motorists on the roadway."
Rumble strips are raised or grooved patterns constructed primarily along paved shoulders. When vehicle tires pass over the strips, they produce a sudden rumbling and vibration in the car. Both the sound and the vibration alert fatigued or distracted drivers that they are beginning to drift off the road.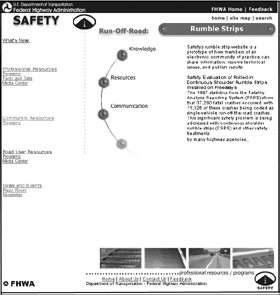 FHWA is spearheading a movement to increase nationwide use of rumble strips. A new technical advisory released by FHWA in December 2001, Roadway Shoulder Rumble Strips, contained the latest information on the state-of-the-practice design and installation of rumble strips, including recommendations for minimizing the adverse effects rumble strips may have on bicyclists using roadway shoulders. The advisory, which also includes an extensive list of reference materials on rumble strip use and effectiveness, is posted on the Web at www.fhwa.dot.gov/legsregs/directives/techadvs/t504035.htm.
Numerous States have performed studies on the effectiveness of rumble strips, with the resulting statistics revealing dramatic success rates. In 1985, the California Department of Transportation (DOT) performed a before-and-after study where it installed rumble strips along sections of Interstates 15 and 40 in San Bernardino County. The study revealed a 49 percent decrease in the number of run-off-road crashes in the areas with rumble strips. Recent follow-up evaluations of freeway segments where shoulder rumble strips have been in place for 3 or more years have shown a 33 percent average reduction in run-off-road accidents.
In the early 1990s, Pennsylvania performed an extensive review of the effectiveness of shoulder rumble strips. As part of this project, the Pennsylvania Turnpike developed a shoulder rumble strip that it called the Sonic Nap Alert Pattern (SNAP). Following the installation of SNAP, the monthly number of run-off-road accidents decreased by 70 percent. A report on the project can be viewed on the Web at http://safety.fhwa.dot.gov/roadway_dept/pavement/rumble_strips/resources/.
The Delaware DOT's US Route 301 Centerline Rumble Strip Project provides some of the most compelling evidence concerning the success of rumble strips. After experiencing a high fatality rate from head-on collisions on Route 301, the Delaware DOT installed centerline rumble strips along the roadway. The result was a 90 percent decrease in the head-on collision rate and a zero fatality rate. These improvements were achieved despite a 30 percent increase in traffic. The project was awarded one of the 2001 National Highway Safety Awards by FHWA.
In addition to increased safety, rumble strips have been shown to cut costs. Several States have analyzed the benefit/cost ratio of shoulder strips, and the results are as dramatic as the accident reduction rates. New York State Thruway data indicates a benefit/cost ratio ranging from 66:1 to a high of 182:1. The Nevada DOT found that with a benefit/cost ratio ranging from 30:1 to more than 60:1, rumble strips are more cost-effective than many other safety features, including guardrails, culvert-end treatments, and slope flattening. And a Maine DOT survey of 50 State DOTs identified a benefit/cost ratio of 50:1 for milled rumble strips on rural Interstates nationwide.
Looking at the future, to build on current rumble strip successes, additional installations and evaluations of centerline rumble strips and shoulder rumble strips on two-lane rural roads are needed.
For more information on using rumble strips, contact Richard Powers of FHWA at 202-366-1320 (email: richard.powers@fhwa.dot.gov) or visit FHWA's Rumble Strips Web site at http://safety.fhwa.dot.gov/roadway_dept/pavement/rumble_strips/.