Publication Number: FHWA-RD-03-012
Date: November 2002

Pavement Management Systems: A Powerful Tool for Performance Monitoring
How are Superpave pavements performing in your State? Your pavement management system (PMS) can help you find out. A recent Federal Highway Administration (FHWA) study examined how existing pavement management data, combined with materials and construction-related data, could be used to evaluate new design or materials concepts such as Superpave in Arizona, Florida, Indiana, Maryland, and Washington State. "With data from a PMS, along with data from other systems such as materials and construction, you should be able to paint a pretty good picture of how a pavement is performing," says Project Coordinator Pim Visser of TRDI, Inc. The study's other primary objectives were to determine what data States collect in common, what data could be combined and used for a multi-State data analysis, and what can be done to make data from different States more compatible.
Most highway agencies primarily use their PMS data at the network level for programming, planning, and budgeting. PMS databases generally contain at least the following information:
Location of the pavement section
Type of pavement
Age
Traffic information
Performance indicators for ride, cracking, rutting, and friction
Year of testing.
The PMS's in the five States visited contained performance data on such criteria as rutting and cracking for 1 to 4 years for Superpave pavements. However, they often had no link between the performance data and details on materials characteristics, as-constructed thickness, construction data, or quality control (QC)/quality assurance (QA) data, which are usually not readily available in electronic format. To assess the performance characteristics of pavements, a combination of data, including material properties, traffic, and weather, is needed. Most States have this data but are not currently combining it for analysis.
One highway agency that has made a major effort to put many of its essential data on pavement materials and construction in electronic format is the Washington State Department of Transportation (WSDOT). These data have been integrated and linked with performance data for Superpave and SMA pavements on a Web-based database known as HMA View developed by the University of Washington. Started in early 2001, the Web site allows WSDOT to track the performance of pavements by looking at such characteristics as whether they are rutting or cracking. "It's a wonderful tool that allows you to look at the field data during production via automated control charts, which are all on one page for easy viewing and analysis," says Kim Willoughby of WSDOT. "Also, the pavements' performance over time can be monitored and linked to actual field text results."
The FHWA study used HMA View for the second part of its research. Known as the Pathfinder Study, this initiative was designed to serve as an example of how a highway agency can identify and collect the data needed to assess the performance of Superpave pavements or other new design or materials concepts, as well as to determine how much effort is required to enter the data into one or more electronic databases. Data fields from the Maryland State Highway Administration's (SHA) QC/QA, pavement design, mix design, and PMS files were selected and data was collected from seven Superpave projects constructed since 1999. Data collection took 2 months of effort as not all of the data was in electronic format. The data was then loaded into HMA View, resulting in a substantial database. Some gaps, however, still remained. This meant that no analysis could be done for such indicators as cracking, the effects of mix temperature, the influence of day or night paving, or the effects of actual versus designed layer thickness. Another limitation was that there was only 1 or 2 years of performance data, so it was difficult to create meaningful plots of performance over time.
Despite the limitations encountered, the project successfully demonstrated how a State highway agency could assemble a detailed database that could be used to evaluate the performance of Superpave and other design and new material concepts. "It has become clear that there is much more data present in PMS, pavement design, materials, and construction files than is currently used or accessible for performance monitoring and that some of the missing data could easily be collated in the future," noted the report produced by the project team. The project also demonstrated the advantages in collecting data in electronic format, making it easily accessible for other applications. "Putting things in electronic format requires a change in attitude and the realization that this data can be useful in many applications and for many departments," says Visser of TRDI, Inc.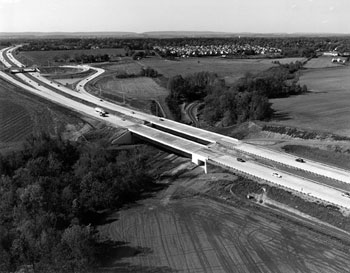 Pavement management system data can be a valuable tool in analyzing the performance of pavements.
Since the Pathfinder study, Maryland SHA has continued working with the University of Washington on a pilot performance monitoring project. "Using HMA View, we have merged seven databases that monitor materials, construction, and performance into one program," says Gloria Burke of Maryland SHA. This pilot project is for an 8-km (5-mi) section of roadway resurfacing located on I-68 in western Maryland. The seven databases track pavement design, project performance, ride quality, binders, construction details, mix design, and QC/QA. The combined data is being uploaded into a version of HMA View customized for Maryland, which includes maps, control charts, and thermal and digital images. "The project is working very well," says Burke. "We are planning to use HMA View even more in the future."
Recommendations made by the FHWA study included undertaking a more detailed multi-State study in the future to analyze the performance of the Superpave system. This would allow States to combine their efforts and could produce a large analysis database of lasting value. The study also noted that "it is important that data used for performance evaluation be accurately and uniformly collected." Data collection protocols currently being reviewed by the American Association of State Highway and Transportation Officials will help in setting a common data collection standard once they are finalized.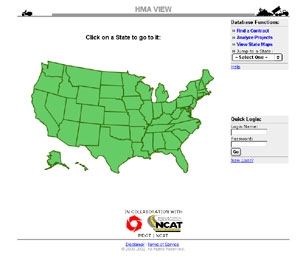 While the study demonstrated the value of PMS databases in analyzing the performance of Superpave pavements, PMS data can be used in many other applications, such as analyzing the performance of recycled materials, high-performance materials, and pavements constructed using performance-related specifications. And with the forthcoming release of the 2002 AASHTO Design Guide, PMS data can also be employed in analyzing the performance of pavements constructed using mechanistic design principles.
For more information on the PMS Performance Monitoring study, contact Sonya Hill at FHWA, 202-366-1337 (fax: 202-366-9981; email: sonya.hill@fhwa.dot.gov). The study report can be found on the Web at www.fhwa.dot.gov/infrastructure/asstmgmt/pms.htm. For more information on HMA View, contact George White at the University of Washington, 206-685-7198 (email: gcw@u.washington.edu) or Kim Willoughby at WSDOT, 360-709-5474 (email: willouk@wsdot.wa.gov). You can also visit the HMA View Web site at hotmix.ce.washington.edu/hma>. For more information on Maryland's use of HMA View, contact Gloria Burke at 800-477-7435 (email: gburke@sha.state.md.us).