Publication Number: FHWA-RD-03-012
Date: November 2002

A New Weapon in Fighting ASR in Concrete
Alkali-silica reactivity (ASR), a pervasive durability problem that occurs in portland cement concrete, is responsible for the premature deterioration of various types of concrete structures in the United States and around the world. While lithium compounds have been recognized for more than 50 years as being effective in preventing concrete expansion due to ASR, there has been increased interest in recent years in using them to both treat existing structures and as a preventive measure in new concrete construction.
To bring State and local highway agencies up to speed on the new applications of this technology, the Federal Highway Administration (FHWA) is sponsoring a series of workshops in 2003. The workshops will provide practitioners with the necessary information and guidance to test, specify, and use lithium compounds in new concrete construction, as well as to repair and extend the service life of structures. While there is no charge to highway agencies for the workshops, the agencies will be responsible for hosting the workshops and providing the necessary facilities.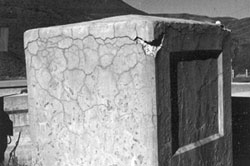 ASR causes the premature deterioration of concrete structures across the United States and around the world.
The workshop provides a basic overview of ASR, including information on mechanisms, symptoms of ASR damage in field structures, mitigation approaches, test methods, and specifications. The workshop then presents a comprehensive summary of lithium compounds, including information on their production, availability, use in laboratory concrete studies, and field applications. Included in this presentation are a range of case studies. The workshop also covers:
Guidelines for using lithium compounds as an admixture in new concrete and as a method of treating existing structures suffering from ASR-induced damage.
Information on how to assess the effectiveness of lithium compounds in laboratory tests.
Basic information on the economics of using lithium both in new concrete and as a treatment for existing structures.
A summary of technical and practical issues that should be considered for future laboratory studies and field applications.
For more information on the workshop or to schedule a workshop in your State, contact Fred Faridazar at FHWA, 202-493-3076 (email: fred.faridazar@fhwa.dot.gov).