Publication Number: FHWA-RD-02-015
Date: October 2002

A New Approach to Highway Design
Think of it as highway design with a twist. For States practicing context sensitive design (CSD), the goals of ensuring safety and mobility when designing and building a road are enhanced by the aim to preserve environmental, community, scenic, and historic resources. Key to the context sensitive design approach is early and continuing stakeholder involvement.
The initial impetus for CSD came from the 1991 Intermodal Surface Transportation Efficiency Act. CSD was also encouraged by the 1995 National Highway System Designation Act. Following a 1998 CSD workshop on "Thinking Beyond the Pavement" hosted by Maryland State Highway Administration (SHA), in cooperation with the American Association of State Highway and Transportation Officials (AASHTO) and the Federal Highway Administration (FHWA), Connecticut, Kentucky, Maryland, Minnesota, and Utah agreed to serve as pilot States for implementing the CSD principles developed at the workshop. FHWA's Federal Lands Highway Office also joined the pilot program.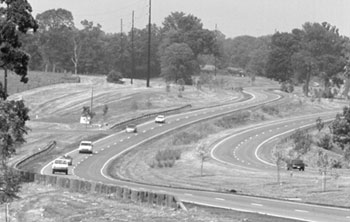 A CSD approach made reconstruction of Kentucky's Paris Pike a reality after a 20-year delay.
Since the 1998 workshop, the pilot States and others have made great strides in using a CSD approach. In Kentucky, for example, all highway projects follow CSD principles. "It has become the norm rather than the exception," says Bill Gulick of the Kentucky Transportation Cabinet. The CSD principles include establishing a multidisciplinary team to plan projects; maintaining open and continuous communication with all stakeholders from the beginning of a project; and understanding the landscape involved, the neighboring community, and the area's valued resources before starting the engineering design.
Kentucky has developed CSD workshops and training courses, with more than 1,000 employees trained to date. The training includes a CSD construction program for engineers and construction inspectors and a context sensitive solutions (CSS) workshop. The CSS workshop demonstrates how to follow through with commitments made during the design process, such as to protect wetlands or private property. "Sometimes commitments are made in the design process that are lost, overlooked, or not communicated during construction or maintenance," says Gulick. "The workshop shows how to make a list of the commitments and note who made them, when, and what a clear definition is of the commitments. Following through on commitments helps to bring credibility to the agency involved."
A CSD approach to redesigning Euclid Avenue in Lexington, Kentucky, meant involving neighborhood and special interest groups and the public. The road serves both local traffic and regional commuters and is used as a connector between the University of Kentucky campus and residential areas. The Kentucky Transportation Cabinet initially proposed turning the existing four-lane roadway into a five-lane road. After holding public meetings, an alternative plan to design a three-lane roadway with bike lanes was adopted, meeting the community's goal of creating a safe pedestrian and bicyclist environment that would enhance the quality of life surrounding the corridor. More information on this project, as well as other CSD case studies from across the country, can be found on the University of Kentucky Transportation Center Web site at www.engr.uky.edu/ktc.
A CSD approach proved equally valuable to Kentucky's Paris Pike reconstruction project. Reconstruction of this section of US 27 between Lexington and Paris became possible, ending a 20-year court injunction, after the Kentucky Transportation Cabinet committed to involving landscape architects, historic preservationists, and environmental specialists in all aspects of project development so as to minimize disruption to the surrounding areas.
The CSD concept is also applied to all Maryland SHA projects. "To support the CSD concept, Maryland has created a pavement initiative with four focus teams," says Wendy Wolcott of Maryland SHA. The teams are:
Organization and Policy-Addresses such issues as utilities and pedestrian lighting.
Project Development Process-Makes recommendations on improving project development.
Project Management Training-Developed a 3-day training program open to all SHA employees and consultants.
Community Involvement Team-Developed a community involvement handbook.
Several national events have introduced CSD concepts to a broader audience. The "Context Sensitive Design: Transferring Lessons from Our Collective Experiences" workshop, held in Missoula, Montana, from September 5-7, 2001, drew attendees from 38 States and South Africa. The workshop covered CSD case studies, techniques, and challenges, as well as such topics as public involvement, landscape design, and developing and managing projects.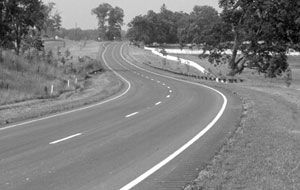 The Paris Pike reconstruction project involved landscape architects, historic preservationists, and environmental specialists in all aspects of project development.
An International Symposium on CSD was held in Seattle, Washington, in May 2002. Attendees learned about CSD practices in Canada, Europe, and the United States, including how The Netherlands brings the community into the design process early and often and how Canada's flexible road design approach enhances the affordability and constructibility of projects, while addressing environmental and stakeholder concerns. Copies of the symposium presentations can be obtained from Seppo Sillan at FHWA, 202-366-1327 (email: seppo.sillan@fhwa.dot.gov).
FHWA's Federal Lands Office is developing a CSD course based on Federal Lands' CSD practices and the State CSD best practices, as reported in the National Cooperative Highway Research Program Project 15-19 report, Application of Context Sensitive Design Best Practices Toward Producing Context Sensitive Solutions. "We hope to have a pilot course by next fall," says Hala Elgaaly of the Federal Lands Office.
Increasing the number of States that have adopted CSD/CSS approaches to project development is one of FHWA's vital goals. "A focused effort will be made to provide training, best practices guidance, case studies, and other information to assist our field offices and the States in understanding the concept and philosophy behind CSS and CSD and successfully implementing them," says Sillan.
For more information on CSD activities in Kentucky or Kentucky's training workshops, contact Bill Gulick at the Kentucky Transportation Cabinet, 502-564-3280 (email: bill.gulick@mail.state.ky.us) or Jerry Pigman at the University of Kentucky Transportation Center, 859-257-4513 (email: jpigman@engr.uky.edu). For more information on Maryland's initiatives, contact Wendy Wolcott at Maryland SHA, 410-545-0365 (fax: 410-209-5010; email: wwolcott@sha.state.md.us). For general information on CSD, contact Seppo Sillan at FHWA, 202-366-1327 (email: seppo.sillan@fhwa.dot.gov) or Harold Peaks at FHWA, 202-366-1598 (email: harold.peaks@fhwa.dot.gov). Information is also available on FHWA's and AASHTO's CSD Web site at www.fhwa.dot.gov/csd/index.htm. To learn more about FHWA's Federal Lands CSD work, contact Hala Elgaaly at FHWA, 703-404-6233 (email: hala.elgaaly@fhwa.dot.gov).