Publication Number: FHWA-RD-02-015
Date: October 2002

Excellence Award Winners
Since 1968, hundreds of outstanding examples of highways, bridges, pedestrian facilities, roadside facilities, and other facets of roadway design have been showcased in what was first known as "The Highway and its Environment" competition and is now the "Excellence in Highway Design" awards program. The 2002 honorees described here range from spectacular forest highways to historical bridges to modern intelligent transportation systems. These creative and diverse efforts demonstrate how cities, States, and counties are designing roadways that are not only safe and efficient but enhance the environment around them, often standing as impressive works of art on their own.
The 2002 awards will be announced at the American Association of State Highway and Transportation Officials Annual Meeting in Anchorage, Alaska, on October 13. The awards will be presented to the winners at a later date in their State FHWA Division Office by the FHWA Division Administrator. More information on the award winners, as well as additional photos, will soon be available on CD. To obtain a copy of the CD (Publication No. FHWA-IF-02-062), contact the FHWA Report Center at email: report.center@dot.gov. A brochure is also being developed and will be ready early next year. For general information on the awards program, contact Program Coordinator Donald R. Jackson at FHWA, 202-366-4630 (email: donald.jackson@fhwa.dot.gov).
Category 1-The Urban Highway: Hutchinson River Parkway, New York State Department of Transportation (NYSDOT)
In 1993 the NYSDOT initiated a $40 million project to reconstruct the Hutchinson River Parkway (HRP) in the Town of Harrison and Village of Rye Brook. High traffic volumes and speeds on the 60-year-old HRP, along with such features as tightly curved alignments and limited sight distances, had resulted in an increased accident rate. Notable design elements of the new road include noise wall panels designed to replicate a field stone wall.
Contact: Phillips C. Crocker, NYSDOT, 845-431-5848.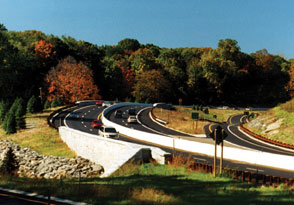 Hutchinson River Parkway
Category 2-The Rural Highway: Taconic State Parkway (TSP), NYSDOT
The challenge: Improving the TSP so as to allow local road traffic and Appalachian Trail users to safely pass under the Parkway, while still retaining the road's rustic appearance. Working on a 1-year accelerated construction schedule, the NYSDOT met this challenge and more, successfully improving the safety of the road while simultaneously preserving the aesthetic character of the Parkway.
Contact: Phillips C. Crocker, NYSDOT, 845-431-5848.
Category 3A-Major Highway Structures (Over $10 Million): Broadway Bridge, Florida Department of Transportation and Figg Engineering Group
Dedicated on July 20, 2001, Florida's Broadway Bridge links the International Speedway Boulevard with Daytona Beach. Community residents voted to select the bridge theme of "Timeless Ecology." Building on the ecology theme, 3-m (10-ft) high mosaics of dolphins and manatees wrap each bridge pier, while pedestrian sidewalks spotlight additional mosaics.
Contact: Cheryl Maze, Figg Engineering Group, 850-224-7400.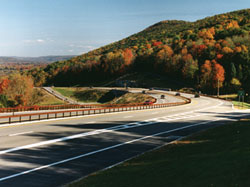 Taconic State Parkway
Category 3B-Major Highway Structures (Under $10 Million): Grays Bay Bridge, Hennepin County, Minnesota, Public Works Transportation Department and Glenwood Bridge, Inc.
Built in 1920, the Grays Bay Bridge had narrow traffic lanes and no shoulder or pedestrian walkway. The new Grays Bay Bridge now features two traffic lanes, two shoulder/bike lanes, and a sidewalk, along with an improved approach roadway. The aesthetics are equally important: To provide a rustic and historical look, the bridge's concrete retaining walls, abutments, and piers were designed with selected form liner and architectural coloring to resemble random ashtar stone masonry.
Contact: Bernard J. Jahn, Hennepin County Public Works, 763-745-7680.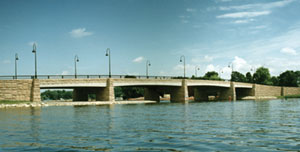 Grays Bay Bridge
Category 4-Environmental Protection and Enhancements: First Creek Fish Passage, Washington State Department of Transportation (WSDOT)
For 50 years, Kokanee salmon and rainbow trout swimming upstream in Washington State's First Creek encountered two insurmountable obstacles: large corrugated culverts under the roadway near the lake. To restore fish passage to historic spawning habitat in First Creek's upper reaches, the WSDOT built short span bridges to replace the impassable culverts. Today, the area's environment has been enhanced and Kokanee salmon are beginning to migrate up First Creek again.
Contact: Rod Erickson, WSDOT, 509-667-2870.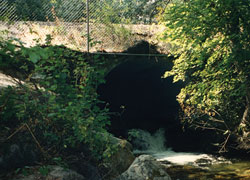 First Creek Fish Passage
Category 5-Historic Preservation: Route 66/Stony Kill Bridge, NYSDOT
Not every bridge rehabilitation depends upon...postcards. To rehabilitate the Route 66 bridge over the Stony Kill in the Village of Chatham, New York, which was built in 1886, designers turned to postcards of the bridge from 1909. Looking at the postcards, the bridge designers were able to determine what features of the bridge were original and important to preserve or replicate and what had been added during a 1920 modification.
Contact: Phillips C. Crocker, NYSDOT, 845-431-5848.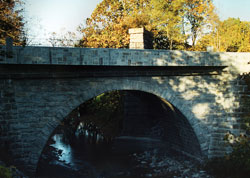 Route 66/Stony Kill Bridge
Category 6-Highway Related Projects: Broadway (Diamondback) Bicycle/Pedestrian Bridge, City of Tucson Department of Transportation
The Broadway (Diamondback) Bridge provides a critical link in the overall bicycle/pedestrian system in Tucson. The bridge depicts a Diamond rattlesnake, creating a landmark in the downtown area. The bridge plans marked the first time the Tucson Department of Transportation accepted an artist concept before engineers designed the project.
Contact: Craig Saltzman, City of Tucson Department of Transportation, 520-791-4414.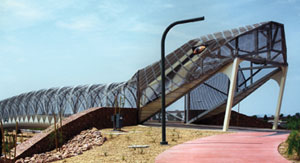 Broadway Bicycle/Pedestrian Bridge
Category 7-Intelligent Transportation Systems (ITS): City of Tucson: ITS Public-Private Partnership, City of Tucson Department of Transportation and METRONetworks-Tucson
The City of Tucson has developed a public/private contract where a single business entity has sole and exclusive rights to the traffic and transit data received at the Tucson Regional Transportation Control Center. Benefits realized by the City have included $106,000 returned in revenue annually in exchange for the operation rights.
Contact: Richard B. Nassi, City of Tucson Department of Transportation, 520-791-4259 or Allen Kath, METRONetworks-Tucson, 520-573-0713.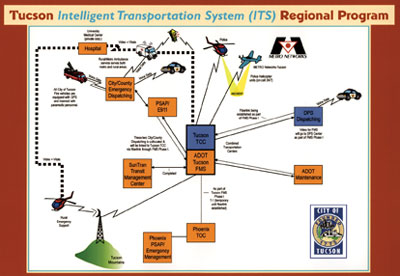 City of Tucson: ITS Public-Private Partnership
Category 8-Intermodal Transportation Facilities: Natchez Visitor Reception and Intermodal Transportation Center, Mississippi Department of Transportation (MDOT)
A focal point for all those entering Natchez, Mississippi, is the new Natchez Visitor Reception and Intermodal Transportation Center. The center both provides information about Natchez and facilitates access to the city's historical areas.
Contact: Amy Hornback, MDOT, 601-359-7017.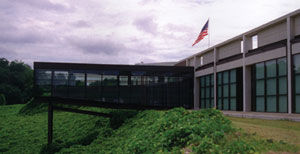 Natchez Visitor Reception and Intermodal Transportation Center
Category 9-Highway Improvements on Publicly Owned Land: Forest Highway 65, Ozark National Forest, FHWA Eastern Federal Lands Highway Division
Drivers along Highway 65 in the Ozark National Forest in Arkansas encounter spectacular views of the Forest and the Mulberry River. However, the road no longer met safety standards and was unable to handle the increase in recreational vehicles. The project included widening almost 1.47 km (1 mi) of the existing road and designing a natural rock retaining wall that fit in with the surroundings.
Contact: Gregory Dolson, FHWA, 703-404-6295.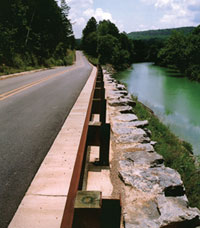 Forest Highway 65
Merit Award Winners
Category 1: Neil Avenue Improvements, Columbus, Ohio; Evans, Mechwart, Hambleton, and Tilton, Inc.
In 1998, Evans, Mechwart, Hambleton, and Tilton, Inc., began the design for a new arena and its surrounding district in downtown Columbus. The work included improving the Neil Avenue Bridge, which now mimics the appearance of older designs while using modern high-strength steel and bolts.
Contact: Lawrence C. Creed, Evans, Mechwart, Hambleton, and Tilton, Inc., 614-470-9385.
Ft. Washington Way Project, The City of Cincinnati, Ohio
Built in the 1960s to accommodate 75,000 vehicles a day, by 1985 Fort Washington Way was carrying almost double that. The reconstructed road now provides four lanes in each direction with improved connections to all adjacent urban expressways.
Contact: Denise Todd at Parsons Brinckerhoff, 513-639-2178.
Highway 96, Ramsey County, Minnesota, Public Works Department
Highway 96 is a major arterial roadway that provides a critical east-west link for northern Ramsey County. To guide the reconstruction of 13.6 km (8.5 mi) of the highway, the County initiated a comprehensive community involvement program. The new road has significantly improved safety and capacity and at the same time provides the look and appeal of a parkway.
Contact: James E. Tolaas, Ramsey County Public Works Department, 651-482-5203.
Category 2: State Trunk Highway 21, Wisconsin Department of Transportation (WisDOT)
This project involved realigning the two-lane State Highway 21 for 2.1 km (1.31 mi). The realignment occurred in an environmentally sensitive area that includes two pristine lakes, archaelogical sites, and several Native American burial mounds. Special measures taken to protect the environment included setting highway grades to enhance the scenic overview of the lakes.
Contact: Thomas Peronto, WisDOT, 715-421-8087, or Gil Layton, WisDOT, 715-421-8379.
State Route 87, Sycamore Creek to Sunflower, Arizona Department of Transportation (ADOT) and Michael Baker Jr., Inc.
Located in the Tonto National Forest, this highway travels some of the most rugged and beautiful scenery in central Arizona. In widening the road from two lanes to four lanes, the northbound alignment was designed to follow the original two-lane roadway while the southbound roadway was constructed on an entirely new alignment that better fit the terrain.
Contact: Stephen D. Schwab, Michael Baker Jr., Inc., 602-279-1234.
North Shore Scenic Drive, Minnesota Department of Transportation (Mn/DOT)
Minnesota's North Shore Scenic Drive provides magnificent views of the rivers, forests, and other treasures of this wilderness area. To preserve the scenic route while improving safety and traffic flow, Mn/DOT used a context-sensitive design approach.
Contact: Gary M. Mueller, Mn/DOT, 651-296-2303.
Category 3A: Gene Hartzell Memorial Bridge, Pennsylvania Department of Transportation and URS Corporation
This long span truss bridge in east central Pennsylvania has a clean look while maintaining the familiarity of older bridges. The use of weathering steel complements the scenic valley, reduced the construction cost, and will minimize the need for painting.
Contact: John W. Lang, URS Corporation, 610-337-3666, x. 124.
Category 3B: Catskill Region State Route 28, Town of Bovina, NYSDOT
In the summer of 2001, the bridge carrying Route 28 over the Little Delaware River in the Catskill Region of New York had to be replaced. The new structure is a prestressed concrete box beam bridge whose arched facade and buttressed pier columns were designed to resemble the original structure.
Contact: Kate Zenzel, NYSDOT, 607-721-8118.
Mississippi River Bridge, City of Brainerd, Minnesota, Mn/DOT
Aesthetics were a primary focus in developing the design of the Mississippi River crossing in the City of Brainerd, Minnesota. At least 12 different pier forms were explored, for example, in an effort to blend the structure with its surroundings.
Contact: Kevin Western, Mn/DOT, 651-747-2106.
Category 4: Indian Creek Stormwater Treatment Facility, WSDOT and City of Olympia
This cooperative effort among the WSDOT, City of Olympia, Squaxin Island Tribe, and the Nisqually Tribe integrates public art with functional aspects of stormwater treatment and slope stabilization.
Contact: Jerry Alb, WSDOT, 360-705-7482.
Category 5: Strawberry Mansion Bridge, City of Philadelphia Department of Streets and Lichtenstein Consulting Engineers, Inc.
Built in 1897, the Strawberry Mansion Bridge spans the Schuylkill River in Philadelphia, Pennsylvania. An innovative rehabilitation included restoring and repairing the stonework with matching stone to replicate the original designs as closely as possible.
Contact: Hamid V. Homaee, Lichtenstein Consulting Engineers, Inc., 215-752-2206.
Regency Suspension Bridge, Texas Department of Transportation (TxDOT)
The 1939 Regency Suspension Bridge is one of only two historic suspension bridges still open to vehicular traffic in Texas. TxDOT's renovation of the structure replaced the suspension cable anchorages while still preserving the graceful appearance of the main span.
Contact: Charles Walker, TxDOT, 512-416-2272.
Category 6: High Peaks Welcome Centers, NYSDOT and Dufresne-Henry
The newly renovated I-87 North Hudson and Blue Ridge Rest Areas, now known as the High Peaks Welcome Centers, provide a safe and inviting environment for motorists while blending with and accentuating the surrounding beauty of the Adirondacks.
Contact: James P. Bridges, NYSDOT, 518-474-6285.
Timber Pedestrian Bridge, North Carolina Department of Transportation (NCDOT)
This new timber pedestrian bridge uses the Burr Truss design to complement the historic village of Old Salem's Moravian heritage.
Contact: John Frye, NCDOT, 919-250-4049.
Category 8: Frederick Station, Maryland Transit Administration and Rummel, Klepper & Kahl, LLP
The Frederick Station of Maryland Commuter Rail was designed to enhance the ambiance of the adjacent Frederick Historic District.
Contact: Earl Leach, Rummel, Klepper & Kahl, LLP, 410-728-2900, x. 1337.
Martinez Intermodal Rail Station, City of Martinez and California Department of Transportation (Caltrans)
This intermodal station was designed to increase transit access and parking for intercity rail passengers and to prepare for possible future commuter and light rail connections.
Contact: Richard Pearson, City of Martinez, 925-372-3525.
Category 9: U.S. 93, Boulders Section, ADOT and URS Greiner
The project was designed to increase the traffic capacity of U.S. 93 by widening the roadway while preserving the scenic and environmentally sensitive aspects of the route.
Contact: Sam Elters, ADOT, 928-757-5828.
Honorable Mention
Category 1: Bruce R. Watkins Drive, Missouri Department of Transportation and HNTB Architects Engineers Planners; U.S. Route 2 (Main St.), Vermont Agency of Transportation; The "Big I" Interchange, New Mexico State Highway and Transportation Department and URS Corporation; I-15/40th St. Freeway Project, City of San Diego and Caltrans
Category 2: Trunk Highway 61 (Schroeder Reconstruction), Mn/DOT
Category 3A: Neuse River Bridge, NCDOT; Smart Road Bridge, Virginia Department of Transportation and Figg Engineering Group; Crooked River Gorge Bridge (High Bridge), Oregon Department of Transportation (ODOT)
Category 3B: MD 146 Bridge (Dulaney Valley Road), Maryland SHA and The Six M Company, Inc.; Bridge No. 09009, Mn/DOT
Category 4: Wetland Mitigation, Northern Nevada, Nevada Department of Transportation
Category 5: Rocky Creek Bridge, ODOT; Trunk Highway 55 (Hiawatha Avenue), Minneapolis Park Board and Mn/DOT; Thread City Crossing, Connecticut Department of Transportation and Maguire Group
Category 6: North County Trailway, NYSDOT; City of Tucson: Bicycle and Pedestrian Facilities, City of Tucson, Department of Transportation; Crabtree Creek Greenway Connector, NCDOT
Category 8: Historic Salem Railroad Station Restoration, ODOT
Category 9: Highway 61, Mn/DOT and the Minnesota Department of Natural Resources; Lakeshore Scenic Drive, FHWA Central Federal Lands Highway Division and National Park Service.