Publication Number: FHWA-RD-02-014
Date: September 2002

After 9/11: Making Transportation Security a Way of Life
The Virginia Department of Transportation (VDOT) now has a Security Department. The Washington State Department of Transportation (WSDOT) is developing awareness training for employees to recognize and respond to potential terrorist attacks. And bridge inspectors in Maryland now regularly monitor high priority structures for any unusual objects, suspicious activities, or other irregularities. For these and other State highway agencies across the country, the events of September 11, 2001, and the subsequent threats to the Nation's bridge and tunnel infrastructure were a wake-up call that has produced lasting changes in the way they do business.
"We're continuing to emphasize the eyes and ears approach," says John Conrad, Assistant Secretary for Engineering and Regional Operations at WSDOT. Working with the American Association of State Highway and Transportation Officials' (AASHTO) Task Force on Transportation Security and the National Transit Institute, WSDOT is developing training aimed at increasing employees' attention to their surroundings. The training will cover the Homeland Security Advisory System, identification of likely infrastructure targets, simple surveillance techniques, and how to respond to suspicious activities. Three variations of the training are being devised for non-field employees; field employees (maintenance, construction, and traffic); and vessel crews and terminal employees of the States' ferry system.
A separate managers' course will be presented for supervisors and mid and senior level managers. The course will address information gathering and analysis, hazard and risk identification, communications, and decision making. This course will also have three variations for different types of employees. "We believe this overall training program will have national applicability," says Conrad. The AASHTO Task Force on Transportation Security intends to expand the Washington State effort into guidelines for all of the AASHTO member States that address the training needs recently identified in a survey of the States.
The California Department of Transportation (Caltrans) has erected fencing around bridges and other structures and has instituted a Bay Area Security (BASE) system. BASE activities include installing surveillance cameras that monitor acess points, piers, and other important structural points. High elevation cameras look for traffic anomalies, such as vehicles pulling off the road where they should not. Caltrans has also hired consultants to perform vulnerability assessments on bridges and other structures. "It's hard to change 100 years of engineering design in one fell swoop. Transportation security is an issue that's going to be with us for a long time," says Randell Iwasaki, Deputy Director of Maintenance and Traffic Operations at Caltrans.
In Virginia, VDOT's Security Department has conducted a Statewide inventory and assessment of infrastructure that is considered most vulnerable to terrorism and sabotage. The Department is emphasizing technology in its efforts to make infrastructure safer, including such assets as the Chesapeake Bay Bridge-Tunnel and the Hampton Roads Bridge-Tunnel. "We're investing considerably in intrusion alarms, parimeter penetration alarms, closed circuit cameras, and motion detectors," says Steve Mondul, Security and Anti-Terrorism Coordinator for VDOT and a member of the AASHTO Task Force on Transportation Security. The agency is also working with local transportation officials and technicians to increase security efforts. "The technology to increase security is expensive and time-consuming to implement, but it's basically simple," says Mondul. "Putting procedures in place, changing transportation culture, and making security a way of life is the real challenge." VDOT has been assisted by FHWA's Virginia Division office, with the two agencies cooperating closely on security initiatives.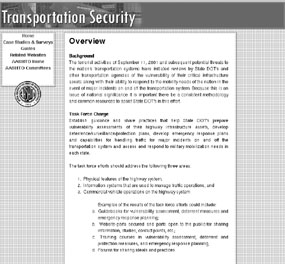 | | |
| --- | --- |
| | |
In nearby Maryland, the State Highway Administration and Maryland Transportation Authority are also taking a hard look at their security and emergency planning efforts. This assessment includes better integrating their field operations with those of the police and other agencies and working on improving radio and telephone communications in emergency situations. Local and county police and other State agencies are on different frequencies than the highway agencies, which made communicating in real time difficult on September 11. The highway agencies are also working to improve their verification of the accuracy and reliability of information during emergency situations.
Such communication difficulties are also being addressed by the larger Washington, DC, area. A partnership of public safety and transportation agencies announced in August an endeavor to build a public safety data communications network for the region. The network will allow officials from more than 40 local and Federal agencies to communicate with each other in real time during critical incidents.
In addition to the communications efforts, planning in Washington, DC, has included mapping out 24 corridors in the city as emergency event/evacuation routes. Signs identifying these routes are now being installed, as well as dynamic message signs and security cameras. During an emergency situation, traffic signals on evacuation routes would be retimed to expedite traffic flow. "We also have ongoing coordination, communication, planning, and understandings with other regional agencies," says Bill Rice of the District Department of Transportation. These partnerships include working with VDOT, the Maryland Department of Transportation, the Metropolitan Washington Council of Governments, Washington Metropolitan Area Transit Authority, and Federal and law enforcement agencies.
To assist States in transportation security and emergency planning, the AASHTO Task Force on Transportation Security has issued two guidebooks: A Guide to Highway Vulnerability Assessment for Critical Asset Identification and Protection and A Guide to Updating Highway Emergency Plans for Terrorist Incidents. The guides and other information can be found on the Task Force's Web site at security.transportation.org. For more information, you can also visit the Transportation Research Board's Committee on Critical Transportation Infrastructure Protection Web site (www4.trb.org/trb/homepage.nsf/web/security).
State Contacts
California Department of Transportation
Randell Iwasaki
510-286-5904 (email: randell_iwasaki@dot.ca.gov)
Maryland State Highway Administration
Tom Hicks
410-787-5815 (email: thicks@sha.state.md.us)
or Linda Singer
410-787-5815 (email: lsinger@sha.state.md.us)
Virginia Department of Transportation
Steve Mondul
804-786-2978 (email: smondul@vdot.state.va.us)
Washington, DC, District Department of Transportation
Bill Rice
202-673-6813 (email: bill.rice@dc.gov)
Washington State Department of Transportation
Terry Simmonds
360-705-7857