Publication Number: FHWA-RD-02-014
Date: September 2002

Sustaining a Qualified Transportation Workforce
Formed in 2000 with the goal of improving training opportunities for transportation workers, the Transportation Curriculum Coordination Council (TCCC) is marking its second anniversary with such undertakings as the launching of a new State pooled-fund effort to support training development. The Council is also looking ahead to what still needs to be done to meet training needs for construction teams, highway agencies, and industry. "A good start has been made but now it's a matter of keeping the momentum going and moving forward," says Jim Sorenson of the Federal Highway Administration (FHWA).
When the TCCC was formed, it brought together five regional training and certification groups comprised of State highway agency training officers and materials and construction engineers. Members also include FHWA and its National Highway Institute (NHI), three American Association of State Highway and Transportation Officials (AASHTO) subcommittees, and industry associations. The TCCC partnership is aimed at reducing redundancy in the development of training materials and programs and cutting both time and costs, as well as producing and national core training materials. With highway agencies across the country facing serious shortages of trained and experienced personnel, these are vital goals. New state-of-the-art pavement preservation and construction technologies are also requiring that highway workers gain additional skills and knowledge, making training more important than ever. "Cast-in-place box girder bridge construction and inspection, for example, should generally be the same the same nationally. Only minor differences in local or project specific specifications need exist," says Sorenson.
The 5-year pooled-fund study is designed to facilitate national management of the TCCC and to develop curriculum and core training materials. As of August 26, 2002, $290,000 had been pledged toward the fund's annual goal of $1 million. "We are working on obtaining the fund obligations so we can put this money to work as soon as possible," says Sorenson.
The 5-year pooled-fund study is designed to facilitate national management of the Transportation Curriculum Coordination Council and to develop curriculum and core training materials.
Work on some national core training materials is already underway, including a national Geotechnical Inspector Qualification Program. The goal of this program is to improve inspector qualifications and ensure uniformity of inspection work. "Basic course requirements are that it must be taught for the novice inspector and it must cover the FHWA guide specification. It also covers the construction process and equipment, coordination, and communication," says Peter Osborn of FHWA. The program will ultimately be administered through the five regional training and certification groups and will also likely be offered through NHI. The first course of the program, Deep Foundation Inspection, is now under final development. The course will include modules on drilled shafts and driven piles. These modules are expected to be ready this fall. Next on the list for development is a Subsurface Investigation course.
The TCCC has also launched a Web site (www.nhi.fhwa.dot.gov/tccc). The site contains links to all of the regional training and certification groups and information on training courses. A database of training courses is available that allows users to search for courses nationally, regionally, and by State.
A major TCCC initiative for 2003 is developing a comprehensive curriculum for training construction personnel that all highway agencies could use. The curriculum will be divided into the areas of construction; materials; maintenance; employee development; and safety features, work zones, and worker safety. Working groups of TCCC members and other State representatives have been set up to develop each curricula track. This work will be reported on at the next TCCC meeting in December 2002.
The regional training and certification groups are also continuing their work. The Western Alliance for Quality Transportation Construction (WAQTC), for example, offers training modules for asphalt, concrete, soils, and embankments, while bridge inspection and Superpave modules are under development. Modules include instructors' guides, exams, PowerPoint presentations, and video clips. States can customize them to fit their own local needs.
The Southeast Task Force for Technician Training and Qualification (SETFTTQ) has established training and certification programs that are working well, with States routinely sharing information with each other. Training materials are posted on its Web site (www11.myflorida. com/statematerialsoffice/setaskforce) and collected in a library at FHWA's Southern Resource Center in Atlanta, Georgia.
The New England Transportation Technician Certification Program (NETTCP) reports that it has issued 2,900 certifications since 1996. Courses include Hot-Mix Asphalt (HMA) Paving Inspector, HMA Plant Inspection, Soils and Aggregate, Concrete Technician, and Concrete Field Inspector. A new Quality Assurance Technologist course will be available by winter 2003. In the Midwest, the North Central Multi-Regional Training and Certification Program (M-TRAC) offers training modules on Aggregate Test Methods, Bituminous Test Methods, and Soil Sampling and Testing to its 14 member States.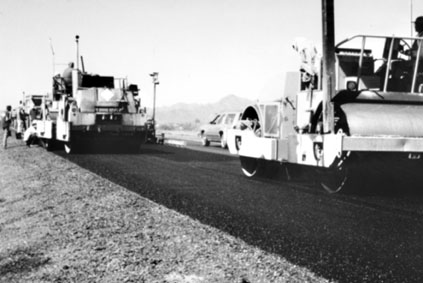 A major TCCC initiative is to develop a comprehensive curriculum for training construction personnel that all highway agencies could use.
The Mid-Atlantic Region Technician Certification Program (MARTCP) has courses available in Pavement Markings and HMA Plant and Field Technician. An Aggregate Technician course will make its debut soon. All of MARTCP's manuals are generic in nature so that States can customize them to suit their needs. The demand for training is high: Woody Hood of the Maryland State Highway Administration (SHA) notes that, "We use a large percentage of consultants on our State projects and due to a large turnover in their personnel, our consultants are continuously looking to us to provide that training/certification. We are seeing people on our projects who have already gone through the training/certification and who are now training those who have not had a chance to go through the program."
For more information on the TCCC or its pooled-fund study, contact Howe Crockett at FHWA, 360-619-7750 (fax: 360-619-7846; email: howe.crockett@fhwa.dot.gov), or Jim Sorenson at FHWA, 202-366-1333 (fax: 202-366-9981; email: james.sorenson@fhwa.dot.gov). For more information on the Geotechnical Inspector course, contact Peter Osborn at FHWA, 401-528-4550 (email: peter.osborn@fhwa.dot.gov). For contact information on the regional training and certification groups, see sidebar
Mid-Atlantic Region Technician Certification Program: Woody Hood, Maryland SHA 410-321-4100 (whood@sha.state.md.us)
New England Transportation Technician Certification Program: Chris Bowker, NETTCP 781-837-2680 (nettcp@netway.com)
North Central Multi-Regional Training and Certification Program: Chris Anderson, Iowa DOT 515-239-1819 (christie.anderson@dot.state.ia.us)
Southeast Task Force for Technician Training and Qualification: Jack Cowsert, North Carolina DOT 919-733-7088 (jcowsert@dot.state.nc.us)
Western Alliance for Quality Transportation Construction: Garth Newman, Idaho DOT 208-334-8039 (gnewman@itd.state.id.us)