Publication Number: FHWA-RD-02-014
Date: September 2002

FHWA Teams Up To Ensure National Defense Mobility
How well can the Nation's highway infrastructure support a national defense mobilization? One of the Federal Highway Administration's (FHWA) strategic goals is to "Improve the Nation's National Defense Mobility," which includes the objective of improving "the capacity and operations of the Strategic Highway Network (STRAHNET) and STRAHNET connectors to support defense mobility." The STRAHNET routes are designed to readily accommodate the movement of military supplies and personnel in times of national emergency. To test STRAHNET readiness, a U.S. Department of Transportation Intermodal Planning Advisory Group (IPAG), led by FHWA, analyzed the Southeast region's transportation infrastructure preparedness.
Following more than a year of data collection and study, the group's final report is now available on CD-ROM. "This study will help bring Federal agencies and States together for national security readiness," says Robert Radics of FHWA's Southern Resource Center and the pilot study leader.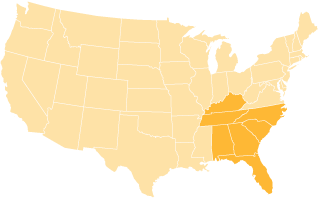 To test the preparedness of the Nation's Strategic Highway Network, a pilot study looked at the readiness of the Southeast region (highlighted above).
The IPAG, in conjunction with the U.S. Coast Guard, the Maritime Administration, the Military Traffic Management Command's Transportation Engineering Agency, and various State departments of transportation, conducted a pilot study of the infrastructure readiness of six "fort to port" routes in the Southeast. These routes included Fort Campbell, Kentucky, to Jacksonville, Florida, and Fort Benning/Fort Stewart, Georgia, to Savannah. The team's three goals were to:
Determine if the routes previously selected for the STRAHNET and its connectors are the best available routes to support fort to port deployment.
Document how prepared the STRAHNET and its connectors are to handle a major deployment.
Develop generic procedures for all States and regions that define the participants, issues, and methodology that should be considered for STRAHNET analyses.
The report concluded that, with minor exceptions, the Southeast STRAHNET was ready to support a major deployment. Recommendations included adding national security more STRAHNET connector roads in some cases and, in a few other cases, changing the designated connector roads and primary routes to better handle traffic flow. The field evaluations also found that short roadway sections providing access to ports were often in need of repair.
The report recommends procedures for other States and regions to follow if they should decide to conduct similar STRAHNET analyses. These recommendations range from how to get the study started to advice on data verification and report preparation. Detailed information on the team's procedures and methods are included as appendices to the report.
For more information on the pilot study or to obtain a copy of the final report on CD-ROM, contact Robert Radics at FHWA, 404-562-3692 (email: robert.radics@fhwa.dot.gov).