Publication Number: FHWA-RD-03-016
Date: April 2003

DataPave Goes Live
All the Long Term Pavement Performance (LTPP) program data you want, all the time. The Federal Highway Administration's (FHWA) DataPave program is now available online at www.datapave.com. The Web version of DataPave contains all of the data released by the LTPP program that has been collected from more than 2,400 test sections at over 900 locations throughout the United States and Canada. "The online version gives users the added flexibility of logging into the DataPave Web site from anywhere they are," says Antonio Nieves of FHWA.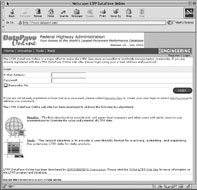 The DataPave software was first released in 1997, with the most recent version, 3.0, released on CD-ROM in 2001. "DataPave gives engineers and technicians a tool to obtain hands-on national pavement performance data," says Nieves. The new DataPave Online includes real-time pavement performance monitoring, material testing, climatic, traffic, maintenance, rehabilitation, seasonal, and inventory data. It is designed to provide users with the ability to select and view information from specific test sections. This information includes section location, experiment type, pavement layers, and falling weight deflectometer profiles. Performance histories of several key distress indicators, such as fatigue, transverse cracking, and rutting, among others, can also be viewed for the selected section. Sections can be chosen by location, using a GIS map, or by criteria such as climatic region, subgrade type, surface thickness, or annual precipitation.
DataPave Online also provides user-friendly means of exploring, extracting, and organizing the LTPP data for analysis. A Data Dictionary provides detailed information on data tables and data attributes, while a section on data codes explains the numerical coding used to describe these data attributes. Data can be exported in Microsoft® Access® and Excel® formats and structured query language (SQL) can be used to create customized data analysis sets.
Users looking for assistance in navigating DataPave online can consult the Frequently Asked Questions and References sections or hit the "Contact Us" button for further aid. A Feedback section also gives site visitors the opportunity to provide comments and suggestions.
The online version of DataPave does not include all of the raw LTPP traffic and profile data. This data can be obtained through the LTPP Customer Service Center at 865-481-2967 (fax: 865-481-8555; email: ltppinfo@fhwa.dot.gov).
For more information on DataPave Online, contact Antonio Nieves at FHWA, 202-493-3074 (email: antonio.nieves@fhwa.dot.gov).