Publication Number: FHWA-RD-03-016
Date: April 2003

Work Zone Awareness Week 2003: A Wake Up Call for Motorists
The fourth annual National Work Zone Awareness Week (NWZAW) will be observed around the country from April 6-12, 2003. In Washington, DC, traffic cones placed downtown at Freedom Plaza on April 8 will commemorate the 1,079 persons killed in motor vehicle crashes in work zones in 2001. "Special markers placed on 75 percent of the cones will emphasize that four out of five people killed in a work zone are motorists," says James Baron of the American Traffic Safety Services Association (ATSSA). An additional 40,000 persons are injured in motor vehicle crashes in work zones each year. "We want motorists to be aware that they are at risk in work zones," adds Ann Walls of the Federal Highway Administration (FHWA). Congressman Jay Inslee of Washington State and FHWA Administrator Mary Peters will speak at the event, which is sponsored by ATSSA, FHWA, and the American Association of State Highway and Transportation Officials.
The National Work Zone Memorial will also be on display at the April 8 event. This portable wall is inscribed with the names of 800 persons who lost their lives in work zones. Over the past year, the memorial has traveled around the country to raise public awareness of the need to travel cautiously through work zones. "The memorial draws large numbers of people who want to know what it is all about. It helps to keep the issue of work zone safety alive all year long," says Baron.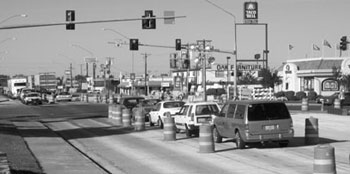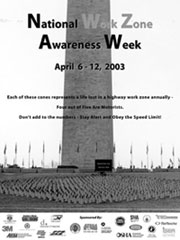 National Work Zone Awareness Week 2003 will highlight the importance of motorists using caution as they travel through work zones.
State highway agencies are also keeping the issue alive by joining with industry representatives and others to promote safety and mobility in roadway work zones. In Virginia, a campaign begun in 2002 is aimed at educating young drivers, who crash in highway work zones more often than those in all other age groups. These young drivers are being urged to "Stay in the Picture." Virginia Department of Transportation (VDOT) personnel and members of the Virginia Road and Transportation Builders Association will be visiting high schools and drivers' education classes to talk to students about how to navigate safely through a work zone. "In the week before NWZAW, VDOT will also hold 'Safety Breaks' at the State's rest areas, alerting drivers to the week and its importance," says David Rush of VDOT. FHWA's Virginia Division office is joining in this effort.
The Connecticut Department of Transportation (CONNDOT) puts a human touch on work zones through its theme, "Please Slow Down, My Daddy Works Here." The agency will hold a NWZAW press event on April 4 at a rest area in Middletown, Connecticut. The event will feature Lt. Governor M. Jodi Rell, along with representatives from FHWA, CONNDOT, the Connecticut State Police, and the construction industry. CONNDOT has also formed a coalition with various Connecticut utility provider companies to spread the work zone safety message. As part of the partnership, the utility companies started placing work zone safety bumper stickers on their vehicles and including a work zone safety message in monthly bills to customers. Work zone safety messages will also be aired on radio stations between mid-March and mid-May during peak drive times, and bus ads will be displayed both inside and outside the vehicles. In addition, cinema ads with the campaign theme will appear in movie theaters and work zone safety posters will be displayed in town halls, libraries, high schools, colleges, rest areas, Motor Vehicle Department offices, and American Automobile Association locations. "National Work Zone Safety Week/Slow Down for Work Zones" messages will also be flashed on variable message signs and heard on Highway Advisory Radio on Connecticut expressways.
The Nebraska Department of Roads (NDOR) will recognize NWZAW 2003 with several activities, including display booths in the State Capitol lobby and the NDOR central headquarters building. The displays will include orange cones, work zone signs, flashing orange-striped barricades, and the NWZAW poster. Orange ribbons and work zone safety tips will be distributed as well. Nebraska Governor Mike Johanns will also be signing a proclamation recognizing the week and a news release and work zone safety information will be distributed statewide to media outlets. Work zone safety information will also be featured on the NDOR Web site and NWZAW posters will be displayed in NDOR's central headquarters and in all district offices.
For more information about NWZAW, contact Timothy Barkley at FHWA (email: timothy.barkley@fhwa.dot.gov), or James Baron at ATSSA, 800-272-8772, ext. 113 (email: jimb@atssa.com). Information is also available on the Web at http://safety.fhwa.dot.gov/wz/wz_awareness.htm or www.atssa.com/pubinfo/nwzaw.htm.