Publication Number: FHWA-RD-03-016
Date: April 2003

Prefabricated Bridge Technology: Get In, Get Out, and Stay Out
For a growing number of States, the use of prefabricated bridge elements and systems is helping them to achieve reduced traffic and environmental impacts, enhanced safety, improved bridge constructibility, and accelerated project completion.
Prefabricated bridge elements, which range from bent caps to deck panels, and superstructure and substructure systems are manufactured under controlled conditions and brought to the construction site ready to install. The prefabricated elements are particularly useful in situations where traditional cast-in-place construction would have to be sophisticated and expensive, such as, for example, at long water crossings or complex interchanges. Prefabrication also facilitates construction in urban settings, where work space is limited. Safety is improved and traffic impacts are lessened because some of the construction is moved from the roadway to a remote site, minimizing the need for lane closures, detours, and use of narrow lanes.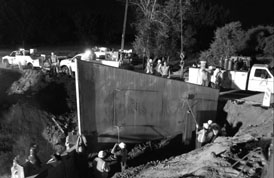 The superstructure units for the new Mitchell Gulch bridge are installed.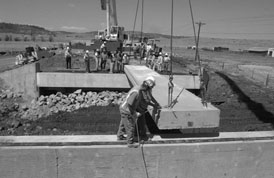 The replacement of the Mitchell Gulch bridge on State Highway 86 in Colorado was accomplished in just one weekend. Here, workers install the deck units.
Prefabricated bridge technology has gotten a boost over the last 2 years from the American Association of State Highway and Transportation Officials' Technology Implementation Group (TIG), which selected prefabricated bridge elements and systems as one of its priority technologies in 2001. In February 2003, AASHTO, the Federal Highway Administration (FHWA), and the MidWest Transportation Consortium cosponsored a National Prefabricated Bridge Elements and Systems Conference in St. Louis, Missouri. The conference, which drew nearly 200 participants, featured case studies, perspectives on bridge construction needs from highway agencies and industry, and discussion on specific prefabricated elements and systems, such as concrete deck panels, bent caps, piers, and superstructures. Almost half of the participants were from State highway agencies, with contractors, consultants, and equipment manufacturers and suppliers also represented. "The conference demonstrated that design, construction, and maintenance professionals from the public and private sectors are working in partnership to fulfill the mantra, 'Get in, Get out, and Stay out,'" says Krishna Verma, Senior Welding Engineer at FHWA.
Projects highlighted included the Baldorioty de Castro Avenue overpasses in San Juan, Puerto Rico. To ease congestion on an arterial system that carried more than 100,000 vehicles per day, the Department of Transportation and Public Works built two 213-m-long (700-ft) overpasses and two 274-m-long (900-ft) overpasses as part of a transition to an urban freeway. The project was carried out in two separate weekend stages to minimize disruptions to traffic flow. Over the first weekend, piles were driven and footings cast with special connections to facilitate fast construction. By Monday morning, this foundation work was paved with asphalt concrete to cover the foundation work and to allow traffic. On a subsequent weekend, the foundation was uncovered to complete work on the bridge. The precast piers and pier caps were erected and post-tensioned to the footings. When the two piers for the center span were in place, the 30-m-long (100-ft) superstructure box beams, seven per span, were also set in place. Using two crews, the overpass then was erected simultaneously from the center span toward each end of the structure. Meanwhile, approaches were constructed using Mechanically Stabilized Earth (MSE) walls with select fill. The first bridge was completed in 36 hours, with the others taking as little as 21 hours. Rush hour traffic was never impeded by construction; in the public's perception, each bridge was built over a weekend. "Hearing about the project got us all thinking out of the box," says Charles Nemmers, Director of the Transportation Infrastructure Center at the University of Missouri-Columbia. "This was done in not a year and a half, not 72 days, but in a maximum of 36 hours."
"The Puerto Rico case study really set the tone for the conference," adds Peter Clogston of FHWA's Missouri Division office. "The exposure to what all of the different agencies and contractors have done really opened people's eyes to the possibilities of using this technology."
Another project highlighted at the conference was the replacement of the Mitchell Gulch Bridge on State Highway 86 between Castle Rock and Franktown, Colorado, in August 2002. Construction of the new bridge, which replaced a wooden bridge built in 1953, would normally have taken about 2 months. Using entirely precast elements, contractors Wilson & Company and Lawrence Construction accomplished the task in just 48 hours, with demolition of the old bridge beginning at 7:30 p.m. on Friday, August 23, and the new bridge opened to traffic at 5:00 p.m. on Sunday, August 25. "We planned every minute of the project, with numerous contingency plans in place. We tried to leave nothing to chance," says Mark Scholfield, Colorado engineering manager for Wilson & Company. After the old bridge was dismantled, piles were driven, precast sections lowered, and welding done to connect the piles to abutments. Deck units were lowered into place, welded, grouted, and post-tensioned together. "The prefabricated technology offered numerous advantages, including increased safety and less need for detours," says Scholfield. "We think the technology is going to continue to increase in popularity."

The new Mitchell Gulch bridge is ready for the Monday morning commute.
Due to the interest generated by the St. Louis conference, additional prefabricated bridge elements and systems conferences are being considered. To promote the technology, "the AASHTO TIG also continues to send speakers to State meetings and various events," says TIG panel member Ronnie Medlock of the Texas Department of Transportation (TxDOT). "We are seeing more and more interest by States." Highway agencies can request a speaker by contacting TIG panel chair Mary Lou Ralls of TxDOT, 512-416-2183 (fax: 512-416-3144; email: mralls@ dot.state.tx.us).
The increased interest by States was reflected in the presentations at the conference. "We had case studies from all over the country," says Nemmers. "They all showed that regardless of traffic or climate or whether it was an urban or rural setting, that the prefabricated approach offers solutions that are practical, economical, and of good quality. This can be used on a bridge in Virginia and a bridge in Washington State. It has widespread applications."
For more information on prefabricated bridge elements and systems, contact Krishna Verma at FHWA, 202-366-4601 (email: krishna.verma@fhwa.dot.gov). You can also learn more about prefabricated bridge elements and systems and the activities of the AASHTO TIG by visiting the TIG Web site at www.aashtotig.org or contacting Mary Lou Ralls at TxDOT, 512-416-2183 (fax: 512-416-3144; email: mralls@dot.state.tx.us). For more information on the St. Louis conference, contact Charles Nemmers at 573-882-0071 (email: nemmersc@missouri.edu). To learn more about the Mitchell Gulch Bridge project, contact Mark Scholfield at 303-297-2976 (email: mark.scholfield@co.wilsonco.com). More information on the Baldorioty de Castro Avenue bridges can be obtained by contacting John Dick at the Precast/Prestressed Concrete Institute, 312-786-0300 (email: JDick@PCI.org).