Publication Number: FHWA-RD-03-020
Date: August 2003

Foamed Asphalt a Success on Federal Lands Highway
The Federal Highway Administration (FHWA) recently reconstructed the Nation's oldest Federal highway using reclaimed asphalt pavement (RAP) treated with foamed asphalt. Combining cold water with hot asphalt to temporarily create a binding foam is not a new idea; it has been widely applied to virgin and recycled road projects in other countries. To date though, it has only been used sporadically on State and local roads across the United States (see October 2002 Focus). Recent improvements to foaming asphalt application technology are making it an increasingly attractive option, however, for transportation engineers seeking a cost-effective way to create a high-strength road base.
After a failed attempt to apply the technique on Mississippi's Natchez Trace Parkway earlier this year, the FHWA Eastern Federal Lands Highway office decided to try it again on a 10.6-km (6.6-mi) stretch of the South Old Mine Road in New Jersey's Delaware Water Gap National Recreation Area. The road had not been repaved since its construction in the 1880s and was in fair to very poor condition. A complete overhaul was required. But rather than do a full-depth reclamation, FHWA opted to try and save money and natural resources by recycling the asphalt. The most promising approach seemed to be to grind it up, then rebind it with foaming asphalt.
First a reclaimer machine ground up the asphalt and several inches' worth of subbase. The engineers wanted to double the road's thickness, so they also added 5-cm (2-in) of aggregate base into the mix. The ground-up layer was then graded and compacted.
Next the reclaimer was brought back for a second round, this time hooked up to a bitumen tanker and a water truck. As it ground the soil, asphalt, and aggregate for a second time, the mixture was injected with hot bitumen. Very cold water was also added, causing the bitumen to instantly foam up. The reclaimer then lay the mixture down in a uniform "fluff."
"The foaming only lasts a few seconds, but it's long enough for the bitumen to expand and coat the aggregates," says Tom Jones, the project engineer from the FHWA Eastern Federal Lands Highway office in Sterling, Virginia. "By coating the finer aggregates, it holds it all together."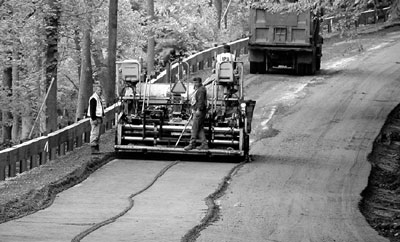 A 10.6-km (6.6-mi) stretch of the South Old Mine Road in New Jersey's Delaware Water Gap National Recreation Area is pulverized and 5-cm (2-in) of aggregate base is added.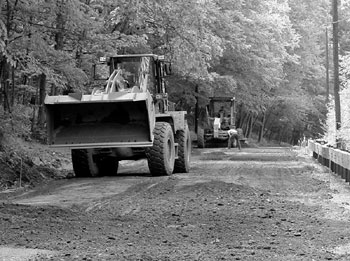 After the pulverization, the road is graded.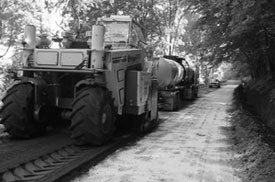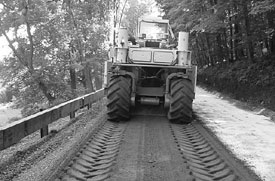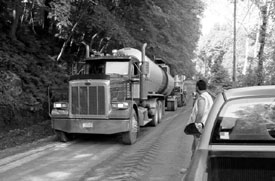 The foamed asphalt is applied.
The road was again compacted and graded before being covered with a water-based paste that dried to form a moisture-proof seal. Finally, after a week-long curing period, the road was overlaid with 3.8-cm (1.5-in) of a Superpave mix design asphalt to ensure motorists would enjoy smooth rides. "The strength, however, is in the expanded foam asphalt," says Jones.
Foaming asphalt "doesn't behave like regular asphalt" during the application process, he adds. "The only thing that is the same is that you use bitumen. The foaming asphalt mixture acts like soil in terms of how you need to treat it; it's very moisture sensitive." A technician therefore had to be on hand to ensure the right proportion of water to bitumen was injected into the pulverized road components.
This moisture sensitivity is the primary reason why foaming asphalt is not appropriate for every road, Jones says, although he adds that "as long as the subgrade is good, you will not have problems." The technique did not work on the Natchez Trace Parkway because numerous springs flow underneath the road. "A soft subgrade like that will come right to the top," notes Jones.
Subgrade problems also slowed down the Delaware Water Gap project, as the project team had to fill in springs and undercut soft spots. They also had to wait out rain showers while adding the top layer, so that it wouldn't slip on the sealed layer below.
Despite the setbacks encountered, "I'm very happy with how the foaming asphalt project turned out," says Jones. Not only did using the RAP and foamed asphalt combination keep waste materials out of landfills, but the money saved on trucking, disposal, and new materials reduced the budget by at least $500,000. There are still questions about how the foamed asphalt will perform on other types of roads, such as a major highway with a lot of truck traffic, "but I expect we will try different applications as we experiment more with it," says Jones.
For more information on the project, contact Tom Jones at FHWA, 908-841-9573 (fax: 908-841-9549; email: tom.jones@fhwa.dot.gov).